printer friendly version
Security in the commercial sector
February 2011
News
Terry Van Zyl, ADT group technical manager, answers our questions.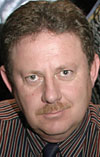 Terry van Zyl
Hi-Tech Security Solutions: How extensive is CCTV use in commercial settings? How useful is it?
Terry Van Zyl: CCTV is not only one of the best burglar deterrents, but it is also great for early warning and gathering of evidence to apprehend criminals.
Traditionally, CCTV was largely an option only for businesses and other non-domestic buildings due to its high price tag. However, these days the processing and transfer of video has become quick and inexpensive. Inexpensive technologies now allow for retailers, small business owners and homeowners to seriously consider CCTV which up until a few years ago was largely unaffordable.
Historically CCTV has been a reactive tool. It was used to assess what had happened and how to stop it happening again. CCTV is fast becoming a far more pro-active tool, not only from a security point of view, but to track trends, monitoring employees and see if strategies/marketing exercises are really working.
It needs to be stressed that CCTV is just one aspect of the holistic security solution.
Hi-Tech Security Solutions: Are companies making full use of the capabilities of IP-based surveillance technologies? Is analogue going to make a comeback?
Terry Van Zyl: No, IP-based systems are not in widespread use as yet, but are definitely growing in popularity. IP-based systems are still not matching the analogue systems in price but are fast becoming the technology of choice for larger sites. This is because these systems offer higher quality images, better remote control options and improved economies-of-scale for larger installations.
Hi-Tech Security Solutions: How much can technology contribute to the overall security of commercial facilities, office parks, buildings, multi-national corporations etc.
Terry Van Zyl: It is a world-wide trend to use more technology instead of the traditional human observation and presence on site. With improved bandwidth available, off-site monitoring is fast becoming the new way of securing and controlling the risks on a site.
Hi-Tech Security Solutions: What advances in perimeter security are useful to commercial properties?
Terry Van Zyl: The latest developments in detection technology include long-range infrared cameras with automatic human movement recognition, even in total darkness, dense fog, etc. Advanced underground cables can identify human movement over kilometres and linked with long-range CCTV cameras can provide guards on site and a remote control room with enough image material and information to trigger the correct action on site.
Hi-Tech Security Solutions: And what about remote monitoring? Are businesses opting for remote monitoring solutions to supplement their technology and guards?
Terry Van Zyl: One of the main advantages of remote monitoring is the absence of staff on site. This removes the chances of criminals threatening or bribing security staff to gain access to the premises. The remote site actions are triggered by detectors and cameras which provide information for the dispatched armed response teams. The teams then know what to expect and how to act when arriving at the site.
Transmitting good quality CCTV images to remote monitoring sites involves a huge amount of data and therefore large bandwidth. Because broadband data lines were extremely expensive in South Africa until recently, the take-up of remote monitoring has been very slow and limited to a few larger companies. The situation is changing fast with data prices dropping and bandwidth increasing. More service providers are entering the market with lower cost options, making remote monitoring a good option to consider moving forward. This is a trend seen elsewhere in the world and is the fastest growing technology in the security sector world-wide.
Further reading:
From the editor's desk: Presenting … how you were hacked
May 2019, Technews Publishing , News
"It's all fun and games until you hit the wall." Someone said that to me once (an American, so I don't know if that's a common saying in the US). At the time I thought he watched too much reality TV. These ...
Read more...
---
Platforms and community lead the future
May 2019, Milestone Systems , Editor's Choice, CCTV, Surveillance & Remote Monitoring, News, Integrated Solutions
Milestone Systems took a look into the future of open platforms and the power of community at MIPS EMEA in Copenhagen in March this year.
Read more...
---
iLegal 2019: Augmented surveillance - realising the full potential of CCTV
May 2019, Technews Publishing , Editor's Choice, News, Conferences & Events, Training & Education
iLegal 2019 will look at what is becoming known as Augmented Surveillance – using technologies and people interactively to maximise results from operators and control rooms in order to make intelligent security and business decisions.
Read more...
---
Local manufacturing from Hissco International
May 2019, Hissco , Editor's Choice, Asset Management, EAS, RFID, News
Hissco International recently announced it has set up a local manufacturing partnership that will supply X-ray equipment to partners around the world.
Read more...
---
Face to face with Suprema FaceLite
May 2019, Suprema , Editor's Choice, Access Control & Identity Management, News, Products
Suprema has announced the launch of FaceLite, the new generation compact face recognition terminal designed for enterprise access control as well as time and attendance applications.
Read more...
---
ASSA ABLOY showcases latest digital access solutions
May 2019, ASSA ABLOY South Africa , Editor's Choice, Access Control & Identity Management, News
ASSA ABLOY hosted a breakfast at the Country Club Johannesburg in Woodmead on 2 April, to showcase the company's latest and greatest digital access solutions.
Read more...
---
Fidelity Fire Solutions receives BSI accreditation
May 2019, Fidelity Security Group , Editor's Choice, Fire & Safety, News
Fidelity Fire Solutions is one of the first fire solutions providers in South Africa to be awarded the British Standards Institution (BSI) certification for portable fire products.
Read more...
---
Enthralled, educated and entertained
May 2019, Securex South Africa , Editor's Choice, News
Securex South Africa 2019 gears up to educate the industry, with free access to five content streams.
Read more...
---
Keyless access control launched in Africa
May 2019, FS-Systems , News, Access Control & Identity Management, Agriculture (Industry)
FS-Systems launches a cutting-edge keyless access control solution for the critical infrastructure environment across the African market.
Read more...
---
Augmenting surveillance video
May 2019, ISDS , News, Integrated Solutions
ISDS is moving from its previous business model to focusing on being a value-added distributor and supporting its channel partners.
Read more...
---