printer friendly version
Container depot security
November 2010 CCTV, Surveillance & Remote Monitoring, Security Services & Risk Management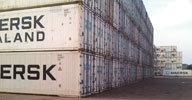 Addressing the problem of inside theft and automated recording of containers as they arrive and depart.
Intelligent Security Systems (ISS) has announced that its South African division has successfully completed an upgrade for a container depot in South Africa that is directly affiliated with a major international shipping company. For reasons of security, details as to the actual depot and client's name must be kept confidential.
"As with many ports and container depots around the world, inside theft is an ongoing problem in South Africa," said Eugene Kayat, country manager for ISS South Africa. "In this particular case, the client wanted to address the problem of inside theft as well as have automated recording of when containers arrive and depart, and easy access across the enterprise to video footage related to that."
The client previously had a vendor who had installed a video surveillance security system that proved highly unsatisfactory as images were unclear and because of that identifying information could often not be seen. "Along with the problem of inside theft, arrival times and departures of cargo were being done manually, which was both time consuming and ineffective from a security standpoint."
After Kayat and an integrator met with the national security manager of this company, they proceeded with solutions that involved SecurOS Container Recognition and SecurOS Licence Plate Recognition (LPR) so that vehicles and containers could be clearly identified as they entered and left the depot.
ISS has its roots in space technology, which has led to the development of software with highly advanced algorithms. This in turn makes possible a level of intelligence, flexibility and accuracy for video management and analytics that previously was only available for government and military applications. For SecurOS Container Recognition, this translates into the ability to easily read the sides, back and top of containers, and for both SecurOS Container Recognition and SecurOS LPR to be able to read identifying information vertically as well as horizontally, and in the most challenging of weather conditions.
All of these advantages have made a difference for the company involved in this case as they now have a security solution in place in which images are very clear and identifying information can be read on licence plates and the front, sides and backs of containers. "It is crucial in this industry to verify that container seals have not been tampered with," explained Kayat, "and because of the inherent flexibility and accuracy of our solutions that has become a seamless process for this company."
The company is currently using two SecurOS Container Recognition solutions and two SecurOS LPR solutions.
The company reports that their operations are now more secure, more efficient. It also reported that rather than just being after the fact forensic tools, that such superior technology is actually being used to prevent theft. The company has indicated plans to expand its use of ISS solutions to several other container depots throughout the country.
Credit(s)
Further reading:
Sustainability School opens for enrolment
Education (Industry) News Security Services & Risk Management
Three-part programme, first developed for Schneider Electric employees, is now available for free for companies worldwide. Attendees learn how to future-proof their businesses and accelerate their decarbonisation journeys.
Read more...
---
Elvey partners with HALO
Elvey Security Technologies News CCTV, Surveillance & Remote Monitoring
Elvey Group has partnered with HALO Europe to provide Africa's first body-worn solution with zero upfront costs. This includes an IP68-certified body camera and a 4G-connected device.
Read more...
---
Success in business process best practices
Technews Publishing Kleyn Change Management Editor's Choice Integrated Solutions Security Services & Risk Management
This month we commandeer time with the woman who is spearheading our national conversation on Women in Security, Lesley-Anne Kleyn, to get to know the lady herself a little better.
Read more...
---
Regal announces new partnership
Regal Distributors SA CCTV, Surveillance & Remote Monitoring
Having a bird's eye view of your surveillance data, with the capability to drill down to the details obtained via connected security solutions, is a game changer for security operators, companies and even officers on the ground.
Read more...
---
Security awareness training
Training & Education Security Services & Risk Management
It is critically important to have a security awareness solution that uses the limited time available to train effectively, and one that provides targeted education that is relevant to users.
Read more...
---
Technology to thwart solar panel thieves
Asset Management, EAS, RFID Security Services & Risk Management Products
A highly efficient industrial network is coming to the rescue of the solar industry, as solar panels, inverters and batteries are being targeted by thieves and threaten to destabilise the industry.
Read more...
---
Banking the unbanked comes with security risks
Financial (Industry) Security Services & Risk Management
As grim as it was, the pandemic of recent years and its resultant global economic crisis were a prime catalyst for record number of first-time bank users, the previously unbanked.
Read more...
---
Invisible connection and tangible protection via cloud
Dahua Technology South Africa Perimeter Security, Alarms & Intruder Detection CCTV, Surveillance & Remote Monitoring Products
Dahua Technology has launched its AirShield security solution that uses advanced, stable and reliable RF communication technology and cloud services, integrating alarm hubs, various detectors and accessories, with several software apps.
Read more...
---
Vulnerabilities in industrial cellular routers' cloud management platforms
Industrial (Industry) Cyber Security Security Services & Risk Management
Research from OTORIO, a provider of operational technology cyber and digital risk management solutions, unveils cyber risks in M2M protocols and asset registration that expose hundreds of thousands of devices and OT networks to attack
Read more...
---
Hikvision expands solar-powered solutions
CCTV, Surveillance & Remote Monitoring Products
Hikvision is offering a portfolio of solar solutions, the 4G solar-powered camera kit, a wireless bridge, and mobile solar security tower solutions to assist in keeping remote and isolated areas safe in a simple, practical, and cost-effective way.
Read more...
---