printer friendly version
Security monitoring is changing
September 2010
Perimeter Security, Alarms & Intruder Detection
Security monitoring is no longer just a burglar alarm-monitoring centre, when alarms are triggered and a response is made with a telephone call to the owner to verify whether he or she is home. An armed response vehicle is dispatched to real and false alarm situations, wasting manpower.
CCTV monitoring has been growing in the past few years, but its effectiveness is still questionable, as guards are still required onsite. False alarms are generated by ineffective camera analytics, bad camera placement and the incorrect technology utilised for the wrong applications.
Too much dependency is on technology and this is the downfall of the entire monitoring process. Technology can not make the correct decisions required to stop the crime or even prevent it from taking place. The security profession is a skilled one and so much technology is put into place as aids to the security practitioner, yet crime is still such a major factor in our country today.
What this means is that even though we have all this wonderful technology, low-skilled security personnel monitoring is always going to be less effective than it should be.
The above should not be the case anymore, as solutions have been developed to manage and integrate the human factor into security. Security as a service needs to change. It should not be left up to technology to protect our premises and assets only, interactive management between clients, technology, emergency services and security services such as the police should be handled in real-time with direct interaction between the operator and the client's premises and would-be perpetrators.
Security control rooms should become service centres and start managing every aspect of clients' homes, such as electricity management, where money can be saved by clients because the centre is shutting down geysers and electricity power outlets that are not in use. The service centre can answer intercoms remotely when the doorbell rings giving the visitor the illusion that the house is always occupied. Lights can be switched on and off randomly, which is a very simple and effective way for preventing crime.
Effective management of offsite monitoring can only be done by people that are trained to do so and technology is only seen as an aid to these individuals. The way security is handled today needs to change drastically if we plan to combat crime effectively.
Surveillance service centres are the key to managing security much more effectively, below is a typical operation.
The surveillance service centre will give control rooms the ability to monitor crime in crime hotspot areas in real-time. The key is to give control rooms the ability to command and control any crime situation that is taking place, and where the police require the gathering of real-time intelligence so the correct operational decisions can be made.
The surveillance service centre should relay all video and audio information from the crime scene to multiple emergency services and police vehicles in real-time so the correct decisions can be taken by the operational personal on the ground and tactical decisions can be made in real-time limiting the loss of life and the public at large.
The solution provided by the centre is based on the following technology concept: the centre connects all existing burglar alarm and closed circuit television systems via a unique multiple protocol converter. This will allow users of existing systems to link to the centre without needing to replace existing security technology.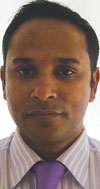 Shane Jacobs, consultant for JRJ Consultants
For more information contact JRJ Consultants, +27 (0)82 776 9990, [email protected], www.jrjconsultants.co.za
Further reading:
Olarm launches PRO 4G communicator
Olarm News Perimeter Security, Alarms & Intruder Detection Products
Olarm has announced an additional 4G/LTE version of its Olarm PRO smart communicator. It is aimed at areas suffering from poor connectivity by providing support for 4G, 2G and Wi-Fi networks.
Read more...
---
Jaco van Wyk joins Olarm in Johannesburg
Olarm News Perimeter Security, Alarms & Intruder Detection
Jaco van Wyk has joined Olarm as its partner manager in Gauteng; he has strong technical security and client service experience in the South African market.
Read more...
---
GJD launches new range of white-light floodlights
Perimeter Security, Alarms & Intruder Detection Products
GJD has announced the launch of its new range of floodlights, combining high-quality LED technology with a modern and aesthetically pleasing design suitable for all outdoor lighting applications.
Read more...
---
Fotech and C3SS launch technology partnership
C3 Shared Services News Perimeter Security, Alarms & Intruder Detection
Fotech has signed a non-exclusive MOU with C3SS, a South Africa-based perimeter and infrastructure security company, to target specific African markets.
Read more...
---
FlipX: new indoor detectors
Perimeter Security, Alarms & Intruder Detection Products
Installers and end-users in EMEA can now take advantage of FlipX, a new range of flexible indoor sensors from OPTEX that feature a bespoke pyroelectric sensor for increased performance.
Read more...
---
JVA Perimeter Patrol 6 monitoring software
Stafix Perimeter Security, Alarms & Intruder Detection
Stafix Electric Fence and Security Centres now provides the latest JVA Perimeter Patrol 6 package for standalone and piggyback electric security fence solutions.
Read more...
---
360° perimeter intruder detection
Technews Publishing Perimeter Security, Alarms & Intruder Detection Residential Estate (Industry) Products
Radar is becoming a more common solution for estates with large open areas and long perimeters to protect, as intruders can be automatically detected and tracked.
Read more...
---
Gallagher launches Tech Talk
Gallagher News Access Control & Identity Management Perimeter Security, Alarms & Intruder Detection
Gallagher has announced the launch of its new Security in Focus podcast series called Tech Talk, hosted by chief technology officer Steve Bell.
Read more...
---
Preventing theft wirelessly
Elvey Security Technologies Perimeter Security, Alarms & Intruder Detection
One hundred MotionCam Outdoor cameras, four HUB2 Plus units and the Desktop Pro 3.0 from Ajax protect a large outdoor environment from theft and vandalism.
Read more...
---
Ajax solves security communication range issues
Elvey Security Technologies Perimeter Security, Alarms & Intruder Detection
A large casino situated in Polokwane required an upgrade of its security system to cater to the needs of the multi-storey building, including reliable wireless communications.
Read more...
---