printer friendly version
Security monitoring is changing
September 2010
Perimeter Security, Alarms & Intruder Detection
Security monitoring is no longer just a burglar alarm-monitoring centre, when alarms are triggered and a response is made with a telephone call to the owner to verify whether he or she is home. An armed response vehicle is dispatched to real and false alarm situations, wasting manpower.
CCTV monitoring has been growing in the past few years, but its effectiveness is still questionable, as guards are still required onsite. False alarms are generated by ineffective camera analytics, bad camera placement and the incorrect technology utilised for the wrong applications.
Too much dependency is on technology and this is the downfall of the entire monitoring process. Technology can not make the correct decisions required to stop the crime or even prevent it from taking place. The security profession is a skilled one and so much technology is put into place as aids to the security practitioner, yet crime is still such a major factor in our country today.
What this means is that even though we have all this wonderful technology, low-skilled security personnel monitoring is always going to be less effective than it should be.
The above should not be the case anymore, as solutions have been developed to manage and integrate the human factor into security. Security as a service needs to change. It should not be left up to technology to protect our premises and assets only, interactive management between clients, technology, emergency services and security services such as the police should be handled in real-time with direct interaction between the operator and the client's premises and would-be perpetrators.
Security control rooms should become service centres and start managing every aspect of clients' homes, such as electricity management, where money can be saved by clients because the centre is shutting down geysers and electricity power outlets that are not in use. The service centre can answer intercoms remotely when the doorbell rings giving the visitor the illusion that the house is always occupied. Lights can be switched on and off randomly, which is a very simple and effective way for preventing crime.
Effective management of offsite monitoring can only be done by people that are trained to do so and technology is only seen as an aid to these individuals. The way security is handled today needs to change drastically if we plan to combat crime effectively.
Surveillance service centres are the key to managing security much more effectively, below is a typical operation.
The surveillance service centre will give control rooms the ability to monitor crime in crime hotspot areas in real-time. The key is to give control rooms the ability to command and control any crime situation that is taking place, and where the police require the gathering of real-time intelligence so the correct operational decisions can be made.
The surveillance service centre should relay all video and audio information from the crime scene to multiple emergency services and police vehicles in real-time so the correct decisions can be taken by the operational personal on the ground and tactical decisions can be made in real-time limiting the loss of life and the public at large.
The solution provided by the centre is based on the following technology concept: the centre connects all existing burglar alarm and closed circuit television systems via a unique multiple protocol converter. This will allow users of existing systems to link to the centre without needing to replace existing security technology.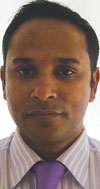 Shane Jacobs, consultant for JRJ Consultants
For more information contact JRJ Consultants, +27 (0)82 776 9990, sj@jrjconsultants.co.za, www.jrjconsultants.co.za
Further reading:
GJD expands its Clarius Illuminator range
Perimeter Security, Alarms & Intruder Detection
GJD announced the launch of the new Clarius Medium Hybrid IP IR/WL LED illuminator. The Clarius medium Hybrid IP combines advanced Infrared and White-Light LED technology, in one unit for increased functionality and ease of installation.
Read more...
---
What to expect in the physical security world in 2023
BoomGate Systems Perimeter Security, Alarms & Intruder Detection
The unabated increase in crime and experiences from the 2021 riots that destroyed so much value and negatively impacted so many businesses and lives in South Africa means improved physical security measures are the order of the day in 2023.
Read more...
---
Air monitoring with LifeQuality
Ajax Systems Perimeter Security, Alarms & Intruder Detection Products
Ajax Systems has launched LifeQuality, a smart air quality monitor that provides users with data on carbon dioxide pollution, temperature and humidity levels, and helps automate appliances according to these indicators.
Read more...
---
Texecom launches Impaq S G3 shock sensor
Perimeter Security, Alarms & Intruder Detection Products
With full third-party EN Grade 3 compliance, the Impaq S G3 also features the aesthetics demanded for high-end residential and commercial properties while also being extremely easy to install.
Read more...
---
The technology behind Distributed Acoustic Sensing
XtraVision Perimeter Security, Alarms & Intruder Detection Access Control & Identity Management Products
FOTAS is a fibre optic based Distributed Acoustic Sensor; the solution is a combination of optics, electronics, and computer science, which together make this device as effective as it is.
Read more...
---
Stafix introduces the JVA Cloud Router app
Stafix Perimeter Security, Alarms & Intruder Detection Products
The JVA Cloud Router app allows you to arm and disarm energisers, view your electric fence voltages, open and close relays through any Android or iOS device.
Read more...
---
CIAS chosen for complex perimeters
XtraVision Perimeter Security, Alarms & Intruder Detection
The challenge was to guarantee the ROI (return on investment) based on the technological amortization of at least 10 years of service, right from the design phase.
Read more...
---
Texecom launches the Midnight Black Collection
Technews Publishing Perimeter Security, Alarms & Intruder Detection Products
Working in harmony with darker environments, the Midnight Black Collection has been created for businesses and sites that require or prefer a security solution which offers discreet protection that compliments their surroundings.
Read more...
---
XtraVision Facilitates Integration
XtraVision Perimeter Security, Alarms & Intruder Detection
XtraVision, a global distributor of SAMM FOTAS DAS fibre intrusion detection technology and ARTECO Video Even Management Software, in the South African, African, and South American regions, has recently facilitated the integration between the two manufacturers.
Read more...
---
Olarm product highlights for 2022
Olarm Perimeter Security, Alarms & Intruder Detection Products
Olarm rapidly expanded its ecosystem in 2022 with several new products, the launch of its training academy, and a presence in Gauteng.
Read more...
---