printer friendly version
SA-built mobile surveillance vehicle
September 2010
News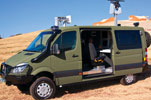 South African affiliate of Germany's Carl Zeiss Optronics (CZO), in partnership with Afrisec, a supplier of integrated security systems, unveiled an innovative mobile surveillance vehicle (MSV) at its Centurion facilities in July.
The first South African-built MSV is based on the Mercedes Sprinter 4x4 platform and provides long range, 360°, day and night surveillance capability, even under adverse weather conditions. The vehicle is expected to play an important role in South African border control and crime fighting operations in the future.
The MSV features state-of-the-art sensors, including a daylight CCD camera with 36x zoom lens, high-resolution thermal imager for night surveillance and an eye-safe laser rangefinder for target location. The sensors are mounted on a mast, which emerges from the vehicle's roof and controlled by operators in the vehicle's control compartment, who also monitor the video stream from the sensors. Any suspicious activities are displayed on a digital map to aid reaction forces to locate suspects.
To reduce operator fatigue, the MSV utilises sensor automation, automatic target movement detection, target tracking, and situational recording. Video footage can also be beamed to a central control room for remote observation. For undercover operations the vehicle is fitted with a driver's thermal camera, which enables the vehicle to be positioned to a strategic location in total darkness without use of its headlights.
"With the increased global emphasis on security and border control, we are pleased to be at the forefront of surveillance technology which will aid border control and crime fighting operations in South Africa," says Kobus Viljoen, CZO managing director.
CZO's partner, Afrisec, will deliver the first MSV to the Nelson Mandela Bay Metro (NMBM), with further orders expected from other leading South African municipalities. Part of the brief to Afrisec was that the MSV needed to communicate with the existing NMBM Central Control Room, which Afrisec designed and implemented. Operators in the Central Control Room will be able to monitor the thermal images from the mobile unit and the operators in the vehicle will be able to select and monitor from the existing 350 surveillance cameras already installed by Afrisec in the central business district, greater Metro and various NMBM buildings.
A primary function of the MSV is to proactively combat electrical infrastructure and non-ferrous metal theft by coordinating the mobile unit with the existing street surveillance cameras and mobile surveillance trailers that Afrisec has built.
For more information contact Afrisec Strategic Solutions, +27 (0)41 5817328, gary@afrisecgroup.co.za, www.afrisecgroup.co.za
Further reading:
New hires at iPulse
Issue 7 2020, iPulse Systems , News
iPulse has welcomed two new employees into its ranks. Shai Weil has been appointed as operations director, while Corneli Botha is the new customer sales liaison.
Read more...
---
HID Global acquires Access-IS
Issue 7 2020, HID Global , News
HID Global acquires provider of miniaturised reader devices that combine key technologies for mission-critical markets.
Read more...
---
Securing digital transformation
Issue 7 2020 , News
Schneider Electric partners with Fortinet to strengthen ability to secure operations across the business lifecycle and unlock the advantages of a secure IIoT.
Read more...
---
Suprema integrates with Paxton's Net2 access control
Issue 7 2020, Suprema , News
Suprema has announced it has integrated its devices with Paxton's access control system, Net2.
Read more...
---
Free cybersecurity courses
Issue 7 2020 , News
Check Point Software partners with Harvard and MIT-founded edX to deliver free online courses to help close the cybersecurity skills gap.
Read more...
---
Fidelity partners with Auto & General Insurance
Issue 7 2020, Fidelity Security Group , News
Fidelity Services Group in partnership with Auto & General Insurance has launched Fidelity InSure, a comprehensive vehicle, home, and building insurance offering.
Read more...
---
More apps for open camera OS
Issue 7 2020 , News
The App Challenge will result in 21 new apps running on the Security & Safety Things' camera OS, based on the Android Open Source Project.
Read more...
---
Milestone Systems announces Thomas Jensen as new CEO
Issue 7 2020, Milestone Systems , News
Milestone Systems announced that its board of directors has appointed Thomas Jensen as chief executive officer. Jensen will assume the role on October 1, 2020.
Read more...
---
Suprema announces its first virtual event
Issue 7 2020, Suprema , News
Suprema will be hosting its first virtual event, Suprema Connect 2020, which is scheduled to take place over one month from September 15.
Read more...
---
From the editor's desk: Waiting for PoPI
Issue 7 2020, Technews Publishing , News
A while ago we heard of yet another cyber breach, this time from Experian.
Read more...
---