printer friendly version
SA-built mobile surveillance vehicle
September 2010
News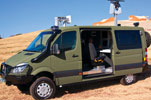 South African affiliate of Germany's Carl Zeiss Optronics (CZO), in partnership with Afrisec, a supplier of integrated security systems, unveiled an innovative mobile surveillance vehicle (MSV) at its Centurion facilities in July.
The first South African-built MSV is based on the Mercedes Sprinter 4x4 platform and provides long range, 360°, day and night surveillance capability, even under adverse weather conditions. The vehicle is expected to play an important role in South African border control and crime fighting operations in the future.
The MSV features state-of-the-art sensors, including a daylight CCD camera with 36x zoom lens, high-resolution thermal imager for night surveillance and an eye-safe laser rangefinder for target location. The sensors are mounted on a mast, which emerges from the vehicle's roof and controlled by operators in the vehicle's control compartment, who also monitor the video stream from the sensors. Any suspicious activities are displayed on a digital map to aid reaction forces to locate suspects.
To reduce operator fatigue, the MSV utilises sensor automation, automatic target movement detection, target tracking, and situational recording. Video footage can also be beamed to a central control room for remote observation. For undercover operations the vehicle is fitted with a driver's thermal camera, which enables the vehicle to be positioned to a strategic location in total darkness without use of its headlights.
"With the increased global emphasis on security and border control, we are pleased to be at the forefront of surveillance technology which will aid border control and crime fighting operations in South Africa," says Kobus Viljoen, CZO managing director.
CZO's partner, Afrisec, will deliver the first MSV to the Nelson Mandela Bay Metro (NMBM), with further orders expected from other leading South African municipalities. Part of the brief to Afrisec was that the MSV needed to communicate with the existing NMBM Central Control Room, which Afrisec designed and implemented. Operators in the Central Control Room will be able to monitor the thermal images from the mobile unit and the operators in the vehicle will be able to select and monitor from the existing 350 surveillance cameras already installed by Afrisec in the central business district, greater Metro and various NMBM buildings.
A primary function of the MSV is to proactively combat electrical infrastructure and non-ferrous metal theft by coordinating the mobile unit with the existing street surveillance cameras and mobile surveillance trailers that Afrisec has built.
For more information contact Afrisec Strategic Solutions, +27 (0)41 5817328, gary@afrisecgroup.co.za, www.afrisecgroup.co.za
Further reading:
Online fleet management system
Issue 1 2020 , News
Fleet Domain's online Fleet Management Information System is reducing operating costs and improving safety for South African logistics firms.
Read more...
---
Digital insurance bundle for assets and devices
Issue 1 2020 , News
My CyberCare is a specialist provider of personal, and SMME online cyber insurance, cyber detection and cyber monitoring solutions for both local and global consumption.
Read more...
---
IDEMIA to supply Morocco's national electronic ID cards
Issue 1 2020, IDEMIA , News
IDEMIA will supply Morocco with national electronic ID cards and introduce a secured digital identity online services platform.
Read more...
---
Rockwell Automation to acquire Avnet
Issue 1 2020, Rockwell Automation , News
Rockwell Automation announced it has signed an agreement to acquire privately held Avnet Data Security, an Israeli-based cybersecurity provider with over 20 years' experience providing cybersecurity services.
Read more...
---
Do we really want simplicity?
Issue 1 2020, Technews Publishing , News
Everything today has to be simple, easy and fast. Even access to your bank account has to fit these adjectives and banks spend significant time and money trying to ensure their web and mobile interfaces ...
Read more...
---
Longse Distribution to become LD Africa
Issue 1 2020, LD Africa , News
Brendon Whelan, sales manager for Longse Distribution, announced that the company officially changed its name to LD Africa as of 20 January 2020.
Read more...
---
Three expos in one
Issue 1 2020 , News
Looking ahead to 2020 Vision: combined Securex South Africa, A-OSH EXPO and Facilities Management Expo 2020 promises to be even bigger and better.
Read more...
---
Security events you can't miss in 2020
Issue 1 2020, Technews Publishing , News
Hi-Tech Security Solutions will host a number of focused events in 2020 to highlight the latest in security technology and the operational benefits they deliver.
Read more...
---
David Shapiro to chair ESDA
Issue 1 2020, ESDA (Electronic Security Distributors Association , News
The Electronic Security Distributors' Association (ESDA), established in 1989, has elected David Shapiro as its chairperson for 2020.
Read more...
---
Dimension Data debuts fifth business
Issue 1 2020 , News
Dimension Data has launched its fifth business in the MEA region, Dimension Data Security, aimed at helping organisations in the region address the challenges of today's rapidly evolving threat landscape.
Read more...
---