printer friendly version
SA-built mobile surveillance vehicle
September 2010
News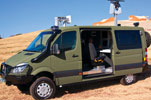 South African affiliate of Germany's Carl Zeiss Optronics (CZO), in partnership with Afrisec, a supplier of integrated security systems, unveiled an innovative mobile surveillance vehicle (MSV) at its Centurion facilities in July.
The first South African-built MSV is based on the Mercedes Sprinter 4x4 platform and provides long range, 360°, day and night surveillance capability, even under adverse weather conditions. The vehicle is expected to play an important role in South African border control and crime fighting operations in the future.
The MSV features state-of-the-art sensors, including a daylight CCD camera with 36x zoom lens, high-resolution thermal imager for night surveillance and an eye-safe laser rangefinder for target location. The sensors are mounted on a mast, which emerges from the vehicle's roof and controlled by operators in the vehicle's control compartment, who also monitor the video stream from the sensors. Any suspicious activities are displayed on a digital map to aid reaction forces to locate suspects.
To reduce operator fatigue, the MSV utilises sensor automation, automatic target movement detection, target tracking, and situational recording. Video footage can also be beamed to a central control room for remote observation. For undercover operations the vehicle is fitted with a driver's thermal camera, which enables the vehicle to be positioned to a strategic location in total darkness without use of its headlights.
"With the increased global emphasis on security and border control, we are pleased to be at the forefront of surveillance technology which will aid border control and crime fighting operations in South Africa," says Kobus Viljoen, CZO managing director.
CZO's partner, Afrisec, will deliver the first MSV to the Nelson Mandela Bay Metro (NMBM), with further orders expected from other leading South African municipalities. Part of the brief to Afrisec was that the MSV needed to communicate with the existing NMBM Central Control Room, which Afrisec designed and implemented. Operators in the Central Control Room will be able to monitor the thermal images from the mobile unit and the operators in the vehicle will be able to select and monitor from the existing 350 surveillance cameras already installed by Afrisec in the central business district, greater Metro and various NMBM buildings.
A primary function of the MSV is to proactively combat electrical infrastructure and non-ferrous metal theft by coordinating the mobile unit with the existing street surveillance cameras and mobile surveillance trailers that Afrisec has built.
For more information contact Afrisec Strategic Solutions, +27 (0)41 5817328, [email protected], www.afrisecgroup.co.za
Further reading:
Johnny Aucamp joins iPulse exco
News
Johnny Aucamp has joined iPulse Systems as its chief sales officer (CSO), adding a massive boost to the executive team.
Read more...
---
From the editor's desk: Security and resilience
Technews Publishing News
It's often said that South Africans are a resilient bunch, and history has proven this correct. When it comes to security, both cyber and physical, resilience is key to an effective defensive plan. ...
Read more...
---
Hikvision aims for solutions
Technews Publishing Hikvision South Africa Editor's Choice CCTV, Surveillance & Remote Monitoring News Integrated Solutions Conferences & Events
Hikvision recently held a roadshow titled Industry X, where the company highlighted its latest products and solutions, supported by partners and distributors.
Read more...
---
Olarm launches PRO 4G communicator
Olarm News Perimeter Security, Alarms & Intruder Detection Products
Olarm has announced an additional 4G/LTE version of its Olarm PRO smart communicator. It is aimed at areas suffering from poor connectivity by providing support for 4G, 2G and Wi-Fi networks.
Read more...
---
ADI Expo returns to South Africa
Technews Publishing ADI Global Distribution News
September saw the return of the ADI Expo to South Africa. The Johannesburg event was held at the Focus Rooms and the Durban event, two days later, at the Southern Sun Elangeni & Maharani.
Read more...
---
Technoswitch Awards dinner for 2022
Technews Publishing News Fire & Safety
Technoswitch hosted its fifth awards dinner at Montecasino in September, where customers and suppliers celebrated a year of success.
Read more...
---
Suprema joins FiRa Consortium
Suprema News Access Control & Identity Management
Suprema recently became a member of the FiRa Consortium, a consultative body that establishes standards for ultra-wideband (UWB) technology, the next generation of wireless communication.
Read more...
---
Reliable, low-maintenance video appliances
Technews Publishing Editor's Choice CCTV, Surveillance & Remote Monitoring News IT infrastructure Products
Symetrix, part of the Agera Group, has added the AES range of video recording servers, storage appliances and workstations to its portfolio.
Read more...
---
ZYTEQ Fire Engineering Summit 2022
ZYTEQ Fire Fire & Safety News
Cape Town-based ZYTEQ Fire hosted its inaugural Engineering Summit at the Commodore Hotel in Cape Town and the Leonardo Hotel in Sandton, Johannesburg.
Read more...
---
Nomad launches early adopter programme
Editor's Choice News Integrated Solutions Smart Home Automation
Participants in Nomad's Early Adopter Programme will receive 10% of their volume order to facilitate testing before the commercial launch later this year.
Read more...
---