printer friendly version
Elvey and 'Die Nutsman' join forces
August 2010
News
In a 30-part reality series on the Home Channel, TV personalities Riaan (widely known as DIY guru 'Die Nutsman') and Michele Garforth-Venter have been building their dream 'green' home under the watchful eyes of thousands of South Africans.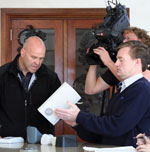 'Die Nutsman'
Now, almost complete and about to become a showroom until move-in day 'sometime in 2011', the house is ready to have its security system installed.
The celebrity couple tasked Elvey Security Technologies with designing a 'green' security solution in keeping with the earth-friendly ethos of the property, which sits on the Avianto Estate in Muldersdrift.
The result – a wireless system which blends in seamlessly with the aesthetics of the house and which forestalls any need for messy chasing of walls or unsightly wiring – has met with their full approval, Zane Greeff, technical director for Elvey says. And, because it is completely wireless, it can be installed anywhere, in minutes.
The system detectors, alarm panel and keypad all operate using battery power, and do not require any electrical source within the home, leading to a more energy efficient and eco-friendly result, he continues. To further enhance security, PIR detectors (passive infrared) were installed throughout the house as well as outdoor PIRs in the garden.
The resultant system comprises fully waterproof, anti-tamper cameras with CMOS (complementary metal oxide semiconductor) black and white sensors, 85° wide-angle lenses and 320 x 240 pixel video resolution. Two infrared LEDs, which provide night illumination up to 8 metres, are able to detect movement and then activate the lenses which begin recording in less than 100 milliseconds.
M.V.D. Security, which handles the security technology on the Avianto Estate, will be installing the Garforth-Venters' security system.
Further reading:
Milestone cancels APAC/EMEA MIPS conference in Dubai
Issue 2 2020 , News
In response to increasing concern for potential health risks from COVID-19 (Coronavirus), Milestone Systems has cancelled the APAC/EMEA MIPS Conference scheduled for April 20-22 in Dubai.
Read more...
---
The reality of load shedding
Issue 2 2020, Technews Publishing , News
It may be that I am a bit slow on the pick-up, but recent events and conversations have driven the reality of what rolling blackouts (called load shedding by Eskom to make it sound less devastating) are ...
Read more...
---
Ongoing profile and specification development in 2020
Issue 2 2020, Technews Publishing , News
Per Björkdahl says ONVIF has over 500 member companies and around 15 000 conformant products.
Read more...
---
£28 million X-ray agreement for ADANI
Issue 2 2020 , News
ADANI announces £28 million framework agreement with the UK Ministry of Justice for the supply, installation and support of X-ray transmission body scanners.
Read more...
---
Security issues under the spotlight
Issue 2 2020 , News
Security, at all levels, continues to be a major concern across the African continent in 2020.
Read more...
---
Comodo and CONDYN announce strategic partnership
Issue 2 2020, Condyn , News
CONDYN has signed a partnership to offer Comodo's advanced endpoint threat prevention platform to South African enterprise and SMB clients.
Read more...
---
Arcules and Milestone deliver hybrid VMS solution
Issue 2 2020, Milestone Systems , News
Powerful functionality meets hyper-scalability with the introduction of the Arcules-XProtect Hybrid VMS Solution.
Read more...
---
Forbatt SA is an official FLIR distributor
Issue 1 2020, Forbatt SA , News
Forbatt SA has announced that it now has official distribution rights for the FLIR range of products.
Read more...
---
IFSEC rescheduled to 8-10 September 2020 due to coronavirus fears
Issue 2 2020, Technews Publishing , News
IFSEC and co-located shows have been rescheduled to take place on 8–10 September 2020 at London ExCeL.
Read more...
---
Amazon Web Services achieves Level 1 BBBEE status
Issue 2 2020 , News
AWS also invites 100 percent black-owned South African small businesses to apply for the AWS Equity Equivalent Investment Programme.
Read more...
---