printer friendly version
Intelligent farming
July 2010
Integrated Solutions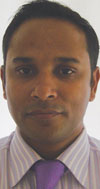 The farming community in South Africa is under pressure as crime cripples the communities who have to literally live and work in fear of their lives. If farmers are not protected the entire food security of South Africa is at risk.
Below is an insert written by Stephan Hofstätter, a journalist for Business Day and it shows the grim state of affairs the farming community has to operate under.
"South Africa – How to stop a farm attack
23 Mar 2010"
"Crime cost the sector R635 million a year, including R212 million in security costs and R65 million in losses from absence due to crime-related injuries. The Red Meat Producers Organisation put the total loss to stock theft in 2008/09 at R366 million. Stats SA figures from 2007 showed equipment theft cost farmers R160 million and crop theft R65 million." – Stephan Hofstätter.
The above situation can be handled by farmers and farming communities if control and detection mechanisms are implemented to generate early warning solutions to farms that are under attack by would be perpetrators.
Farms are easy targets for criminals who are aware that the police are not close by; therefore criminals will continually attack vulnerable farmers.
This need not be the case, as solutions can now be implemented in open areas, such as farms, in a very cost effective manner. Farmers can now implement mobile surveillance cameras to monitor the perimeter of the farms. These mobile cameras require no 220 VAC mains power as electricity can now be generated by wind turbines and solar panels with battery back-up, and some cameras have a 360°, 2 km field of view with built in infrared capabilities that can monitor up to 200 m in the dark. These mobile cameras can be deployed very rapidly by the farmers themselves and can be monitored from the main farmhouse and at the local police station. In this scenario, response can be immediate and the farmer will be aware of intruders when they enter his farm, giving him the ability to make the right decision.
Farmers also have the ability to create field-proven buried cable intrusion detection solutions for covert perimeter protection. Farmers can now use solutions such as volumetric terrain-following sensors that will reliably detect and precisely locate walking, running or crawling intruders along a farm's perimeter. The solution consists of two pairs of sensor cables and can be buried along a farm's perimeter in soil, asphalt or concrete. A detection field is created around the sensor cable pair, enabling the detection of intruders.
The sensors will pinpoint the location of the perimeter that has been breached. Rain, snow and other environmental conditions will not affect the solution. Furthermore, these sensors can operate in conjunction with mobile cameras, giving the farmer visual confirmation whenever the sensors detect an intruder.
Farmers need not live in fear. If these basic solutions are implemented, farmers can take back their lives and the South African Police Service can partner with the farming community so that effective policing and farming can create a cohesive partnership to stop crime against the very industry that each and every South African depends on.
For more information contact JRJ Consultants, +27 (0)82 776 9990, sj@jrjconsultants.co.za, www.jrjconsultants.co.za
Further reading:
Integrated transportation security
Guardian Eye AI & Data Analytics Integrated Solutions Logistics (Industry)
HG Travel installs an AI-powered camera system integrated across 115 vehicles throughout a fleet comprising 160 vehicles of different sizes, along with predictive and self-monitoring tools to track tyre condition, fuel consumption and theft, and overall vehicle maintenance.
Read more...
---
Embracing next-generation surveillance for safer cities
Surveillance Integrated Solutions AI & Data Analytics
With the South African government highlighting the importance of building smart cities by integrating advanced technologies to make them more resilient and liveable, the role of next-generation network video and surveillance technologies cannot be ignored.
Read more...
---
Gallagher Security releases Command Centre v9
Gallagher News & Events Access Control & Identity Management Integrated Solutions
Richer features, greater integrations, with the release of Gallagher Security's Command Centre v9 security site management software designed to integrate seamlessly with various systems and hardware.
Read more...
---
Zero Trust in 2024
Mantis Security Integrated Solutions IoT & Automation
The rapid development of artificial intelligence (AI) applications and uses in 2024 will profoundly impact security operations and AI-driven analytics, which can enhance threat detection, anomaly identification and predictive maintenance.
Read more...
---
Integrating farming and security solutions for productivity
Security BIS Agriculture (Industry) Integrated Solutions
Security challenges are a harsh reality in South Africa, particularly for those in remote areas. Sadly, recurring rural crimes like farm attacks and livestock theft are part of the farming community's lives.
Read more...
---
Optimise operations in healthcare
Cathexis Technologies Integrated Solutions
Hospitals can see thousands of people gathering daily to provide medical care, seek help, visit loved ones, or undertake essential support or administrative work. Protecting everyone is critical to maintaining a safe environment.
Read more...
---
Hikvision unveils range of network speakers
Hikvision South Africa Integrated Solutions
Hikvision has recently unveiled its latest audio product line, featuring various advanced network speakers. Each product is designed to meet different application needs, ensuring flexibility and adaptability across numerous environments.
Read more...
---
HDR multi-camera solution for autonomous mobility
IoT & Automation Integrated Solutions
e-con Systems has launched the STURDeCAM31, a small form factor camera that has been engineered to make autonomous mobility safer by ensuring reliable and superior imaging quality even in challenging outdoor lighting conditions.
Read more...
---
Integrating control rooms and response
WatchManager Integrated Solutions Residential Estate (Industry)
Control rooms have become a standard in large estates, and remote control rooms are finding a home even in smaller estates due to cost efficiencies and the increasing reliability of analytics and artificial intelligence.
Read more...
---
The difference between a SOP and a SOP
Residential Estate (Industry) Integrated Solutions Security Services & Risk Management Risk Management & Resilience
SOPs are a touchy issue that need careful attention and automation to ensure they deliver the desired security results. Beyond design and automation, implementation is the ultimate road to success.
Read more...
---