printer friendly version
Intelligent farming
July 2010
Integrated Solutions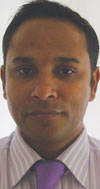 The farming community in South Africa is under pressure as crime cripples the communities who have to literally live and work in fear of their lives. If farmers are not protected the entire food security of South Africa is at risk.
Below is an insert written by Stephan Hofstätter, a journalist for Business Day and it shows the grim state of affairs the farming community has to operate under.
"South Africa – How to stop a farm attack
23 Mar 2010"
"Crime cost the sector R635 million a year, including R212 million in security costs and R65 million in losses from absence due to crime-related injuries. The Red Meat Producers Organisation put the total loss to stock theft in 2008/09 at R366 million. Stats SA figures from 2007 showed equipment theft cost farmers R160 million and crop theft R65 million." – Stephan Hofstätter.
The above situation can be handled by farmers and farming communities if control and detection mechanisms are implemented to generate early warning solutions to farms that are under attack by would be perpetrators.
Farms are easy targets for criminals who are aware that the police are not close by; therefore criminals will continually attack vulnerable farmers.
This need not be the case, as solutions can now be implemented in open areas, such as farms, in a very cost effective manner. Farmers can now implement mobile surveillance cameras to monitor the perimeter of the farms. These mobile cameras require no 220 VAC mains power as electricity can now be generated by wind turbines and solar panels with battery back-up, and some cameras have a 360°, 2 km field of view with built in infrared capabilities that can monitor up to 200 m in the dark. These mobile cameras can be deployed very rapidly by the farmers themselves and can be monitored from the main farmhouse and at the local police station. In this scenario, response can be immediate and the farmer will be aware of intruders when they enter his farm, giving him the ability to make the right decision.
Farmers also have the ability to create field-proven buried cable intrusion detection solutions for covert perimeter protection. Farmers can now use solutions such as volumetric terrain-following sensors that will reliably detect and precisely locate walking, running or crawling intruders along a farm's perimeter. The solution consists of two pairs of sensor cables and can be buried along a farm's perimeter in soil, asphalt or concrete. A detection field is created around the sensor cable pair, enabling the detection of intruders.
The sensors will pinpoint the location of the perimeter that has been breached. Rain, snow and other environmental conditions will not affect the solution. Furthermore, these sensors can operate in conjunction with mobile cameras, giving the farmer visual confirmation whenever the sensors detect an intruder.
Farmers need not live in fear. If these basic solutions are implemented, farmers can take back their lives and the South African Police Service can partner with the farming community so that effective policing and farming can create a cohesive partnership to stop crime against the very industry that each and every South African depends on.
For more information contact JRJ Consultants, +27 (0)82 776 9990, sj@jrjconsultants.co.za, www.jrjconsultants.co.za
Further reading:
Critical control management
Issue 5 2020 , Integrated Solutions
The critical control management process is an excellent practical approach to ensure effective controls over potentially catastrophic events.
Read more...
---
Adjusting to a new reality
Issue 5 2020, Technews Publishing , Integrated Solutions
COVID-19 to accelerate adoption of technology-enabled smart city resilience approaches: robotics, digital twins, and autonomous freight.
Read more...
---
Remote oversight imperative for smart buildings
Issue 5 2020 , Integrated Solutions
Duran Viera, CEO of Amecor, says one of South Africa's biggest drivers for smart building development is security.
Read more...
---
Shaping today's smart cities
Issue 5 2020, ZKTeco , Integrated Solutions
As our physical and digital worlds become intertwined, the absorption of new technologies in smart cities is inevitable.
Read more...
---
The evolution of security in residential estates
Residential Estate Security Handbook 2020 , Editor's Choice, Integrated Solutions, Security Services & Risk Management
Two large estates discuss their security processes and the ever-expanding scope of responsibilities they need to fulfil.
Read more...
---
Home-grown, cloud-based safety and security solutions
Residential Estate Security Handbook 2020 , IT infrastructure, Integrated Solutions
BeSecure has taken security and communications technologies and turned them into what is best described as care and safety solutions for the estate community in South Africa.
Read more...
---
Integrated security management system
Residential Estate Security Handbook 2020, Protoclea Advanced Image Engineering , Products, CCTV, Surveillance & Remote Monitoring, Integrated Solutions
Phorcas is a security information system developed by Protoclea designed to integrate multiple sub-systems into a powerful crime fighting solution.
Read more...
---
Your partner in contemporary business continuity
Issue 3 2020 , Integrated Solutions
Horizon Risk Management aims to provide optimum contemporary, but affordable, business continuity techniques for business in South Africa and abroad through stable, durable and incorruptible practices.
Read more...
---
Financing for the systems integrator
Issue 3 2020, Elvey Security Technologies , Integrated Solutions
Financing your security project through your technology distributor can benefit both the systems integrator and the end user.
Read more...
---
Safe and efficient buildings
Issue 3 2020, Hikvision South Africa , Integrated Solutions
With united systems, a building security solution then can work as a whole to create a safe and efficient environment.
Read more...
---