printer friendly version
New network and hybrid video recorders
July 2010
Products & Solutions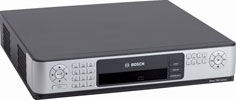 Bosch Security Systems is introducing a new series of embedded fully-IP and hybrid (IP plus analogue) digital video recorders offering enhanced functionality and easier setting up and operation. The Network Recorder 700 Series is based on a completely new all-IP platform that supports up to 32 IP cameras. The Hybrid Recorder 700 Series is based on an updated version of Bosch's successful hybrid platform launched in 2008 (embodied in the company's Divar XF Hybrid recorder). It supports up to 16 IP cameras and 16 analogue cameras. Both 700 Series recorders offer real-time recording and playback in full 4CIF resolution and feature Bosch's advanced H.264 compression technology.
The new 700 Series recorders offer an out-of-the-box solution for setting up medium to larger-scale video surveillance networks without the need of a PC. Everything can be done via the local user interface which includes a user-friendly configuration tool embodying automatic H.264 device assignment. This allows a complete IP system to be set up without having to individually address every IP camera in the network.
For more information contact Bosch Security Systems – South Africa & Sub-Sahara Africa, +27 (0)11 651 9818, elaine.ogorman@za.bosch.com, www.boschsecurity.co.za
Credit(s)
Further reading:
SafeQuip introduces lithium fire extinguishers
Fire & Safety Products & Solutions
With the use of Lithium batteries increasing in many types of portable devices and battery storage solutions, SafeQuip, in partnership with AVD Lithex, is introducing a fire extinguisher aimed at suppressing and extinguishing, and also preventing re-ignition of lithium fires.
Read more...
---
New generation of cyber-focused controllers
Gallagher News & Events Access Control & Identity Management Products & Solutions
The C7000 gives users an opportunity to leverage their hardware and firmware to build a platform designed to catapult their organisation into the future, with cybersecurity baked in from inception.
Read more...
---
Nextivity CEL-FI ROAM R41 boosts your cell signal
IoT & Automation Products & Solutions
Designed for cars, trucks, and boats, it is the industry's most powerful cellular coverage solution for on-the-go applications. It features the 4th generation IntelliBoost chip to deliver channelised coverage for mobile network operator (MNO) signals.
Read more...
---
New power protection for SA
Products & Solutions Power Management
A new generation of uninterrupted power supply (UPS) and power protection systems is now available for technology applications grappling with South Africa's escalating power cuts in both residential and commercial environments.
Read more...
---
Olarm advances smart security with Texecom integration
Olarm News & Events Perimeter Security, Alarms & Intruder Detection Products & Solutions
Following Olarm's achievement as the OSPA 2023 winner of 'Outstanding Security Integrator', it has taken another significant step in its innovation journey with the announcement of its integration with Texecom Premier Elite.
Read more...
---
Bosch Building Technologies to focus on SI business
Bosch Building Technologies Editor's Choice
Bosch Building Technologies, which includes the security division, aims to "consolidate its capabilities to achieve a globally leading position in the systems integration market", a move that will include selling most of its product business.
Read more...
---
Ajax Systems expands product portfolio
Products & Solutions
Ajax has announced the launch of a range of new products and solutions, expanding its scope of operations to include video, Yale integration, Grade 3 devices and fire enhancements.
Read more...
---
Enhanced security at Xanadu Nature Estate
Turnstar Systems Access Control & Identity Management Products & Solutions
Turnstar Systems recently installed two bicycle turnstiles at the 240-hectare Xanadu Nature Estate, set in the Magaliesberg, the perfect location for secure communal living catering to the lifestyle of residents.
Read more...
---
BMS for smaller businesses
Security Services & Risk Management Products & Solutions Risk Management & Resilience
Small businesses can also benefit from tailored energy management solutions just like large corporations. Effective energy management is essential for more sustainable and efficient operations.
Read more...
---
Mobile access to multiple locations
Suprema Access Control & Identity Management Products & Solutions
A central security network was used to link multiple sites across VPN connections to allow the Suprema CoreStations installed at various locations to talk to the remote server.
Read more...
---