printer friendly version
Count the cost of a lost day
July 2010
Information Security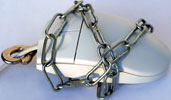 One thing you can be sure of with computers is that, eventually, they will break down. When you are busy running an organisation, checking your backup and recovery strategy can be the last thing on your mind. However, according to a recent study conducted by Acronis and research house Vanson Bourne, 63% of SMBs would take a day or more to recover from system failure. Just imagine how your business would cope without its systems and data for a day.
Despite living in a world where businesses operate around the clock, the majority of small to mid-sized companies are still putting their systems, and therefore their productivity and profitability at risk by failing to protect them adequately. It really does not matter what causes your systems to fail, be it a virus attack, software bug or a hardware breakdown, the results are pretty much the same: hours or even days of downtime and the potential loss of untold amounts of work. If you have got a recent backup, however, and a well conceived recovery plan, the financial and productivity impact on your business can be minimised.
Dual protection
Feedback from our customers shows that organisations are protecting their servers, often backing them up automatically, meaning regular backups are in place. Servers are the lifeline of any IT infrastructure so it is critical that they are safeguarded and backed up regularly.
However, despite backing up their servers, our research found a shocking 25% of organisations still back up their PCs and laptops manually, while 19% do not carry out backups at all. While employees are sometimes encouraged to back up to a network, unfortunately this does not always work in practice. Many employees save folders loosely on their desktop or make updates to documents when they are out of the office.
In fact, according to analyst estimates, 60% of an organisation's data is held on workstations, not servers. This means that the majority of your data could be at risk. In addition, consider the cost of sending out an IT administrator to fix or reinstall a remote office worker's laptop. Not only does the employee have limited access to data, they are also without a PC and their applications are unable to work. In short, you need to make sure both your workstations and servers are safeguarded, backed-up automatically and preferably centrally managed.
Backup does not equal recovery
A survey of storage managers by IDC showed that 87% are confident or highly confident that their disaster recovery (DR) processes would allow them to restore the data for their business critical applications. However, only half of those 87% test their DR strategies more than once a year. Even if you are confident that your backups are running frequently, you should ensure that they are regularly tested otherwise you could be left out on a limb. Make a point to run tests on your backups every quarter.
Examine how comprehensive your strategy is
Many SMBs rely on an end-of-day backup strategy. Our research unveiled that 72% of businesses only run their backups at the end of the day. However, this can cause problems. If a disaster strikes five minutes before the next backup is due to be made, all the data created that day will be lost. How much would a day's productivity cost your organisation?
In addition to this, some backup systems can only recover file level data, and cannot restore applications or systems settings. Redeployment is therefore labour-intensive and time-consuming, requiring you to find the original software disks and reset preferences manually. Imagine if all the PCs in your organisation were hit by a virus attack. How long would it take you to reinstall each machine from scratch?
Put DR at the top of your list
The financial and productivity implications that the loss of data has, coupled with the disruption and downtime caused by failure, is enough to make anyone shiver. Of primary concern to business leaders is business continuity, providing employees with their IT systems to work on and customers with the ability to communicate and transact with the organisation. However, the reality is that backup and recovery does not need to be difficult to achieve, so make sure you put it at the top of your priority list.
For more information contact Biodata IT South Africa, +27 (0)11 234 3650, www.biodata.co.za
Further reading:
Reinforcing cyber defences in a world of evolving threats
Sophos Information Security
[Sponsored Content] In South Africa, the urgency to amplify cybersecurity measures is underscored by alarming statistics revealing the continued vulnerability of organisations to ransomware and other sophisticated cyberattacks.
Read more...
---
Trellix detects collaboration by cybercriminals and nation states
News & Events Information Security
Trellix has released The CyberThreat Report: November 2023 from its Advanced Research Centre, highlighting new programming languages in malware development, adoption of malicious GenAI, and acceleration of geopolitical threat activity.
Read more...
---
SA enterprises can benefit from AI-driven cybersecurity
AI & Data Analytics Information Security
Cybercrime is big business, and threat actors deploy cutting-edge tools to carry out attacks. Fortunately, cybersecurity is constantly evolving to meet and counter the threats they face.
Read more...
---
Cyber threat anticipation
NEC XON Information Security Risk Management & Resilience
The ever-increasing number of sophisticated attacks on the horizon means organisations must evolve and adapt their cybersecurity strategies to protect their data, systems, and reputation.
Read more...
---
Africa Online Safety Fund announces grant winners
News & Events Information Security
The Africa Online Safety Fund (AOSF) has announced the winners of this year's grants; among them are five organisations operating in South Africa to educate people about online risks.
Read more...
---
Gigamon announces the availability of its new Precryption technology
Information Security Risk Management & Resilience
Powerful technology captures packets inside the Linux kernel, bringing plaintext visibility to encrypted traffic to eliminate the most significant security blind spot across virtual, cloud, and container applications.
Read more...
---
Harnessing the power of quantitative risk assessment
Information Security Risk Management & Resilience
In an era where digital threats loom larger than ever, businesses need to pivot from merely defending against cyberattacks to building an infrastructure that can absorb and adapt to them.
Read more...
---
Majority of South African companies concerned about cloud security
Information Security Infrastructure
Global and local businesses share a common concern when it comes to cloud security. 95% of global businesses and 89% of local businesses are concerned about the security of public clouds.
Read more...
---
Lowering the barriers to migration
Symbiosys IT Information Security
Many businesses struggle with the complexities of user and data migration. It can be a daunting process, and it is often initially difficult to perceive a tangible return on investment.
Read more...
---
Strategies to address insider threats
Information Security
According to the 2022 Ponemon Cost of Insider Threats Global Report, incidents of insider threats have increased by 44% in the last two years and now account for 22% of all data breaches.
Read more...
---