printer friendly version
Betafence scores with football fencing
July 2010
Perimeter Security, Alarms & Intruder Detection
60 km of fencing helped secure the FIFA World Cup stadia.
The 2010 Soccer World Cup in South Africa saw extensive upgrades and even new construction projects for the stadia and the supporting infrastructure for the tournament. Betafence South Africa, part of the international Betafence NV, was part of these projects and delivered 60 km of mobile fences and supplied the fencing systems around three of the main stadia, namely Green Point Stadium and Park in Cape Town, the Moses Mabhida Stadium Precinct in Durban and finally at the Peter Mokaba Stadium in Polokwane.
The company also supplied barrier solutions for a number of training facilities and perimeter fencing upgrades of various transport infrastructure facilities throughout the country.
Safe playing
The focal point for fans will no doubt be the 60 km of temporary fencing supplied by Betafence to ensure the proper flow and control of the large crowds of spectators into the stadia. In terms of a permanent perimeter structure, an essential element in securing the Green Point Stadium was to implement a solution with a perfect balance between visibility and aesthetics and obviously an effective perimeter security.
For the walkways at the entrances and for the parking facilities, the developers opted for the anti-vandal and anti-climb Betafence 358 Dublo fence, characterised by its innovative small mesh apertures. The overall design proves that safety, functionality and aesthetics can indeed go hand in hand.
Security, visibility and aesthetics were the key factors when deciding on the fencing for the park facilities, which is used for recreation as well as golf. The 5,5 km long, Nylofor 3MG fence in anthracite grey matches the requirements. The apertures are just small enough to prevent golf balls from penetrating the fence and so it is suited for this application.
The Moses Mabhida Stadium in Durban, which seats 70 000 spectators, is set to cater for a variety of sporting activities such as rugby, cricket and athletics after the World Cup. It is also set to be a flexibly operating facility since it will operate seven days a week and 365 days a year. Together with its local distributor, Fenceline, Betafence SA supplied approximately 6 km of fencing for the overall contract for the perimeter fencing around the Moses Mabhida Stadium and King Shaka Sport Precinct.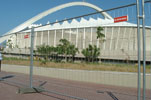 Moses Mabhida Stadium, temporary fencing
This includes the Olympic size King Shaka swimming pool, all the parking facilities, the Natal Mounted Rifles facilities as well as the Natal Maritime Museum. Some 6 km of Nylofor 3MG was erected in total. The corrosion-resistant coating was a particular feature in view of the coastal location.
Safe training
A total of 15 stadia were used as training venues. A number of these stadia have been upgraded extensively in order to host the visiting soccer teams and these upgrades have included the supply of Betafence SA collapsible fencing. The stadia for which Betafence supplied fencing include the Athlone Stadium in Cape Town, Rand Stadium and WITS Stadia in Johannesburg, Princess Magogo Stadium in Durban and Sugar Ray Xulu Stadium also in Durban and the ABSA Stadium in Port Elizabeth.
Safe travelling
Betafence SA also played a part in the upgrading of the existing transport infrastructure. In Durban, the company supplied the perimeter fence and internal barriers for the new King Shaka International Airport and countless fencing upgrades in and around the harbour. Betaview, a new PVC-coated anti-climb and anti-cut fencing system especially developed for the South African market, was specified together with 358 Dublo and Singleskin systems for both projects.
Other realised projects include a number of the stations of the Bus Rapid Transport system in Cape Town, as well as the perimeter fencing upgrades for both the Mthata and Bisho airports.
Internationally, Betafence is now starting to prepare for the European Football Championship in Poland and the Ukraine, as well as for the London 2012 Olympic Games. In view of the 2014 World Cup Football and the 2016 Olympic Games, Betafence-NV participated in the recent economic mission to Brazil under the patronage of HRH Prince Philippe of Belgium.
For more information contact Betafence SA, +27 (0) 21 868 7300, nicky@betafence.co.za, www.betafence.co.za
Further reading:
Different fences for different farmers
Gallagher Perimeter Security, Alarms & Intruder Detection Agriculture (Industry)
Far beyond the simple delineation of boundaries, fencing serves as a dynamic solution to address various needs, from ensuring the security of farms and protecting livestock to defining property lines and enhancing aesthetic appeal.
Read more...
---
Protect remote sites with volumetric thermal detectors
OPTEX Perimeter Security, Alarms & Intruder Detection
Remote sites have always been more vulnerable to opportunistic intrusion, but over the last two years in particular, sites such as solar farms or industrial parks have become more common targets for criminals.
Read more...
---
Stafix focuses on local manufacturing
Perimeter Security, Alarms & Intruder Detection
Stafix Security Centres is a South African-owned company committed to providing customers with a choice of quality imported and locally manufactured products that meet the needs of the electronic security market.
Read more...
---
Texecom launches latest SmartCom 4G Communicator
Perimeter Security, Alarms & Intruder Detection
Texecom announced the upgraded and enhanced version of its SmartCom 4G communicator. Signal sensitivity on all the main bands has also been improved, increasing the usable range from masts, in some instances, by up to four times.
Read more...
---
Olarm advances smart security with Texecom integration
Olarm News & Events Perimeter Security, Alarms & Intruder Detection Products & Solutions
Following Olarm's achievement as the OSPA 2023 winner of 'Outstanding Security Integrator', it has taken another significant step in its innovation journey with the announcement of its integration with Texecom Premier Elite.
Read more...
---
Texecom increases support in the EMEA with key appointments
Editor's Choice Perimeter Security, Alarms & Intruder Detection News & Events
Texecom announced two new appointments to its EMEA sales team: Thomas Vanden Wyngaerdt as Head of EMEA Sales and Tom Wright as EMEA Account Manager.
Read more...
---
JVA electric fence systems
Perimeter Security, Alarms & Intruder Detection
JVA offers a wide range of perimeter-monitored fence solutions (including low and high voltage, amperage, taut wire, and vibration monitoring), as well as a variety of fence line accessories designed for the South African market.
Read more...
---
A good security system starts outside
OPTEX Perimeter Security, Alarms & Intruder Detection
Outdoor intrusion detectors have been specifically designed to expand the security coverage beyond the confines of a building and to warn of anyone approaching as early as possible.
Read more...
---
Simple panic system for estates
Perimeter Security, Alarms & Intruder Detection
RDC's Panic Packs, combined with remote panic buttons, offer a simple and affordable panic solution that ensures residents can access immediate help in times of distress.
Read more...
---
June Coetzer joins Olarm as Partner Manager
News & Events Perimeter Security, Alarms & Intruder Detection
Armed with a solid background in sales and business development, June Coetzer recently joined Olarm as an additional Partner Manager covering Gauteng and the surrounding areas.
Read more...
---