printer friendly version
Hybrid UTP power, video and data
July 2010
Surveillance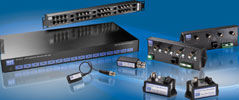 Steve Proctor, sales director at Network Video Technologies (NVT), expands on the company's hybrid capability.
The transmission of video using unshielded twisted pair (UTP) cable is nothing new. Network Video Technologies (NVT) offers solutions that are credible, cost-effective and future-proofed, in that its use of UTP creates a genuine hybrid solution; whether deploying composite video, networked video or a combination of the two – they use the same structured cabling infrastructure.
At the top of any security installers' wish list has always been the goal to embrace any way of reducing the time spent pulling cable while also enhancing the overall performance of their security solutions.
NVT's early products transmitted video and audio signals over UTP cable, but the products have developed over the years and today we are not just talking about transmitting video signals. UTP cable can also be used to transmit low-voltage power and telemetry data, and that equates to some serious savings in terms of both time and money for installers.
Another point to remember is that a UTP infrastructure can be used for both composite video and IP-enabled video. If you use UTP today, not only will you save money and time, but your system can also be converted to an IP-enabled solution without replacing the cabling.
The hybrid approach
NVT offers a very wide range of UTP-based solutions, including new Digital EQ hubs, Power, Video & Data (PVD) power supply hubs, power supply passive receiver hubs and multimedia products. The PVD hubs supply low voltage power (24 VAC and 12 VDC), meaning that localised power supplies and electrical outlets are no longer required at each internal camera location. As well as handling the distribution of power, UTP cable also supports video transmission while additionally delivering PTZ telemetry data, all over a single four-pair Cat5e cable.
All NVT products are UL, cUL and CE listed, RoHS and WEEE compliant, and backed by a lifetime warranty.
The NVT PVD solutions offer real-world benefits to installers, and to assist, NVT offers an Applications Guide to its entire PVD range. Devised to help installers to get the most from UTP based transmission, it details how all CCTV camera power, video and data feeds can be supplied using just a single cable.
For more information contact Network Video Technologies, +44 20 8977 6614, steve.proctor@nvt.com, www.nvt.com
Further reading:
Safer roads to a sustainable future
Dahua Technology South Africa Surveillance
With the ever-increasing number of vehicles on the road, it is imperative to constantly improve the quality of transportation monitoring and traffic management in urban and rural areas.
Read more...
---
From damage management to false alarm prevention
Dallmeier Electronic Southern Africa Transport (Industry) Surveillance Logistics (Industry)
Video surveillance is undergoing an exciting evolution; today's IP-based solutions can be fully integrated into digital systems. With the increasing integration of artificial intelligence (AI); logistics, in particular, can make processes more transparent and exploit previously untapped potential.
Read more...
---
Marshall Security partners with Blacklight to introduce Reconeyez to KZN
News & Events Surveillance Power Management
Marshal Security has joined forces with Blacklight Group to launch Reconeyez, a cutting-edge battery-powered surveillance platform with mesh network capability, in the KwaZulu-Natal market.
Read more...
---
Professional mobile video management in your pocket
Dallmeier Electronic Southern Africa Surveillance
With the SeMSy Mobile Client for its Domera and Panomera cameras, Dallmeier is now launching a solution that combines the functional and security requirements of professional organisations with the user-friendliness and simplicity of consumer apps.
Read more...
---
Leveraging AI to boost security in SA
AI & Data Analytics Surveillance
By shifting data analysis and processing to the edge of a company's network, decision-makers can ensure their remote offices can access real-time computing across multiple locations, supporting informed business decisions.
Read more...
---
Safeguard surveillance devices from cyberattacks
Axis Communications SA Surveillance Information Security
Cybersecurity concerns extend through the organisation and out among its stakeholders and supply chains. It also covers video surveillance, which is critical to any organisation's physical security and asset protection strategy.
Read more...
---
Ring announces second generation indoor camera
Smart Home Automation Surveillance Residential Estate (Industry)
Introducing a removable manual privacy cover, Ring's latest indoor camera provides customers with increased privacy, control and peace of mind when it comes to home security.
Read more...
---
Body-worn evidence
Technews Publishing Forbatt SA Betatrac Telematic Solutions Secutel Technologies Surveillance Residential Estate (Industry) Products & Solutions
Body-worn cameras are no longer just a good idea or a luxury item; in fact, they are gaining popularity and finding use in various situations, one of these being in residential estates.
Read more...
---
Stop cheating with gaming analytics
Dallmeier Electronic Southern Africa Surveillance Entertainment and Hospitality (Industry)
The CAT gaming analysis solution from Dallmeier offers a range of analysis options with which casino operators can increase the 'game pace', combat fraud and gain valuable insights into the gaming action through real time data collection.
Read more...
---
Integrated, intelligent, informed and improved living
Guardian Eye Surveillance
Guardian Eye's range of solutions allow for monitoring and safeguarding your home through discreet, easy-to-maintain devices and solutions, watching your premises and alerting you in the event of unwanted happenings.
Read more...
---