printer friendly version
Securing Durban
July 2010 Surveillance, Surveillance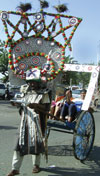 Synectics technology is integral to the security of Durban's CBD.
A city with over three million people, Durban is also the home of Africa's busiest port. As the city has developed, key to the safety and security of its residents has been a Synectics-based electronic surveillance network.
CCTV cameras were first used in the city in the mid-1970s, to monitor traffic through the increasingly busy city centre. Using a basic black-and-white camera infrastructure, this successful scheme continued until 1995, when observing the abilities of the cameras to assist with traffic issues, Durban authorities felt the existing cameras could benefit from an additional surveillance network, to address the safety and security issues that were becoming apparent throughout the city.
In 1998, Lumi Marcu, now senior manager of CCTV Video and Fibre System for the Durban authority began a programme to reconsider the switching and control of the rapidly expanding surveillance network to ensure its technical ability, and the future expandability of the system. "We discussed the replacement of the camera matrix with a number of leading manufacturers," explains Marcu. "We selected Synectics over others due to the support we received from their technical and sales staff during the specification period of the upgrade, and also Synectics' commitment to the integration of third-party devices – a vital element as our piecemeal system consisted of a wide variety of camera types, and from a number of different manufacturers."
Synectics technology is key
"Synectics was also the only manufacturer who could provide the dual control we required from our camera network. Their modular approach to system functionality and SynergyPro Command and Control software meant all cameras, regardless of their function, location, or manufacturer, could be controlled from both the Durban Traffic control room and the Public Space control room, allied to descending control priorities applicable in a variety of situations."
With the system now consisting of multiple Synectics Synergy workstations, 288 TB of Synectics MDRS recording and a Synectics Tesseract SL 512x256 switching matrix, the Durban authorities harnessed the inherent expandability of the Synectics-based network to full effect, extending camera coverage to cover both additional areas of the city, and additional townships in the area – all transmitted back to the central Durban control room.
Today, the control room boasts 29 Synergy positions, manned 24-hours a day by officers, each specialising in the geographical region of their camera locations. Camera coverage now extends to all parts of the City of Durban, including uShaka Marine World and the popular beach front, tourist districts such as Wilson's Wharf on the Victoria Embankment, and the Grey Street and Warwick Triangle areas that boast vibrant local shops and markets. "We enjoy fantastic coverage of all key parts of the city from our control room," continues Marcu. "Thanks to our latest version of Synectics' SynergyPro and a recent upgrade to Synectics H.264 recording technology, we are adding the latest IP camera technology directly to our network.
Analogue cameras can also be connected to the system by converting the analogue video signal to IP at the control room via E800 encoders. The same analogue signal can also be converted at each camera location, via Synectics' new e100 video encoder H.264 compression technology. Images are then transmitted to the control room via a network of underground fibre cables that provide the transmission backbone of the surveillance transmission.
Protecting the community
Durban's operators often capture incidents right from their inception. When a developing situation is noted, operators use SynergyPro's Incident (in progress) feature to instantly enable the tracking of live events on-screen, via their personal spot monitors and the control room's large video wall; automatically creating a fully documented audit trail of any incident. The Incident feature also locks-out other operators from using a specific live camera during a tracked event, therefore avoiding any camera vital to the tracking of an incident suddenly being commandeered to focus on a traffic junction or returning to a pre-programmed PTZ tour. The date, along with start and finish time for each event is stored automatically within the evidential video created, and tagged with a full audit trail of information, indexed to the operator's initials. This allows the Durban team to be confident that when tracking events, their actions are being recorded and fully documented for future reference and evidential purposes.
Economical image archiving
Recording all of the system's 300 cameras, 24-hours a day required a powerful solution, one that was met with the deployment of Synectics's Modular Digital Recording System (MDRS) review client technology. This provides instant access to the valuable camera images, as well as easily downloadable evidence to other media, for police review or presentation in court.
For more information contact Synectics Security Networks, nataliw.simpson@synx.com, www.synx.com
Further reading:
Pentagon appointed as Milestone distributor
Elvey Security Technologies News & Events Surveillance
Milestone Systems appointed Pentagon Distribution (an Elvey Group company within the Hudaco Group of Companies) as a distributor. XProtect's open architecture means no lock-in and the ability to customise the connected video solution that will accomplish the job.
Read more...
---
Embracing next-generation surveillance for safer cities
Surveillance Integrated Solutions AI & Data Analytics
With the South African government highlighting the importance of building smart cities by integrating advanced technologies to make them more resilient and liveable, the role of next-generation network video and surveillance technologies cannot be ignored.
Read more...
---
Hik-Connect for Teams released
Hikvision South Africa Products & Solutions Surveillance
Hikvision has released an update for its security management platform; Hik-Connect for Teams not only meets the specific needs of individual users, but also caters to various medium-sized businesses (SMBs) and multi-site management scenarios.
Read more...
---
The human factor side of video management systems
Leaderware Editor's Choice Surveillance Risk Management & Resilience
A video management system (VMS) is central to, and the most vital element to any control room operation using CCTV as part of its service delivery, however, all too often, it is seen as a technical solution rather than an operational solution.
Read more...
---
A simple system for complex protection
Surveillance AI & Data Analytics IoT & Automation
Reconeyez is a company that provides autonomous wireless visual verification systems with built-in artificial intelligence. Running on batteries, each device includes communication capabilities, creating a mesh network between the various devices, linking them to the control room.
Read more...
---
Revolutionise your security with integrated solutions
Secutel Technologies Products & Solutions Surveillance
By merging the capabilities of SecuVue and Secutraq, Secutel has forged a robust system empowering users to fine-tune analytics and harness facial recognition, pose detection, and XFS, among other features.
Read more...
---
Safer roads to a sustainable future
Dahua Technology South Africa Surveillance
With the ever-increasing number of vehicles on the road, it is imperative to constantly improve the quality of transportation monitoring and traffic management in urban and rural areas.
Read more...
---
From damage management to false alarm prevention
Dallmeier Electronic Southern Africa Transport (Industry) Surveillance Logistics (Industry)
Video surveillance is undergoing an exciting evolution; today's IP-based solutions can be fully integrated into digital systems. With the increasing integration of artificial intelligence (AI); logistics, in particular, can make processes more transparent and exploit previously untapped potential.
Read more...
---
Marshall Security partners with Blacklight to introduce Reconeyez to KZN
News & Events Surveillance Power Management
Marshal Security has joined forces with Blacklight Group to launch Reconeyez, a cutting-edge battery-powered surveillance platform with mesh network capability, in the KwaZulu-Natal market.
Read more...
---
Professional mobile video management in your pocket
Dallmeier Electronic Southern Africa Surveillance
With the SeMSy Mobile Client for its Domera and Panomera cameras, Dallmeier is now launching a solution that combines the functional and security requirements of professional organisations with the user-friendliness and simplicity of consumer apps.
Read more...
---