printer friendly version
Port operator deploys HD surveillance system
July 2010
Surveillance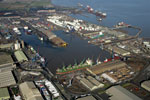 Avigilon HD Surveillance System leverages existing network infrastructure and hardware at Associated British Ports.
Avigilon has announced that Associated British Ports (ABP), the UK's largest port operator and leading cruise port operator, has deployed the Avigilon HD Surveillance System to comply with industry regulations, boost security, and enhance operational efficiencies at the Ports of Grimsby and Immingham.
"The Avigilon HD Surveillance System allows us to monitor the entire port operations, from loading ships to crane operations, from a centralised location to ensure port security, employee safety and productivity," explained Michael Howarth, Humber IT infrastructure manager at Associated British Ports. "The Avigilon HD Surveillance System is versatile and flexible enough to support hardware from many vendors — including analogue cameras — and can leverage our existing network for a more cost-effective and powerful surveillance solution."
ABP uses Avigilon Control Center NVMS with high definition stream management (HDSM) to seamlessly manage the HD surveillance system 24x7. At the Port of Grimsby, ABP installed two 11 MP Avigilon HD cameras to monitor vehicle entry and exit and to provide driver identification and licence plate detail and one 3-MP Avigilon HD camera for complete coverage of the junction leading to the control room. Six 5 MP Avigilon HD cameras are used at the Port of Immingham to monitor and control the lockgates, which open and close to allow ships to pass through and to ensure that there are no obstructions to prevent the lockgates from opening when required.
All six 5-MP Avigilon HD cameras are connected through the fibre network back to the marine control room where the system is monitored live. At the Immingham Bulk Park Terminal, four Avigilon analogue video encoders are used to integrate a new analogue PTZ camera and existing analogue cameras into the Avigilon HD Surveillance System for greater performance and manageability. Four 1-MP Avigilon HD cameras provide site overview and monitor the entrance and exit to the weighbridges, where cargo is weighed. Four Avigilon NVRs record and store 30 days of continuous footage.
"In today's economy, all organisations, including seaports, are driven to achieve a maximum return on their investments. A high definition surveillance system can help port operators meet compliance regulations, improve operations and improve security," said Dave Tynan, vice president of global sales and marketing at Avigilon. "The Avigilon HD Surveillance System delivers reliable and powerful network video management software combined with superior image quality to provide an audit trail of undisputable evidence to minimise downtime, boost productivity, and reduce liability costs."
The Avigilon HD Surveillance System has helped ABP improve operational efficiencies at the ports of Grimsby and Immingham. By leveraging its existing network infrastructure, ABP was able to reduce installation time and costs. ABP has also been able to centralise several processes, including weighbridge and lockgate operations, which can now be managed remotely in conjunction with the surveillance system. As a result, ABP has reduced the need for operational staff at each location. With the Avigilon HD Surveillance System in place, ABP has invested in a scalable, future-proof surveillance solution that can expand to meet growing needs.
For more information contact Avigilon, +34 667 887 503, pedro.simoes@avigilon.com, www.avigilon.com
Further reading:
Safer roads to a sustainable future
Dahua Technology South Africa Surveillance
With the ever-increasing number of vehicles on the road, it is imperative to constantly improve the quality of transportation monitoring and traffic management in urban and rural areas.
Read more...
---
From damage management to false alarm prevention
Dallmeier Electronic Southern Africa Transport (Industry) Surveillance Logistics (Industry)
Video surveillance is undergoing an exciting evolution; today's IP-based solutions can be fully integrated into digital systems. With the increasing integration of artificial intelligence (AI); logistics, in particular, can make processes more transparent and exploit previously untapped potential.
Read more...
---
Marshall Security partners with Blacklight to introduce Reconeyez to KZN
News & Events Surveillance Power Management
Marshal Security has joined forces with Blacklight Group to launch Reconeyez, a cutting-edge battery-powered surveillance platform with mesh network capability, in the KwaZulu-Natal market.
Read more...
---
Professional mobile video management in your pocket
Dallmeier Electronic Southern Africa Surveillance
With the SeMSy Mobile Client for its Domera and Panomera cameras, Dallmeier is now launching a solution that combines the functional and security requirements of professional organisations with the user-friendliness and simplicity of consumer apps.
Read more...
---
Leveraging AI to boost security in SA
AI & Data Analytics Surveillance
By shifting data analysis and processing to the edge of a company's network, decision-makers can ensure their remote offices can access real-time computing across multiple locations, supporting informed business decisions.
Read more...
---
Safeguard surveillance devices from cyberattacks
Axis Communications SA Surveillance Information Security
Cybersecurity concerns extend through the organisation and out among its stakeholders and supply chains. It also covers video surveillance, which is critical to any organisation's physical security and asset protection strategy.
Read more...
---
Ring announces second generation indoor camera
Smart Home Automation Surveillance Residential Estate (Industry)
Introducing a removable manual privacy cover, Ring's latest indoor camera provides customers with increased privacy, control and peace of mind when it comes to home security.
Read more...
---
Body-worn evidence
Technews Publishing Forbatt SA Betatrac Telematic Solutions Secutel Technologies Surveillance Residential Estate (Industry) Products & Solutions
Body-worn cameras are no longer just a good idea or a luxury item; in fact, they are gaining popularity and finding use in various situations, one of these being in residential estates.
Read more...
---
Stop cheating with gaming analytics
Dallmeier Electronic Southern Africa Surveillance Entertainment and Hospitality (Industry)
The CAT gaming analysis solution from Dallmeier offers a range of analysis options with which casino operators can increase the 'game pace', combat fraud and gain valuable insights into the gaming action through real time data collection.
Read more...
---
Integrated, intelligent, informed and improved living
Guardian Eye Surveillance
Guardian Eye's range of solutions allow for monitoring and safeguarding your home through discreet, easy-to-maintain devices and solutions, watching your premises and alerting you in the event of unwanted happenings.
Read more...
---