printer friendly version
Free iPad used as bait in Facebook – advertised phishing scheme
June 2010
Cyber Security
Social networking is so good even for illegitimate marketing campaigns.
How would you like to get one of the much-anticipated iPad gizmos in exchange for simply filling up a mere survey? Well, the offer sounds pretty good – in fact, it sounds too good to be true and that is what it is.
The scheme is massively advertised on a Facebook Events page where about 2500 people signed up for the event and – probably – fell victim to the phishing attack. The idea behind it is extremely simple: you sign up for 'reviewing' an iPad device, get the product and a questionnaire you need to fill in and return to the company. Needless to say that you get to keep the reviewed item without any commitment on your side.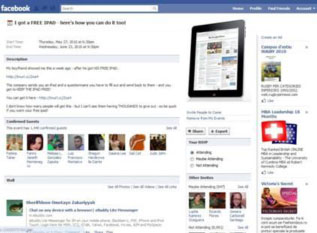 Concealed by a short URL, the target phishing page initially asks for some pretty reasonable info such as the first name and the e-mail address, and culminates with requiring a full set of details, including the full name, home address and phone numbers, as shown below. In order to make the whole deal look legit, the attackers have thrown in logos belonging to high-profile media outlets, although the mentioned institutions have no clue about this initiative.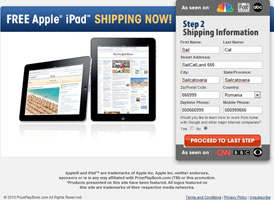 After all the data has been collected, the attacker asks the user to undergo a last security check and provide their Facebook username and password. Please note that our experiment is carried in a contained environment and we do not encourage you to type in your account credentials on any website except for the genuine one.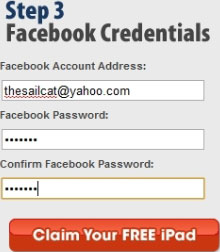 To add insult to injury and to maximise the damage, the unwary user whose account has just been phished would be required to download and install an adware application (a browser toolbar) that hijacks the browser's start page and swaps the default search engine, among others.
Needless to mention that, after filling in the personal details, getting phished and installing the toolbar you will never get the iPad, nor will you hear from the attackers again.
The scheme is based on a common practice amongst product creators, namely sending sample units for reviewing.
However, it is not everybody who can receive a testing unit, as the offer is mostly pointed at opinion influencers, high-profile bloggers and – most of all – specialised review websites. Even that way, journalism ethics urge that the reviewer returns the tested unit to the provider after the process has completed. Now, repeat after me: if something looks too good to be true, than it probably is and you will end up hurting yourself.
Facebook has been notified and the Events page has been taken down.
In order to stay safe, BitDefender recommends you to follow the security tips below:
* Do not enter your personal data and do not download or save files from sources you do not know;  use only the producer's official website.
* Install and activate a reliable security solution .
* Update your antimalware, firewall and spam filter as frequently as possible, with the latest virus definitions and suspicious application/file signatures.
* Scan your system frequently.
For more information contact Aline Anton, senior PR and marketing coordinator, EMEA & APAC Business Unit, BitDefender, aanton@bitdefender.com, www.bitdefender.com
Further reading:
Cyber attackers used over 500 tools and tactics in 2022
Cyber Security News
The most common root causes of attacks were unpatched vulnerabilities and compromised credentials, while ransomware continues to be the most common 'end game' and attacker dwell time is shrinking – for better or worse.
Read more...
---
Addressing the SCADA in the room
Industrial (Industry) Cyber Security
Few other sectors command the breadth of purpose-built and custom devices necessary to function, as the industrial and manufacturing industries. These unique devices create an uncommon risk that must be assessed and understood to fully protect against incoming attacks.
Read more...
---
Recession or stress?
Cyber Security News
The economic landscape has seen many technology companies lay off vast numbers of employees, but for cybersecurity, the picture looks very different – a dynamic mixture of excitement, challenges and toxicity.
Read more...
---
Vulnerabilities in industrial cellular routers' cloud management platforms
Industrial (Industry) Cyber Security Security Services & Risk Management
Research from OTORIO, a provider of operational technology cyber and digital risk management solutions, unveils cyber risks in M2M protocols and asset registration that expose hundreds of thousands of devices and OT networks to attack
Read more...
---
NEC XON appoints Armand Kruger as Head of Cybersecurity
News Cyber Security
NEC XON has announced the appointment of Armand Kruger as the Head of Cybersecurity. Kruger will oversee all cybersecurity offerings including cybersecurity strategy, programmes, and executive advisory.
Read more...
---
Caesar Tonkin new head of cybersecurity business, Armata
News Cyber Security
Vivica Holdings has announced the appointment of cybersecurity expert Caesar Tonkin to head up its cybersecurity business Armata, which provides technology solutions and niche expertise needed to help businesses better protect themselves.
Read more...
---
Surveillance-free surfing
News Cyber Security Products
Zoho has launched Ulaa, a privacy-centric browser built specifically to help users secure their personal data and activity by providing a browser solution that universally blocks tracking and website surveillance.
Read more...
---
Troye and Arctic Wolf join forces
News Cyber Security Security Services & Risk Management
Troye has announced a strategic partnership with Arctic Wolf to enable Troye to provide customers with enhanced cybersecurity solutions and services that help protect their businesses from advanced cyber threats.
Read more...
---
Relaxed home cybersecurity could render consumers accidental 'inside actors'
Editor's Choice Cyber Security Smart Home Automation
Cisco security experts warn of snowball impact of relaxed approach to cybersecurity on personal devices, noting 60% of users primarily use their personal phone for work tasks and 76% have used unsecured public networks for work tasks.
Read more...
---
VMware unveils new security capabilities
Cyber Security IT infrastructure Products
At the RSA Conference 2023, VMware unveiled enhanced features for its suite of security solutions to address the increasing sophistication and scale of cyberattacks and to deliver strong lateral security across multi-cloud environments.
Read more...
---