printer friendly version
Smart smartphone security
June 2010
Cyber Security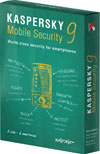 Biodata offers advice on protecting your smartphone.
You make calls, send SMSes, browse the web and communicate via social networks every day, so it makes sense to protect your phone from unwelcome attention. Kaspersky Mobile Security 9 keeps your mobile secure, and private.
Privacy protection
In Privacy Protection mode, the user has control over which contacts and phone numbers will remain private. At the touch of a button you can easily hide and unhide everything related to a particular contact.
Data security
Protect yourself in case you get separated from your smartphone. By SMSing your secret code to your smartphone, the block function will remotely block the smartphone's contents, or in cases of emergency, delete all information on it using Data Wipe.
GPS
If you do not know where your phone is, SMS a user-defined password to your smartphone and GPS Find will reveal its location with a Google Maps link, allowing you to quickly locate your phone and its user.
SIM watch
The first thing thieves do is remove the phone's SIM. If your smartphone's SIM is replaced, SIM Watch will immediately block its contents and e-mail you the phone's new number.
Unwanted calls and text messages?
Kaspersky Mobile Security also makes it simple to control and manage unwanted calls and SMSes. After a conversation ends, the software asks if unknown numbers should be added to a safe or blocked list, preventing unwanted callers from disturbing you in the future.
For more information contact Biodata IT South Africa, +27 (0)11 234 3650, melandij@biodata.co.za, www.biodata.co.za
Further reading:
Cyber attackers used over 500 tools and tactics in 2022
Cyber Security News
The most common root causes of attacks were unpatched vulnerabilities and compromised credentials, while ransomware continues to be the most common 'end game' and attacker dwell time is shrinking – for better or worse.
Read more...
---
Addressing the SCADA in the room
Industrial (Industry) Cyber Security
Few other sectors command the breadth of purpose-built and custom devices necessary to function, as the industrial and manufacturing industries. These unique devices create an uncommon risk that must be assessed and understood to fully protect against incoming attacks.
Read more...
---
Recession or stress?
Cyber Security News
The economic landscape has seen many technology companies lay off vast numbers of employees, but for cybersecurity, the picture looks very different – a dynamic mixture of excitement, challenges and toxicity.
Read more...
---
Vulnerabilities in industrial cellular routers' cloud management platforms
Industrial (Industry) Cyber Security Security Services & Risk Management
Research from OTORIO, a provider of operational technology cyber and digital risk management solutions, unveils cyber risks in M2M protocols and asset registration that expose hundreds of thousands of devices and OT networks to attack
Read more...
---
NEC XON appoints Armand Kruger as Head of Cybersecurity
News Cyber Security
NEC XON has announced the appointment of Armand Kruger as the Head of Cybersecurity. Kruger will oversee all cybersecurity offerings including cybersecurity strategy, programmes, and executive advisory.
Read more...
---
Caesar Tonkin new head of cybersecurity business, Armata
News Cyber Security
Vivica Holdings has announced the appointment of cybersecurity expert Caesar Tonkin to head up its cybersecurity business Armata, which provides technology solutions and niche expertise needed to help businesses better protect themselves.
Read more...
---
Surveillance-free surfing
News Cyber Security Products
Zoho has launched Ulaa, a privacy-centric browser built specifically to help users secure their personal data and activity by providing a browser solution that universally blocks tracking and website surveillance.
Read more...
---
Troye and Arctic Wolf join forces
News Cyber Security Security Services & Risk Management
Troye has announced a strategic partnership with Arctic Wolf to enable Troye to provide customers with enhanced cybersecurity solutions and services that help protect their businesses from advanced cyber threats.
Read more...
---
Relaxed home cybersecurity could render consumers accidental 'inside actors'
Editor's Choice Cyber Security Smart Home Automation
Cisco security experts warn of snowball impact of relaxed approach to cybersecurity on personal devices, noting 60% of users primarily use their personal phone for work tasks and 76% have used unsecured public networks for work tasks.
Read more...
---
VMware unveils new security capabilities
Cyber Security IT infrastructure Products
At the RSA Conference 2023, VMware unveiled enhanced features for its suite of security solutions to address the increasing sophistication and scale of cyberattacks and to deliver strong lateral security across multi-cloud environments.
Read more...
---