printer friendly version
Surveillance, storage and your options
June 2010
Cyber Security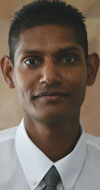 Vassen Naicker examines the non-glamorous side of surveillance.
A report by IMS Research, released two years ago: the 'World market for external storage used for video surveillance' predicted that by 2012, 3,3 exabytes of storage would be needed to store digital video from a new surveillance deployment.
Two years down the line and it would seem that this predication remains relevant and accurate. The video surveillance market, driven by the rapid advancement of technologies such as IP TV, has become a bona fide storage market to play in, with potential for strong business success.
A phenomenal amount of data and external storage will play a key role in managing this information. As increasing amounts of video surveillance moves onto the network, boasting formats and equipment that record in, among others, high resolution, the resultant need for storage capacity is skyrocketing.
The explosion
Key to this evolution has been video surveillance's shift from analogue to digital and from primarily tape-based systems to hard drives. In turn, this has allowed for the deployment of software to analyse high-resolution images, greatly improving the impact of surveillance in today's challenging security climate.
When looking at some of the foremost developments as a result of digitised surveillance IP video surveillance, wireless networking, higher resolution colour systems, biometrics, smart sensors and intelligent networks are definitely important technologies to highlight.
Again, the abovementioned require huge amounts of storage and hard drives engineered to thrive in a high duty cycle system. Moreover, these storage systems need to offer both the capacity and a low cost per gigabyte.
Typically, one camera recording continuously x 1 Mbps x 1/4 of a year will require 1 TB of storage. Quite obviously this figure grows the more cameras you add, creating large storage space requirements. And while digital video surveillance systems are used in a myriad of environments such as banking, entertainment and retail, it is more beneficial to utilise hard drives built specifically for surveillance applications, therefore, offering enhanced reliability and capacity.
The solution
Practically, today's surveillance hard drive should enable IPTV, IP video surveillance, CCTV and SDVR (speaker-dependent voice recognition) to in turn deliver a range of features and capabilities such as high resolution image quality, streaming video for cameras and video archiving with ultra-fast data access and on-demand video playback.
As mentioned, surveillance solutions also require more gigabyte for less money. Fortunately, there are today greener alternatives out there that significantly drive down the amount of power used, therefore, saving on high energy bills and doing its bit for the environment.
Typically, the latest enterprise-class drives would offer 2 TB of capacity coupled with 64 MB cache, dual processor and significant areal density. Throw in some significant energy savings, and you have one mean hard drive to meet your surveillance requirements.
Moreover, these drives also offer reliability rated at 1,2 million hours MTBF (mean time before failure) in high duty cycle environments.
With this all said, it is possible to build surveillance storage systems that do meet all the needs for high capacity, consistent performance while driving down costs and keeping trend with the predicted 3,3 exabyte storage in two years time.
For more information contact Drive Control Corporation, +27 (0)11 201 8927, vassenn@drivecon.net, www.drivecon.net
Further reading:
Cyber attackers used over 500 tools and tactics in 2022
Cyber Security News
The most common root causes of attacks were unpatched vulnerabilities and compromised credentials, while ransomware continues to be the most common 'end game' and attacker dwell time is shrinking – for better or worse.
Read more...
---
Addressing the SCADA in the room
Industrial (Industry) Cyber Security
Few other sectors command the breadth of purpose-built and custom devices necessary to function, as the industrial and manufacturing industries. These unique devices create an uncommon risk that must be assessed and understood to fully protect against incoming attacks.
Read more...
---
Recession or stress?
Cyber Security News
The economic landscape has seen many technology companies lay off vast numbers of employees, but for cybersecurity, the picture looks very different – a dynamic mixture of excitement, challenges and toxicity.
Read more...
---
Vulnerabilities in industrial cellular routers' cloud management platforms
Industrial (Industry) Cyber Security Security Services & Risk Management
Research from OTORIO, a provider of operational technology cyber and digital risk management solutions, unveils cyber risks in M2M protocols and asset registration that expose hundreds of thousands of devices and OT networks to attack
Read more...
---
NEC XON appoints Armand Kruger as Head of Cybersecurity
News Cyber Security
NEC XON has announced the appointment of Armand Kruger as the Head of Cybersecurity. Kruger will oversee all cybersecurity offerings including cybersecurity strategy, programmes, and executive advisory.
Read more...
---
Caesar Tonkin new head of cybersecurity business, Armata
News Cyber Security
Vivica Holdings has announced the appointment of cybersecurity expert Caesar Tonkin to head up its cybersecurity business Armata, which provides technology solutions and niche expertise needed to help businesses better protect themselves.
Read more...
---
Surveillance-free surfing
News Cyber Security Products
Zoho has launched Ulaa, a privacy-centric browser built specifically to help users secure their personal data and activity by providing a browser solution that universally blocks tracking and website surveillance.
Read more...
---
Troye and Arctic Wolf join forces
News Cyber Security Security Services & Risk Management
Troye has announced a strategic partnership with Arctic Wolf to enable Troye to provide customers with enhanced cybersecurity solutions and services that help protect their businesses from advanced cyber threats.
Read more...
---
Relaxed home cybersecurity could render consumers accidental 'inside actors'
Editor's Choice Cyber Security Smart Home Automation
Cisco security experts warn of snowball impact of relaxed approach to cybersecurity on personal devices, noting 60% of users primarily use their personal phone for work tasks and 76% have used unsecured public networks for work tasks.
Read more...
---
VMware unveils new security capabilities
Cyber Security IT infrastructure Products
At the RSA Conference 2023, VMware unveiled enhanced features for its suite of security solutions to address the increasing sophistication and scale of cyberattacks and to deliver strong lateral security across multi-cloud environments.
Read more...
---