printer friendly version
To IP or not to IP?
June 2010
Integrated Solutions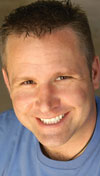 Is IP (Internet protocol) really the question to ask?
It seems at every turn that I hear about retailers with IP initiatives and sales folks – excuse me, 'Vendor Partners' – come running with their own products and solutions that they think you need. I once heard a loss prevention professional say that "most technology providers try to make your problems fit their solutions. A true partner will provide you the solutions so that you can solve your own problems – that is a true partner."
In my opinion, that is what has been lacking in the solutions that have been available over the past several years; they have great features and offer very specific solutions, but none of them allow the LP professional to effectively implement exactly what they are looking for without limiting future changes.
So to the point of the title of this article: If 'Going IP' is not really the question, then what is the point? Well, one of the most exciting facets of IP surveillance technology is that you are afforded the ability to think outside of the DVR (digital video recorder) box that is so familiar these days. After all, DVRs are just software, storage, processing and encoding in a box, so why not just build your solution with common off-the-shelf components that allow full interoperability and scalability?
Many manufacturers have it in their best interest to lock you into their hardware and their solutions, so this is one of those 'things they do not want you to know'. With the advent of IP-based surveillance, you have the freedom to get away from proprietary and closed environments! Would you not like your surveillance to operate just like your corporate computing, or any other PC-based application that you use every day? It is the most flexible approach for the longest return on your investment.
So what about 'Going IP'? "Can I not just implement a hybrid DVR to help me bridge the gap?" Well, yes.
But how is that any better than your existing DVR environment? I would bet that it is proprietary, with its own approach to analytics, business intelligence, maybe access control, exception-based reporting, etc. Also, let us say that one of those analogue cameras fails and you would rather replace it with a much better IP camera. Well, it is an analogue channel! If you already put in the limit of IP cameras to that box, what are you going to do?
With an open platform approach, using common off-the-shelf stuff, you can build a system that leverages your existing cameras with encoders, add IP cameras, and it will all operate on a unified holistic platform on which you can layer anyone's analytics, access control, or other solution of your choice. Also use cellular broadband if you need to, WiFi, or any other common protocol. When an analogue camera dies, replace it with an IP camera, and move that encoder to the next store that has a failing DVR.
The migration path is much more palatable than we have been led to believe so IP is attainable, without sacrificing your existing investment.
The point here is: technology is changing rapidly, but that does not mean that you have to throw out your current investment and suffer the slings and arrows of that outrageous fortune. With the rapidly changing technology, you are afforded many more options than you may realise. By putting yourself on the road to open and interoperable systems, your risk is greatly reduced and you have the ability to bob and weave in whatever manner you may need going forward.
This article was first published by RetailSolutionsOnline.com with the title 'IP: Think Outside the DVR Box'. Hedgie Bartol is the retail sales manager for Milestone Systems.
Further reading:
Convergence of cyber and physical security
Integrated Solutions Security Services & Risk Management
The overlap between cybersecurity and physical security will necessitate the integration of cyber and physical security in order to enable the sharing of events to the same security operations centre.
Read more...
---
Success in business process best practices
Technews Publishing Kleyn Change Management Editor's Choice Integrated Solutions Security Services & Risk Management
This month we commandeer time with the woman who is spearheading our national conversation on Women in Security, Lesley-Anne Kleyn, to get to know the lady herself a little better.
Read more...
---
Unlock seamless security with integrated products
Secutel Technologies Integrated Solutions Products
By combining SecuVue and Secutraq, Secutel has created a system that enables users to configure analytics, facial recognition, pose detection, and XFS among other security triggers modern service providers require.
Read more...
---
Integrated guarding services
XtraVision Integrated Solutions Access Control & Identity Management Industrial (Industry)
XtraVision offers a few tips on how to go about planning and setting up an integrated approach to sustainable and successful security services, from the initial risk assessment to the technology and people required.
Read more...
---
Paxton secures multi-tenant office in Cape Town
Paxton Integrated Solutions Access Control & Identity Management Products
Cecilia Square in Paarl, Cape Town is an office building from where several businesses operate. The multi-tenant site has recently undergone a full refurbishment, including a complete upgrade of its security system for access control.
Read more...
---
Bi-directional integration of Gallagher and Qognify
Gallagher Integrated Solutions Products
In a world of converging technology ecosystems, siloed solutions are no longer viable; this applies in particular to physical security, where only combined information enables a comprehensive assessment of a situation and a timely response.
Read more...
---
Qognify integrates with Johnson Controls Security Products
Integrated Solutions News Products
The integration of Qognify VMS and Kantech EntraPass enables users to better understand situations based on the synchronisation of event and video data, allowing a faster and more targeted response to event-based scenarios.
Read more...
---
Complex, but critical partner in security
Technews Publishing Bidvest Protea Coin Editor's Choice Integrated Solutions IT infrastructure Mining (Industry)
Smart Security looks at how drones can be applied effectively in mine security operations. The ability to quickly gain a birds-eye view of a situation, whether security, safety or operational in nature, makes drones a significant value-add to mines.
Read more...
---
Enhancing surveillance on mines
Avigilon Technews Publishing Axis Communications SA Forbatt SA Hikvision South Africa Bosch Building Technologies Editor's Choice CCTV, Surveillance & Remote Monitoring Integrated Solutions Mining (Industry)
Smart Security approached a number of surveillance vendors to find out what the latest in surveillance technology is that can make a difference to security operations in mines, as well as general operations.
Read more...
---
Surveillance to improve worker safety
Axis Communications SA Mining (Industry) CCTV, Surveillance & Remote Monitoring Integrated Solutions
With substantial deposits of mineral resources, mining is critical for South Africa's economic growth and prosperity; however, mining can be dangerous, especially for the people working on the ground and in the shafts.
Read more...
---