printer friendly version
Clear views from Datanet
June 2010
CCTV, Surveillance & Remote Monitoring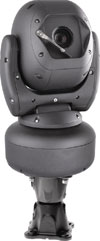 CBC Europe recently unveiled new CCTV product lines in keeping with today's demanding security requirement for quality, robust design and cost effective implementation.
CBC Europe is a subsidiary of CBC (Japan) and has been designing, manufacturing and supplying CCTV products such as Computar, Ganz and VSII since 1971. Computar is well known for optical products, Ganz for high-end high performance CCTV products and VSII for cost effective high performance CCTV products, all available locally (in South Africa and Africa) from Datanet Infrastructure Group.
IP-based rugged PTZ
Ganz unveiled the C-Allview Speed Dome camera in TCP (transmission control protocol)/IP format. The C-Allview features a ruggedised continuous rotation PTZ within an IP67 rated cast aluminium and anodised design. It is available in an 18 x optical zoom with 12 x digital zoom (4,1-73,8 mm) and a 36 x optical zoom with 12 x digital zoom (3,4-122,4 mm) with a wide dynamic range function as standard in both models. The C-Allview uses a 0,25-inch Interline Transfer CCD (camera control driver) with 530 TVL (TV lines) horizontal resolution. Minimum illumination required is 0,07 lux in monochrome mode.
The unit utilises a direct drive motor for continuous panning and a single belt for tilt function that can be replaced within minutes should the need ever arise. It features a quick tilt facility on the main assembly to reach hard to view spaces as well as a nudge correction feature to protect the camera in extremely challenging and difficult environments.
It boasts H.264, MPEG4 and MJPEG compression codecs and dual stream H.264 and MPEG4 at 25fps at D1 resolution. Basic video content analyses are included as standard with an optional advanced video analytics upgrade software package available for all Ganz and VSII H.264 devices.
Ganz has also included a wiper unit as standard on all C-Allview units with an optional screen washer unit in 5 or 25 litre capacities, making the C-Allview ideal for South Africa's harsh and challenging environment. Other optional enhancements include infra-red Illumination mounts and various mounting brackets and adapters for any installation application. Datanet can also have an adapter custom designed and manufactured.
Mounting of the C-Allview can either be inverted, upright or inclined – this enables the installer to mount the C-Allview in just about any challenging environment.

THRU vision MIST corrected technology
One of the challenges facing today's CCTV security professional is the effect mother nature has on the effectiveness of a CCTV system. Rain, mist, smog and sand often influences what we can view and this often leads to CCTV systems being rendered ineffective because an incident was obscured by either mist or rain or some other obstacle mother nature throws our way. Frustration for the system installer – the end-user more often than not, does not understand the technology and has a skewed view of what the CCTV system can and cannot do.
The THRU vision CCTV camera and lens technology has arrived to lend a helping hand to the system installer faced with the dilemma described above.
THRU vision cameras work on real-time G-MIST technology in which low contrast images caused by poor visibility environments are digitally processed into high quality images with the contrast and colour elements automatically adjusted. The camera's dynamic range control function detects and measures bright and dark areas on the scene and automatically makes adjustments by brightening or darkening scenes respectively. It is a full function day/night camera with an electronic day/night and true day/night (IR cut filter) versions available.
The THRU Vision lens offers a 60 x motorised optical zoom (12,5-750 mm) along with a 2X extender to provide a maximum focal length of 1500 mm. The lens is equipped with a unique filter which helps to better view objects obscured by rain, mist, sand or smog. Using the lens with an IR illuminator, the focus position is automatically adjusted along with the peal wavelength of the IR illuminator by moving the lens elements. Under foggy or rainy conditions, or very strong sunshine, the filter clears any obstacles and provides clearer images than the human eye.
For more information contact Datanet Infrastructure Group, +27 (0)21 550 0912, nadiag@datanet.co.za, www.datanet.co.za
Further reading:
Elvey partners with HALO
Elvey Security Technologies News CCTV, Surveillance & Remote Monitoring
Elvey Group has partnered with HALO Europe to provide Africa's first body-worn solution with zero upfront costs. This includes an IP68-certified body camera and a 4G-connected device.
Read more...
---
Regal announces new partnership
Regal Distributors SA CCTV, Surveillance & Remote Monitoring
Having a bird's eye view of your surveillance data, with the capability to drill down to the details obtained via connected security solutions, is a game changer for security operators, companies and even officers on the ground.
Read more...
---
Invisible connection and tangible protection via cloud
Dahua Technology South Africa Perimeter Security, Alarms & Intruder Detection CCTV, Surveillance & Remote Monitoring Products
Dahua Technology has launched its AirShield security solution that uses advanced, stable and reliable RF communication technology and cloud services, integrating alarm hubs, various detectors and accessories, with several software apps.
Read more...
---
Hikvision expands solar-powered solutions
CCTV, Surveillance & Remote Monitoring Products
Hikvision is offering a portfolio of solar solutions, the 4G solar-powered camera kit, a wireless bridge, and mobile solar security tower solutions to assist in keeping remote and isolated areas safe in a simple, practical, and cost-effective way.
Read more...
---
Affordable entry-level cameras from Dallmeier
Dallmeier Electronic Southern Africa CCTV, Surveillance & Remote Monitoring Products
Dallmeier has introduced the 'E' version of the DOMERA camera family, offering high image quality with 2 MP and 5 MP resolution, and providing detailed images even in low light conditions.
Read more...
---
The importance of the operator's frame of reference
Leaderware Editor's Choice CCTV, Surveillance & Remote Monitoring Security Services & Risk Management Mining (Industry)
The better the operator's frame of reference and situational awareness, and the more informed they are in dealing with CCTV surveillance in the mining industry, the more successful they are likely to be in surveillance.
Read more...
---
Enhancing surveillance on mines
Avigilon Technews Publishing Axis Communications SA Forbatt SA Hikvision South Africa Bosch Building Technologies Editor's Choice CCTV, Surveillance & Remote Monitoring Integrated Solutions Mining (Industry)
Smart Security approached a number of surveillance vendors to find out what the latest in surveillance technology is that can make a difference to security operations in mines, as well as general operations.
Read more...
---
Surveillance to improve worker safety
Axis Communications SA Mining (Industry) CCTV, Surveillance & Remote Monitoring Integrated Solutions
With substantial deposits of mineral resources, mining is critical for South Africa's economic growth and prosperity; however, mining can be dangerous, especially for the people working on the ground and in the shafts.
Read more...
---
Radar-video fusion camera
Axis Communications SA CCTV, Surveillance & Remote Monitoring Mining (Industry) Products
The AXIS Q1656-DLE Radar-Video Fusion Camera device brings video and radar analytics together in AXIS Object Analytics to deliver detection and visualisation.
Read more...
---
Centralised VMS for multiple sites
Mining (Industry) CCTV, Surveillance & Remote Monitoring
Dispersed mining operation relies on AxxonSoft for centralised video management as well as device health monitoring and the reliable distribution of analytics to various camera brands.
Read more...
---