printer friendly version
Thermal power stations
June 2010
CCTV, Surveillance & Remote Monitoring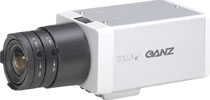 It is not always the usual solutions that prove the most cost effective.
The upgrade and expansion of CCTV surveillance at a large power station in the north of England originally proposed the use of multiple PTZ (pan/tilt/zoom) cameras, until CBC (Europe) suggested a simpler alternative.
These multiple dome cameras, complete with infra-red (IR) illumination, were to have been column-mounted, 200 m apart, with each unit having a maximum IR illuminated view of 100 m. But the installation of cameras, columns and cables on sites like this can absorb a large portion of the security budget, before running costs are even considered.
Working with North Lincolnshire installation company NX1 (UK), CBC came up with a way of significantly reducing this outlay. It offered the added advantage of providing usable images in all weather conditions, day or night, without the extra expense of additional illumination.
CBC's Ganz Thermal Allview system was the cost effective solution specified, following a successful on-site demonstration.
Dean Nixon, NX1's managing director, says the 1 km man-detection range of Thermal Allview meant the number of proposed cameras covering a specific area of the power station could be replaced completely by just one camera.
"Although the system's initial cost is higher than the standard Ganz Allview camera, the decision to go thermal in this situation was undoubtedly cost effective. Reducing the number of proposed cameras has also cut the video inputs used on the matrix, adding to the savings on the project," he comments. "On-site security staff can control the Thermal Allview camera just like a conventional PTZ dome, include its 36x optical zoom. Thermal Allview has improved the overall security on this site, reduced installation costs and provided the best solution for our customer's needs."
A second Thermal Allview has already been added to cover an additional part of the site and a planned phase two of the security scheme involves a further 11 units. There are also plans to introduce CBC's Radar Vision system, which provides detection up to an 800 m radius, When used in conjunction with a Ganz Allview dual optical/thermal camera, Radar Vision can observe people, animals and vehicles without the need for artificial lighting, providing images in fog, mist, rain and snow conditions for true 24/7 detection.
For more information contact CBC (Europe), +27 (0)83 780 4123, charding@cbc-sa.com, www.ganzthermalvision.com
Further reading:
Elvey partners with HALO
Elvey Security Technologies News CCTV, Surveillance & Remote Monitoring
Elvey Group has partnered with HALO Europe to provide Africa's first body-worn solution with zero upfront costs. This includes an IP68-certified body camera and a 4G-connected device.
Read more...
---
Regal announces new partnership
Regal Distributors SA CCTV, Surveillance & Remote Monitoring
Having a bird's eye view of your surveillance data, with the capability to drill down to the details obtained via connected security solutions, is a game changer for security operators, companies and even officers on the ground.
Read more...
---
Invisible connection and tangible protection via cloud
Dahua Technology South Africa Perimeter Security, Alarms & Intruder Detection CCTV, Surveillance & Remote Monitoring Products
Dahua Technology has launched its AirShield security solution that uses advanced, stable and reliable RF communication technology and cloud services, integrating alarm hubs, various detectors and accessories, with several software apps.
Read more...
---
Hikvision expands solar-powered solutions
CCTV, Surveillance & Remote Monitoring Products
Hikvision is offering a portfolio of solar solutions, the 4G solar-powered camera kit, a wireless bridge, and mobile solar security tower solutions to assist in keeping remote and isolated areas safe in a simple, practical, and cost-effective way.
Read more...
---
Affordable entry-level cameras from Dallmeier
Dallmeier Electronic Southern Africa CCTV, Surveillance & Remote Monitoring Products
Dallmeier has introduced the 'E' version of the DOMERA camera family, offering high image quality with 2 MP and 5 MP resolution, and providing detailed images even in low light conditions.
Read more...
---
The importance of the operator's frame of reference
Leaderware Editor's Choice CCTV, Surveillance & Remote Monitoring Security Services & Risk Management Mining (Industry)
The better the operator's frame of reference and situational awareness, and the more informed they are in dealing with CCTV surveillance in the mining industry, the more successful they are likely to be in surveillance.
Read more...
---
Enhancing surveillance on mines
Avigilon Technews Publishing Axis Communications SA Forbatt SA Hikvision South Africa Bosch Building Technologies Editor's Choice CCTV, Surveillance & Remote Monitoring Integrated Solutions Mining (Industry)
Smart Security approached a number of surveillance vendors to find out what the latest in surveillance technology is that can make a difference to security operations in mines, as well as general operations.
Read more...
---
Surveillance to improve worker safety
Axis Communications SA Mining (Industry) CCTV, Surveillance & Remote Monitoring Integrated Solutions
With substantial deposits of mineral resources, mining is critical for South Africa's economic growth and prosperity; however, mining can be dangerous, especially for the people working on the ground and in the shafts.
Read more...
---
Radar-video fusion camera
Axis Communications SA CCTV, Surveillance & Remote Monitoring Mining (Industry) Products
The AXIS Q1656-DLE Radar-Video Fusion Camera device brings video and radar analytics together in AXIS Object Analytics to deliver detection and visualisation.
Read more...
---
Centralised VMS for multiple sites
Mining (Industry) CCTV, Surveillance & Remote Monitoring
Dispersed mining operation relies on AxxonSoft for centralised video management as well as device health monitoring and the reliable distribution of analytics to various camera brands.
Read more...
---