printer friendly version
Technology secures campuses
June 2010 Integrated Solutions, Education (Industry)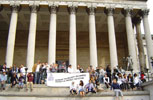 Protecting our university and college campuses equates to protecting South Africa's future leaders.
Jack Edery, CEO of Elvey Security Technologies believes it is incumbent on any campus security body to implement systems capable of protecting students against a range of crimes, from theft, fraud, drugs, trespassing and malicious damage to property, assault and even murder.
"These incidents not only disrupt students' daily lives but can leave panic and fear in their wake, to the detriment of their studies," he says.
Modern-day campus security extends beyond run-of-the-mill solutions such as access control, turnstiles, boom gates, security guards and analogue CCTV cameras. Cutting-edge technologies such as video analytics, which is essentially the computerised identification of events and objects without human assistance, offers huge benefits to tertiary institutions, not least of all being that people are given more time to react to and defuse dangerous situations.
Testimony to the competence of this technology is the rapidity with which it is replacing analogue cameras. According to Edery, analogue cameras are being replaced by IP (internet protocol) surveillance cameras, which slot easily into existing networks. Among the many reasons for switching over are IP's advanced security features and capabilities, its affordability, and its ease of installation and operation.
"Video analytics, as the name suggests, enables video to be accurately and quickly analysed for specific data such as behaviour patterns, movement tracking, perimeter violation, people counting and licence plate recognition," he explains. "It also allows digitised audiovisual streams to be sent to and viewed from anywhere in the world. In addition, video analytics adjust automatically to lighting and discriminatory conditions. And it reduces data storage requirements and costs.
Foot patrols
From the days when night watchmen guarded the walls of ancient cities to the Roman vigiles whose job it was to protect the city of Rome, foot patrols have been and remain a popular security choice.
There is a problem with this particular security solution, however – its very humanness. Says Rory Webber, Elvey's national sales manager: "One of the major problems of foot patrol security is the unsupervised nature of the job. Whether by accident or intent, guards wander from their paths, fall asleep, fail to check requisite points along their routes. However, cellular technology has revolutionised this aspect of security by making it more reliable and simultaneously safer for the guards themselves."
Through the use of a SIM card on a baton, guards are able to communicate easily and quickly with control rooms. All it takes is one touch of a button, which uses a secured access point name (APN) via the cellular networks. This deceptively simple device, which the guard swipes at buttons along his route, allows the control room to not only pinpoint his exact location at any given time but also records the time it took him to get from point A to point B.
Video verification
Another new technology, successfully implemented in Europe and America and now taking South Africa by storm, is video verification. Its presence makes it possible for control room personnel to view video disturbances as they occur, via IP, GSM/GPRS. "In so doing, operators are immediately able to determine whether the alarm is false or real and dispatch armed response officers if necessary," Kenny Chiu, Elvey's marketing manager explains.
Zane Greeff, technical director for Elvey is adamant that there is no better way to verify an alarm, hold-up, burglary or other life-threatening event than with video verification.
"Aside from the excellent design and functionality of the best video verification units, they are also seamlessly integrated into alarm panels to provide video services. To this end, pre- and post-video alarm signals, complete with site identification and time stamp, are transmitted to the monitoring station, while pre- and post-video clips pop up on the automation screens, allowing the dispatcher to access the event in a timely manner."
The same applies to notifications such as arming and disarming of the alarm system. In areas where telephone lines or Internet are not available or have been disrupted, videos can be transmitted through cellular phone, a boundary-less application capable of sending video verification clips and event notification to various recipients, Chiu concludes.
For more information, contact Kenny Chiu, Elvey, +27 (0)11 401 6700, Kenny.chiu@elvey.co.za
Credit(s)
Further reading:
Your partner in contemporary business continuity
Issue 3 2020 , Integrated Solutions
Horizon Risk Management aims to provide optimum contemporary, but affordable, business continuity techniques for business in South Africa and abroad through stable, durable and incorruptible practices.
Read more...
---
Financing for the systems integrator
Issue 3 2020, Elvey Security Technologies , Integrated Solutions
Financing your security project through your technology distributor can benefit both the systems integrator and the end user.
Read more...
---
Elvey exclusive Aiphone distributor
Issue 3 2020, Elvey Security Technologies , Access Control & Identity Management
Aiphone has appointed the Elvey Group as its official distributor in South Africa with effect from 1 April 2020.
Read more...
---
Safe and efficient buildings
Issue 3 2020, Hikvision South Africa , Integrated Solutions
With united systems, a building security solution then can work as a whole to create a safe and efficient environment.
Read more...
---
Building a nervous system for smart cities
Issue 1 2020, Pinnacle Instruments SA , Integrated Solutions
Build a central nervous system for smart cities, by employing real-time situation reporting and analysis that unites the powers of cloud computing, AI, IoT and big data.
Read more...
---
The secret to 5G security? Turn the network into a sensor
Issue 1 2020 , Integrated Solutions
We are about to make the leap from being a civilisation that uses networks to one that runs on them in a fundamental and inextricable way.
Read more...
---
The move to services and RMR
Issue 1 2020, Merchant West, G4S South Africa, Technews Publishing , Integrated Solutions
Project work used to be the staple diet for system integrators, but that was before the services model changed the way businesses buy and use their security systems.
Read more...
---
Global security industry adopts servistisation models
Issue 1 2020 , Integrated Solutions
New as-a-service business models are gaining traction because they reduce capital expenditure and cost of ownership, finds Frost & Sullivan.
Read more...
---
Looking ahead with mobile access technologies
Access & Identity Management Handbook 2020, Technews Publishing, HID Global, dormakaba South Africa, Salto Systems Africa, Suprema, Gallagher , Access Control & Identity Management, Integrated Solutions
Given the broad use of smartphones around the world and the numerous technologies packed into these devices, it was only a matter of time before the access control industry developed technology that would ...
Read more...
---
Scalable access solution
Access & Identity Management Handbook 2020 , Access Control & Identity Management, Integrated Solutions
Bosch Building Technologies makes access management simple, scalable and always available with Access Management System 2.0.
Read more...
---