printer friendly version
The switch to remote guarding
June 2010
CCTV, Surveillance & Remote Monitoring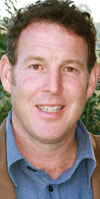 Technology using intelligent video is removing the barriers to remote guarding in South Africa.
We are now living in an era where monitoring companies are installing intelligent video guards to remotely protect people and assets effectively, reducing our dependency on traditional monitoring. Control rooms can now literally see alarms on remote sites, verify them, speak to the site live and even control access, all from a smart camera and without special networks or bandwidth.
The failures of CCTV for remote monitoring
Along came CCTV as an application for monitoring, and it came with its problems too. Until now no-one has come up with the right answers:
* How to get constant video signal from many cameras to a remote monitoring room?
* How to do this with any sort of reasonable picture quality?
* How to monitor hundreds of cameras from hundreds of sites and detect a single incident?
* How to do anything more proactive than record crime? And most important of all,
* How to use video systems to detect intruders or incidents with no false alarms.
The death of video walls
It is estimated that less than 5% of all surveillance cameras are monitored, making them reactive tools rather than pro-active methods for preventing crime. Research has shown that it is humanly impossible to monitor multiple screens of live video footage and effectively guard a site. The human brain is not designed to do this, we quickly slip into a different cerebral frequency that actually numbs us to all of the stimuli and makes it prone to error. Also the cost of having one operator per 15 or so cameras makes for a labour intensive model that is expensive and unsustainable.
Imagine if my armed response company was alerted via a live bit of video footage with an alarm that showed exactly what was happening on my perimeter before the criminals got to my window. Just that video, nothing else? They would know that it was an authentic alarm; they could respond and even anticipate the crime. Enter edge-based intelligent video surveillance.
Intelligent edge devices
It has always been crazy to consider monitoring with video, the way CCTV works, it has been a nightmare to add video as a viable media in the monitoring business. But it is not all doom and gloom because of this new era of edge-based technology. Simply put, this really means that all the intelligence, processing, input and output is done in situ rather than in the control room, similar to the way PCs work on the Internet.
When working at a PC all intelligence and storage is done locally. When you need something from the Internet you get that data online. Edge devices combine a camera, DVR, analytics software and rules toolbox into one unit. Installed on site they will do all of the processing and monitoring for you, so 99,9% of the time no signal leaves the site, therefore there is no streaming at all.
A factor that has a massive impact on the effectiveness of edge devices is their ability to detect. Today many companies are selling software that does advanced motion detection (AMD). Here the software sends any video to the control room that has pattern changes in it. The problem here is a huge increase in false alarms from things such as pets, birds, trees in the wind, headlights and reflections on water or rain and hail. There are only a handful of companies world-wide today that do true video analytics. This means being able to distinguish between a human and a dog.
What is right for your business
Make sure that when sourcing a system you get a demonstration showing that the analytics can ignore those realities of our world like flying ants, guinea fowl, monkeys and Highveld downpours so that you do not have to face a remote monitoring nightmare of 97% false alarms. Also, smart storage on-site is key so that you do not have to pay for the costs of streaming over the Internet or storing hours of useless video. Choose a system that can manage how your storage is done and even store non-event footage in lower quality to avoid unnecessary terabytes of irrelevant video. You can always archive locally or remotely when it makes sense.
For more information contact Andrew Page Wood, VideoIQ AFRICA, +27 (0)82 789 2010, andrew@videoiq.co.za, www.videoiq.co.za
Further reading:
Elvey partners with HALO
Elvey Security Technologies News CCTV, Surveillance & Remote Monitoring
Elvey Group has partnered with HALO Europe to provide Africa's first body-worn solution with zero upfront costs. This includes an IP68-certified body camera and a 4G-connected device.
Read more...
---
Regal announces new partnership
Regal Distributors SA CCTV, Surveillance & Remote Monitoring
Having a bird's eye view of your surveillance data, with the capability to drill down to the details obtained via connected security solutions, is a game changer for security operators, companies and even officers on the ground.
Read more...
---
Invisible connection and tangible protection via cloud
Dahua Technology South Africa Perimeter Security, Alarms & Intruder Detection CCTV, Surveillance & Remote Monitoring Products
Dahua Technology has launched its AirShield security solution that uses advanced, stable and reliable RF communication technology and cloud services, integrating alarm hubs, various detectors and accessories, with several software apps.
Read more...
---
Hikvision expands solar-powered solutions
CCTV, Surveillance & Remote Monitoring Products
Hikvision is offering a portfolio of solar solutions, the 4G solar-powered camera kit, a wireless bridge, and mobile solar security tower solutions to assist in keeping remote and isolated areas safe in a simple, practical, and cost-effective way.
Read more...
---
Affordable entry-level cameras from Dallmeier
Dallmeier Electronic Southern Africa CCTV, Surveillance & Remote Monitoring Products
Dallmeier has introduced the 'E' version of the DOMERA camera family, offering high image quality with 2 MP and 5 MP resolution, and providing detailed images even in low light conditions.
Read more...
---
The importance of the operator's frame of reference
Leaderware Editor's Choice CCTV, Surveillance & Remote Monitoring Security Services & Risk Management Mining (Industry)
The better the operator's frame of reference and situational awareness, and the more informed they are in dealing with CCTV surveillance in the mining industry, the more successful they are likely to be in surveillance.
Read more...
---
Enhancing surveillance on mines
Avigilon Technews Publishing Axis Communications SA Forbatt SA Hikvision South Africa Bosch Building Technologies Editor's Choice CCTV, Surveillance & Remote Monitoring Integrated Solutions Mining (Industry)
Smart Security approached a number of surveillance vendors to find out what the latest in surveillance technology is that can make a difference to security operations in mines, as well as general operations.
Read more...
---
Surveillance to improve worker safety
Axis Communications SA Mining (Industry) CCTV, Surveillance & Remote Monitoring Integrated Solutions
With substantial deposits of mineral resources, mining is critical for South Africa's economic growth and prosperity; however, mining can be dangerous, especially for the people working on the ground and in the shafts.
Read more...
---
Radar-video fusion camera
Axis Communications SA CCTV, Surveillance & Remote Monitoring Mining (Industry) Products
The AXIS Q1656-DLE Radar-Video Fusion Camera device brings video and radar analytics together in AXIS Object Analytics to deliver detection and visualisation.
Read more...
---
Centralised VMS for multiple sites
Mining (Industry) CCTV, Surveillance & Remote Monitoring
Dispersed mining operation relies on AxxonSoft for centralised video management as well as device health monitoring and the reliable distribution of analytics to various camera brands.
Read more...
---