printer friendly version
Top five e-threats – April 2010
May 2010
Cyber Security
April's top brings forward two newcomers: a fake AV and a Trojan.Keygen!
April is the third month in a row in which Trojan.AutorunInf.Gen is the top e-threat with 13,21% of the total amount of the global malware. This reveals that removable devices are used on a large scale and their owners are not that aware – still – of the damage waiting for them in the tiny gadgets.
Win32.Worm.Downadup.Gen (Kido or Conficker) is to be found once again shadowing the top Trojan.AutorunInf.Gen with 5,77%. It is the result of a successful exploitation of a Microsoft Windows vulnerability and unfortunately people are hesitant towards updating their operating systems and antivirus solution so as to easily get rid of this obstinate worm.
Ranking third is a newcomer - Trojan.FakeAV.KUE - with a percentage of 2,72 of the total amount of infections. It is not much of a surprise here, since this past week has been mostly about rogue AV. This detection covers JavaScript code that is used to trigger fake alerts on websites connected to the placement of rogue antivirus software. These scripts are hosted on malicious sites and innocent
victim-pages that have been infected.
Win32.Sality.OG is positioned fourth (2,72%) in April's malware chart, exactly as last month - again as the sole representative of the file infector software. Shielded by a polymorphic packer, the Sality family is extremely difficult to detect and annihilate. In addition to that, the rootkit component of the virus tries to disable various antivirus applications installed on the infected system.
The second new comer of this month's is Trojan.Keygen.AX – April's top number five, which intercepts and blocks threats related to cracks, patches and keygens. Generating keys and patches for various applications is a common practice for commercial software on the Internet, P2P platforms, and instant messenger, download sites, social networking environments. It may be popular, but it is also illegal and risky. So, play fair and safe!
Overview of April's malware distribution chart: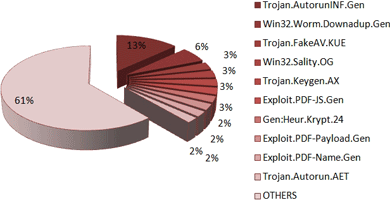 BitDefender's April 2009 top 10 e-threat list includes:
1. Trojan.AutorunINF.Gen 13,21
2. Win32.Worm.Downadup.Gen 5,77
3. Trojan.FakeAV.KUE 2,72
4. Win32.Sality.OG 2,72
5. Trojan.Keygen.AX 2,66
6. Exploit.PDF-JS.Gen 2,57
7. Gen:Heur.Krypt.24 2,38
8. Exploit.PDF-Payload.Gen 2,34
9. Exploit.PDF-Name.Gen 2,12
10. Trojan.Autorun.AET 2,05
Others 61,40
For more information contact Alina Anton, senior PR and marketing coordinator, EMEA & APAC business unit, BitDefender, +40 212 063 470, aanton@bitdefender.com, www.bitdefender.com
Further reading:
Exploiting the global pandemic
Issue 7 2020 , Cyber Security
Cyber criminals targeting remote work to gain access to enterprise networks and critical data reports FortiGuard Labs.
Read more...
---
Integrated security is key to Huawei Mobile Services
Issue 7 2020 , Cyber Security
To ensure sufficient mobile device security, the technology giant incorporates security into its chip, device and cloud capabilities.
Read more...
---
Cybersecurity becomes key enabler of sustainable business growth
Issue 7 2020 , Cyber Security
The adoption of rushed digital transformation strategies has left many facing unintended complexities and challenges.
Read more...
---
Challenges healthcare is facing
Issue 6 2020 , Cyber Security
The healthcare industry has been forever changed by digital transformation, but cybercriminals are targeting the healthcare sector now more than ever.
Read more...
---
Secure IoT devices and networks
Issue 6 2020, Technews Publishing , Cyber Security
Check Point Software's IoT Protect solution secures IoT devices and networks against the most advanced cyber-attacks.
Read more...
---
SentinelOne Protects the AA
Issue 6 2020 , Cyber Security
National provider of 24-hour motorist assistance stays on the road thanks to accelerated, AI-powered threat prevention, detection and response.
Read more...
---
Protecting database information
Issue 6 2020 , Cyber Security
SearchInform has officially released Database Monitor, a solution for the protection of information stored in databases.
Read more...
---
Work from home securely
Issue 5 2020 , Cyber Security
First Consulting provides enterprise-level IT security to working-from-home employees at more than 40 South African organisations.
Read more...
---
Agility, meticulous alignment and testing
Issue 5 2020 , Cyber Security
Data loss can put the nails in the coffin for unprepared businesses. Investing in cyber resilience is key to succeed in the age of digital transformation.
Read more...
---
Cybersecurity comment: A holistic approach to threat vulnerability
Issue 5 2020 , Cyber Security
Any organisation, whether large or small, public or private, should follow an established framework in order to protect itself against cyber threats.
Read more...
---