printer friendly version
Top five e-threats – April 2010
May 2010
Cyber Security
April's top brings forward two newcomers: a fake AV and a Trojan.Keygen!
April is the third month in a row in which Trojan.AutorunInf.Gen is the top e-threat with 13,21% of the total amount of the global malware. This reveals that removable devices are used on a large scale and their owners are not that aware – still – of the damage waiting for them in the tiny gadgets.
Win32.Worm.Downadup.Gen (Kido or Conficker) is to be found once again shadowing the top Trojan.AutorunInf.Gen with 5,77%. It is the result of a successful exploitation of a Microsoft Windows vulnerability and unfortunately people are hesitant towards updating their operating systems and antivirus solution so as to easily get rid of this obstinate worm.
Ranking third is a newcomer - Trojan.FakeAV.KUE - with a percentage of 2,72 of the total amount of infections. It is not much of a surprise here, since this past week has been mostly about rogue AV. This detection covers JavaScript code that is used to trigger fake alerts on websites connected to the placement of rogue antivirus software. These scripts are hosted on malicious sites and innocent
victim-pages that have been infected.
Win32.Sality.OG is positioned fourth (2,72%) in April's malware chart, exactly as last month - again as the sole representative of the file infector software. Shielded by a polymorphic packer, the Sality family is extremely difficult to detect and annihilate. In addition to that, the rootkit component of the virus tries to disable various antivirus applications installed on the infected system.
The second new comer of this month's is Trojan.Keygen.AX – April's top number five, which intercepts and blocks threats related to cracks, patches and keygens. Generating keys and patches for various applications is a common practice for commercial software on the Internet, P2P platforms, and instant messenger, download sites, social networking environments. It may be popular, but it is also illegal and risky. So, play fair and safe!
Overview of April's malware distribution chart: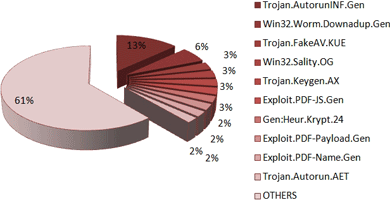 BitDefender's April 2009 top 10 e-threat list includes:
1. Trojan.AutorunINF.Gen 13,21
2. Win32.Worm.Downadup.Gen 5,77
3. Trojan.FakeAV.KUE 2,72
4. Win32.Sality.OG 2,72
5. Trojan.Keygen.AX 2,66
6. Exploit.PDF-JS.Gen 2,57
7. Gen:Heur.Krypt.24 2,38
8. Exploit.PDF-Payload.Gen 2,34
9. Exploit.PDF-Name.Gen 2,12
10. Trojan.Autorun.AET 2,05
Others 61,40
For more information contact Alina Anton, senior PR and marketing coordinator, EMEA & APAC business unit, BitDefender, +40 212 063 470, aanton@bitdefender.com, www.bitdefender.com
Further reading:
Cyber futures in 2020
Issue 1 2020 , Cyber Security
MJ Strydom, managing director of cybersecurity specialist company, DRS, discusses what can be expected in 2020.
Read more...
---
Seven security trends for 2020
Issue 1 2020 , Cyber Security
What challenges await the security professional in 2020? Lukas van der Merwe looks at the trends for the year ahead.
Read more...
---
Security is not a single product solution
Issue 1 2020 , Cyber Security
Adopting a phased approach to security allows companies to develop a layered security posture to help control costs as well as the complexity.
Read more...
---
From physical security to cybersecurity
Access & Identity Management Handbook 2020, Genetec , Cyber Security, Security Services & Risk Management
Genetec discusses the security-of-security concept as a means to protect cameras, door controllers and other physical security devices and systems against cybercriminal activity.
Read more...
---
Minding the gaps to protect industrial PLCs from cyber threats
November 2019, AVeS Cyber Security , Cyber Security
PLCs, designed to control machinery and specific processes, were never built with cybersecurity threats in mind and protecting PLCs against these threats requires healthy isolation from the Internet.
Read more...
---
African trust centre launches cyber division
November 2019 , Cyber Security
Advancing cybersecurity to more stringent heights, LAWtrust has launched a new division focusing on cybersecurity services to complement its identity, encryption and digital signature offerings.
Read more...
---
What are the cybersecurity issues in video surveillance?
November 2019, Axis Communications SA , Editor's Choice, CCTV, Surveillance & Remote Monitoring, Cyber Security
he importance of the data captured by surveillance cameras – and what can be done with it – has led to a new breed of cybercriminals, looking for insights to steal and sell.
Read more...
---
Protecting the outer perimeter with cloud services
November 2019 , Cyber Security
Business leaders now have a choice whether they want to continue using their trusted firewall or move to a next-generation firewall delivered by appliances or as cloud services.
Read more...
---
Information security outsourcing service
November 2019, Condyn , Cyber Security
SearchInform launches information security outsourcing service for companies that face the problem of corporate fraud and data leakage.
Read more...
---
Block threats before they target your business
November 2019 , Cyber Security
The antivirus solutions of a decade ago are woefully inadequate weapons in the fight against today's complex threats.
Read more...
---