printer friendly version
Extremely aggressive worm chokes instant messaging
May 2010
Cyber Security
New variant of Palevo blasts unprotected systems via fake photo gallery links.
The latest offspring of the Palevo family has begun spreading these days via a massive wave of automatically generated IM spam. The unsolicited message incites the recipients to click a link accompanied by a grinning smiley face, which purportedly leads them to an image or photo gallery.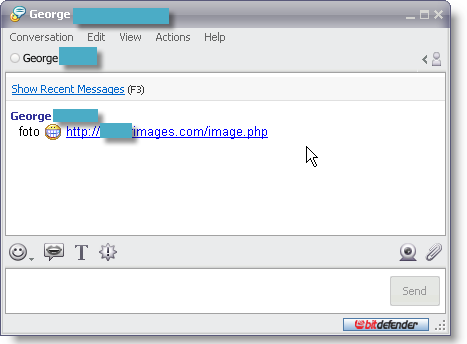 Figure 1. The unsolicited IM spam that brings Palevo
Instead of opening the alleged image collection, the users are tricked into saving what seems to be a .JPG file, which is, in effect, an executable concealing the malicious payload – Worm.P2P.Palevo.DP.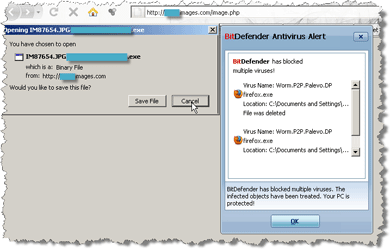 Figure 2. The apparent .JPG is an .EXE file delivering the worm
Having an unprotected system infected with Palevo.DP is a synonym for mayhem. First and foremost, the worm creates several hidden files in the Windows folder: mds.sys, mdt.sys, winbrd.jpg, infocard.exe and modifies some registry keys to point towards these files in order annihilate the OS' firewall.
As its siblings, Palevo.DP holds a backdoor component, which allows remote attackers to seize control over the compromised computer and do whatever they want with it – from installing additional malware and swiping files to launching spam campaigns and malware offensive on other systems.
Palevo family is also able to intercept passwords and other sensitive data entered in Mozilla Firefox and Microsoft Internet Explorer Web browsers, which makes it extremely risky to users relying on e-banking or on-line shopping services.
The spreading mechanism also comprises the infection of network shares and removable USB storage devices, where it creates autorun.inf files pointing to its copy. When the removable disk or memory stick is inserted into machines with the Autorun feature enabled or unprotected by a security solution with on-access scanning capability, the system is automatically infected.
Palevo worms also affect users of the P2P sharing platforms, such as Ares, BearShare, iMesh, Shareza, Kazaa, DC++, eMule and LimeWire, by adding their code to the shared files.
"We recommend users to be extremely cautious and not to click any suspicious links they receive via IM clients before checking with their senders the validity of the Web sites towards which these links point. This Palevo offensive is highly aggressive and during the very beginning of the outbreak we have witnessed rates of infection which easily exceeded 500% growth per hour for countries like Romania, Mongolia or Indonesia", said Catalin Cosoi, BitDefender senior researcher.
For additional information about e-threats and tools for defending your data and systems check www.malwarecity.com
For more information contact Alina Anton, senior PR & marketing coordinator, EMEA & APAC Business Unit, BitDefender, +40 212 063 470, aanton@bitdefender.com, www.bitdefender.com
Further reading:
Cyber futures in 2020
Issue 1 2020 , Cyber Security
MJ Strydom, managing director of cybersecurity specialist company, DRS, discusses what can be expected in 2020.
Read more...
---
Seven security trends for 2020
Issue 1 2020 , Cyber Security
What challenges await the security professional in 2020? Lukas van der Merwe looks at the trends for the year ahead.
Read more...
---
Security is not a single product solution
Issue 1 2020 , Cyber Security
Adopting a phased approach to security allows companies to develop a layered security posture to help control costs as well as the complexity.
Read more...
---
From physical security to cybersecurity
Access & Identity Management Handbook 2020, Genetec , Cyber Security, Security Services & Risk Management
Genetec discusses the security-of-security concept as a means to protect cameras, door controllers and other physical security devices and systems against cybercriminal activity.
Read more...
---
Minding the gaps to protect industrial PLCs from cyber threats
November 2019, AVeS Cyber Security , Cyber Security
PLCs, designed to control machinery and specific processes, were never built with cybersecurity threats in mind and protecting PLCs against these threats requires healthy isolation from the Internet.
Read more...
---
African trust centre launches cyber division
November 2019 , Cyber Security
Advancing cybersecurity to more stringent heights, LAWtrust has launched a new division focusing on cybersecurity services to complement its identity, encryption and digital signature offerings.
Read more...
---
What are the cybersecurity issues in video surveillance?
November 2019, Axis Communications SA , Editor's Choice, CCTV, Surveillance & Remote Monitoring, Cyber Security
he importance of the data captured by surveillance cameras – and what can be done with it – has led to a new breed of cybercriminals, looking for insights to steal and sell.
Read more...
---
Protecting the outer perimeter with cloud services
November 2019 , Cyber Security
Business leaders now have a choice whether they want to continue using their trusted firewall or move to a next-generation firewall delivered by appliances or as cloud services.
Read more...
---
Information security outsourcing service
November 2019, Condyn , Cyber Security
SearchInform launches information security outsourcing service for companies that face the problem of corporate fraud and data leakage.
Read more...
---
Block threats before they target your business
November 2019 , Cyber Security
The antivirus solutions of a decade ago are woefully inadequate weapons in the fight against today's complex threats.
Read more...
---