printer friendly version
iPad users targeted by backdoor dissembled as iTunes update
May 2010
Information Security
An e-mail invitation to an iTunes update gets iPad users' PCs into backdoor trouble. 
Success stories are cybercriminals' go to sources of victims and the iPad craze could not have been left out of this picture.  According to some reports, Apple sold 150 000 iPads in the first 60 hours of presale availability, with almost 100 000 of these coveted devices being pre-ordered in the first 10 hours. The figures make it clear as daylight why malware creators were so keen on crashing this promising party.
The invitation to the 'contagious fiesta' comes via the e-mail: an unsolicited message instructs iPad users to download on their PCs the latest version of the iTunes software as a preliminary step to an update of their iPad software.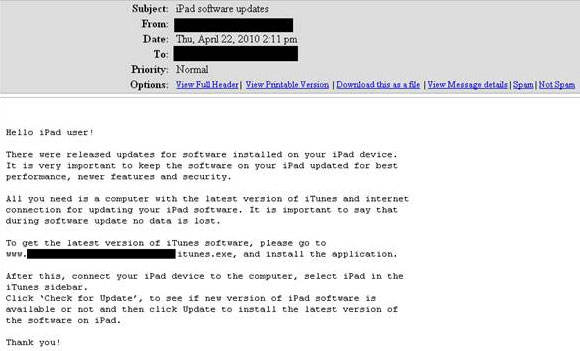 Figure 1. The fake iPad software update announcement
To carry conviction, the e-mail emphasises that users should keep their iPad software updated 'for best performance, newer features and security'.
It goes on to clarify the multistep procedure by pointing out that in order for the update to be performed the latest version of iTunes should first be downloaded from the Internet. A direct link to the download location is conveniently provided. As a proof of cybercrime finesse, the webpage the users are directed to is a perfect imitation of the one they would use for legitimate iTunes software downloads.
Unfortunately for these users, following the malicious link means opening up a direct line to their sensitive data as instead of the promised iTunes update they get malware on their systems.
Figure 2. The download that will turn the update into a nightmare
Identified by BitDefender as Backdoor.Bifrose.AADY, the piece of malicious code inadvertently downloaded injects itself in to the explorer.exe process and opens up a backdoor that allows unauthorised access to and control over the affected system.
Moreover, Backdoor.Bifrose.AADY attempts to read the keys and serial numbers of the various software installed on the affected computer, while also logging the passwords to the victim's ICQ, Messenger, POP3 mail accounts, and protected storage.
It is important to say that Mac users remain unaffected by this piece of malware.
For more information contact Alina Anton, senior PR and marketing coordinator, EMEA & APAC Business Unit, BitDefender, +40 212 063 470, aanton@bitdefender.com, www.bitdefender.com
Further reading:
Time is of the essence
Information Security
Ransomware attacks are becoming increasingly common. Yet, many individuals and organisations still lack a clear understanding of how these attacks occur and what can be done to secure their data.
Read more...
---
All aspects of data protection
Technews Publishing Editor's Choice Information Security Infrastructure AI & Data Analytics
SMART Security Solutions spoke to Kate Mollett, Senior Director, Commvault Africa, about the company and its evolution from a backup specialist to a full data protection specialist, as well as the latest announcements from the company.
Read more...
---
The song remains the same
Sophos Information Security
Sophos report found that telemetry logs were missing in nearly 42% of the attack cases studied. In 82% of these cases, cybercriminals disabled or wiped out the telemetry to hide their tracks.
Read more...
---
How hackers exploit our vulnerabilities
Information Security Risk Management & Resilience
Distractions, multi-tasking, and emotional responses increase individuals' vulnerability to social engineering, manipulation, and various forms of digital attacks; 74% of all data breaches included a human element.
Read more...
---
Projections for 2024's Advanced Threats Landscape
News & Events Information Security
Kaspersky Global Research and Analysis Team (GReAT) experts offer insights and projections for 2024 in the Kaspersky Security Bulletin, with a focus on the evolution of Advanced Persistent Threats (APT).
Read more...
---
Veeam and Sophos in strategic partnership
Information Security
Veeam and Sophos unite with a strategic partnership to advance the security of business-critical backups with managed detection and response for cyber resiliency, and to quickly recover impacted data by exchanging critical information.
Read more...
---
Unmasking insider risks
Information Security
In today's business landscape, insider risks can manifest in various forms, including data theft, fraud, sabotage, insider trading, espionage, whistleblowing, negligence, truck hijacking, goods robbery from warehouses, and more.
Read more...
---
When technology is not enough
Information Security
[Sponsored] Garith Peck, Executive Head of Department for Security at Vodacom Business, writes about the importance of creating a cybersecurity strategy in a world where threats never sleep.
Read more...
---
Identity verification and management trends
Technews Publishing Information Security
Insights into what we can expect from identity fraudsters and the industry next year, ranging from criminal exploitation of AI and digital IDs to multi-layer fraud protection and the need for more control over personal information sharing.
Read more...
---
From vulnerabilities to vigilance
Information Security
It is an unfortunate reality that generative artificial intelligence (GAI) has been embraced by cybercrime organisations, resulting in drastic changes in attack methods, strategies, and technologies, says Stephen Osler from Nclose.
Read more...
---