printer friendly version
iPad users targeted by backdoor dissembled as iTunes update
May 2010
Cyber Security
An e-mail invitation to an iTunes update gets iPad users' PCs into backdoor trouble. 
Success stories are cybercriminals' go to sources of victims and the iPad craze could not have been left out of this picture.  According to some reports, Apple sold 150 000 iPads in the first 60 hours of presale availability, with almost 100 000 of these coveted devices being pre-ordered in the first 10 hours. The figures make it clear as daylight why malware creators were so keen on crashing this promising party.
The invitation to the 'contagious fiesta' comes via the e-mail: an unsolicited message instructs iPad users to download on their PCs the latest version of the iTunes software as a preliminary step to an update of their iPad software.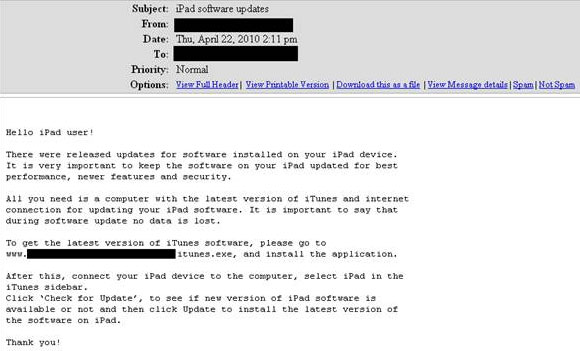 Figure 1. The fake iPad software update announcement
To carry conviction, the e-mail emphasises that users should keep their iPad software updated 'for best performance, newer features and security'.
It goes on to clarify the multistep procedure by pointing out that in order for the update to be performed the latest version of iTunes should first be downloaded from the Internet. A direct link to the download location is conveniently provided. As a proof of cybercrime finesse, the webpage the users are directed to is a perfect imitation of the one they would use for legitimate iTunes software downloads.
Unfortunately for these users, following the malicious link means opening up a direct line to their sensitive data as instead of the promised iTunes update they get malware on their systems.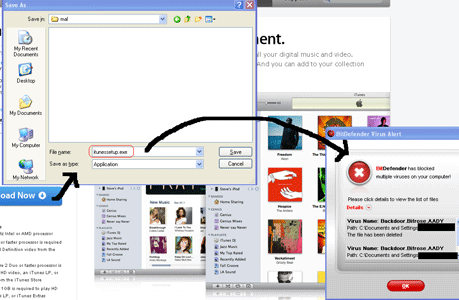 Figure 2. The download that will turn the update into a nightmare
Identified by BitDefender as Backdoor.Bifrose.AADY, the piece of malicious code inadvertently downloaded injects itself in to the explorer.exe process and opens up a backdoor that allows unauthorised access to and control over the affected system.
Moreover, Backdoor.Bifrose.AADY attempts to read the keys and serial numbers of the various software installed on the affected computer, while also logging the passwords to the victim's ICQ, Messenger, POP3 mail accounts, and protected storage.
It is important to say that Mac users remain unaffected by this piece of malware.
For more information contact Alina Anton, senior PR and marketing coordinator, EMEA & APAC Business Unit, BitDefender, +40 212 063 470, aanton@bitdefender.com, www.bitdefender.com
Further reading:
Exploiting the global pandemic
Issue 7 2020 , Cyber Security
Cyber criminals targeting remote work to gain access to enterprise networks and critical data reports FortiGuard Labs.
Read more...
---
Integrated security is key to Huawei Mobile Services
Issue 7 2020 , Cyber Security
To ensure sufficient mobile device security, the technology giant incorporates security into its chip, device and cloud capabilities.
Read more...
---
Cybersecurity becomes key enabler of sustainable business growth
Issue 7 2020 , Cyber Security
The adoption of rushed digital transformation strategies has left many facing unintended complexities and challenges.
Read more...
---
Challenges healthcare is facing
Issue 6 2020 , Cyber Security
The healthcare industry has been forever changed by digital transformation, but cybercriminals are targeting the healthcare sector now more than ever.
Read more...
---
Secure IoT devices and networks
Issue 6 2020, Technews Publishing , Cyber Security
Check Point Software's IoT Protect solution secures IoT devices and networks against the most advanced cyber-attacks.
Read more...
---
SentinelOne Protects the AA
Issue 6 2020 , Cyber Security
National provider of 24-hour motorist assistance stays on the road thanks to accelerated, AI-powered threat prevention, detection and response.
Read more...
---
Protecting database information
Issue 6 2020 , Cyber Security
SearchInform has officially released Database Monitor, a solution for the protection of information stored in databases.
Read more...
---
Work from home securely
Issue 5 2020 , Cyber Security
First Consulting provides enterprise-level IT security to working-from-home employees at more than 40 South African organisations.
Read more...
---
Agility, meticulous alignment and testing
Issue 5 2020 , Cyber Security
Data loss can put the nails in the coffin for unprepared businesses. Investing in cyber resilience is key to succeed in the age of digital transformation.
Read more...
---
Cybersecurity comment: A holistic approach to threat vulnerability
Issue 5 2020 , Cyber Security
Any organisation, whether large or small, public or private, should follow an established framework in order to protect itself against cyber threats.
Read more...
---