printer friendly version
iPad users targeted by backdoor dissembled as iTunes update
May 2010
Cyber Security
An e-mail invitation to an iTunes update gets iPad users' PCs into backdoor trouble. 
Success stories are cybercriminals' go to sources of victims and the iPad craze could not have been left out of this picture.  According to some reports, Apple sold 150 000 iPads in the first 60 hours of presale availability, with almost 100 000 of these coveted devices being pre-ordered in the first 10 hours. The figures make it clear as daylight why malware creators were so keen on crashing this promising party.
The invitation to the 'contagious fiesta' comes via the e-mail: an unsolicited message instructs iPad users to download on their PCs the latest version of the iTunes software as a preliminary step to an update of their iPad software.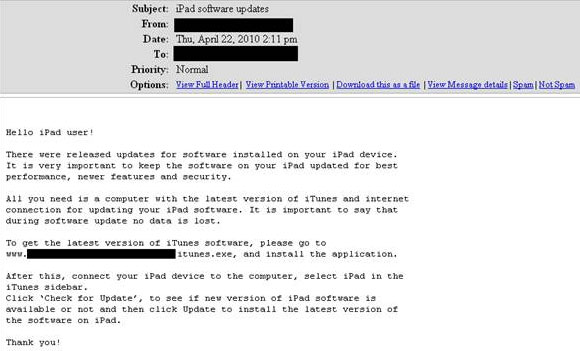 Figure 1. The fake iPad software update announcement
To carry conviction, the e-mail emphasises that users should keep their iPad software updated 'for best performance, newer features and security'.
It goes on to clarify the multistep procedure by pointing out that in order for the update to be performed the latest version of iTunes should first be downloaded from the Internet. A direct link to the download location is conveniently provided. As a proof of cybercrime finesse, the webpage the users are directed to is a perfect imitation of the one they would use for legitimate iTunes software downloads.
Unfortunately for these users, following the malicious link means opening up a direct line to their sensitive data as instead of the promised iTunes update they get malware on their systems.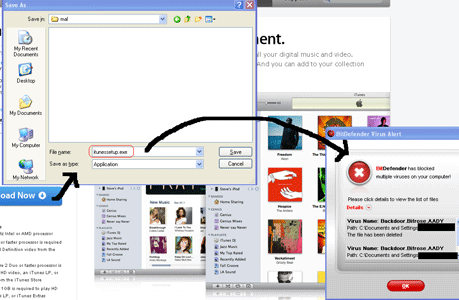 Figure 2. The download that will turn the update into a nightmare
Identified by BitDefender as Backdoor.Bifrose.AADY, the piece of malicious code inadvertently downloaded injects itself in to the explorer.exe process and opens up a backdoor that allows unauthorised access to and control over the affected system.
Moreover, Backdoor.Bifrose.AADY attempts to read the keys and serial numbers of the various software installed on the affected computer, while also logging the passwords to the victim's ICQ, Messenger, POP3 mail accounts, and protected storage.
It is important to say that Mac users remain unaffected by this piece of malware.
For more information contact Alina Anton, senior PR and marketing coordinator, EMEA & APAC Business Unit, BitDefender, +40 212 063 470, aanton@bitdefender.com, www.bitdefender.com
Further reading:
Cyber futures in 2020
Issue 1 2020 , Cyber Security
MJ Strydom, managing director of cybersecurity specialist company, DRS, discusses what can be expected in 2020.
Read more...
---
Seven security trends for 2020
Issue 1 2020 , Cyber Security
What challenges await the security professional in 2020? Lukas van der Merwe looks at the trends for the year ahead.
Read more...
---
Security is not a single product solution
Issue 1 2020 , Cyber Security
Adopting a phased approach to security allows companies to develop a layered security posture to help control costs as well as the complexity.
Read more...
---
From physical security to cybersecurity
Access & Identity Management Handbook 2020, Genetec , Cyber Security, Security Services & Risk Management
Genetec discusses the security-of-security concept as a means to protect cameras, door controllers and other physical security devices and systems against cybercriminal activity.
Read more...
---
Minding the gaps to protect industrial PLCs from cyber threats
November 2019, AVeS Cyber Security , Cyber Security
PLCs, designed to control machinery and specific processes, were never built with cybersecurity threats in mind and protecting PLCs against these threats requires healthy isolation from the Internet.
Read more...
---
African trust centre launches cyber division
November 2019 , Cyber Security
Advancing cybersecurity to more stringent heights, LAWtrust has launched a new division focusing on cybersecurity services to complement its identity, encryption and digital signature offerings.
Read more...
---
What are the cybersecurity issues in video surveillance?
November 2019, Axis Communications SA , Editor's Choice, CCTV, Surveillance & Remote Monitoring, Cyber Security
he importance of the data captured by surveillance cameras – and what can be done with it – has led to a new breed of cybercriminals, looking for insights to steal and sell.
Read more...
---
Protecting the outer perimeter with cloud services
November 2019 , Cyber Security
Business leaders now have a choice whether they want to continue using their trusted firewall or move to a next-generation firewall delivered by appliances or as cloud services.
Read more...
---
Information security outsourcing service
November 2019, Condyn , Cyber Security
SearchInform launches information security outsourcing service for companies that face the problem of corporate fraud and data leakage.
Read more...
---
Block threats before they target your business
November 2019 , Cyber Security
The antivirus solutions of a decade ago are woefully inadequate weapons in the fight against today's complex threats.
Read more...
---