printer friendly version
Magix boosts enterprise data protection
May 2010
Cyber Security
Magix Integration has announced it has obtained the rights to supply the Varonis range of data protection and preservation products. Varonis protects corporate data while making it easily available to authorised personnel. It is aimed at enterprises with several hundred users and more.
"The challenge of providing secure access to business data to only those people who need it is almost impossible to address without Varonis technology," explains Hedley Hurwitz, MD of Magix Integration. "Magix is now able to provide all the products in the Varonis range as well as implementation, configuration and maintenance to the South African market."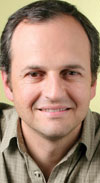 Hedley Hurwitz
Most companies have directories located on servers and storage devices that contain sensitive, unstructured information, comprising more than 60% of the overall data in the enterprise. "Yet, this data is unprotected because IT has little to no visibility about who creates, owns and accesses this information," adds Hurwitz.
The problem is exacerbated by the fact that this type of information is growing exponentially. Based on figures from IDC and Gartner, the average volume of unstructured data in today's enterprise can range from 50% to 80% of all the information it stores, and this is growing at between 30% and 50% annually.
The Varonis software family solves this problem and consists of the following applications:
* DatAdvantage is the foundation product that optimises data structures by providing full visibility into corporate users' data access permissions. It also performs a full audit of data usage, which will enable administrators to track down and investigate any actions performed on the data, red flagging excessive permissions. DatAdvantage runs on Windows, Unix, EMC/NetApp NAS and Microsoft SP platforms.
* Data Privilege allows corporations to keep the DatAdvantage-optimised structure in place by empowering the business's data owners to set access permissions themselves instead of relying on IT staff, who do not understand the importance of the particular information.
* The Varonis Data Classification Framework (DCF) overcomes the decade-long failure of most companies to effectively and efficiently classify data. DCF provides context to the content in the form of ongoing value, usability, efficiency and scale, integrated with information about data activity, permissions and users.
"Crucial to the success of a project that secures access to data is a structured, formal, and repeatable process," concludes Hurwitz. "The professional services approach Magix takes ensures a return on investment (ROI) within the shortest time. Magix makes a skilled and experienced team of resources available to install the Varonis solutions."
For more information contact Magix Integration, +27 (0)11 258 4442, hedleyh@magix.co.za
Further reading:
Cyber futures in 2020
Issue 1 2020 , Cyber Security
MJ Strydom, managing director of cybersecurity specialist company, DRS, discusses what can be expected in 2020.
Read more...
---
Seven security trends for 2020
Issue 1 2020 , Cyber Security
What challenges await the security professional in 2020? Lukas van der Merwe looks at the trends for the year ahead.
Read more...
---
Security is not a single product solution
Issue 1 2020 , Cyber Security
Adopting a phased approach to security allows companies to develop a layered security posture to help control costs as well as the complexity.
Read more...
---
From physical security to cybersecurity
Access & Identity Management Handbook 2020, Genetec , Cyber Security, Security Services & Risk Management
Genetec discusses the security-of-security concept as a means to protect cameras, door controllers and other physical security devices and systems against cybercriminal activity.
Read more...
---
Minding the gaps to protect industrial PLCs from cyber threats
November 2019, AVeS Cyber Security , Cyber Security
PLCs, designed to control machinery and specific processes, were never built with cybersecurity threats in mind and protecting PLCs against these threats requires healthy isolation from the Internet.
Read more...
---
African trust centre launches cyber division
November 2019 , Cyber Security
Advancing cybersecurity to more stringent heights, LAWtrust has launched a new division focusing on cybersecurity services to complement its identity, encryption and digital signature offerings.
Read more...
---
What are the cybersecurity issues in video surveillance?
November 2019, Axis Communications SA , Editor's Choice, CCTV, Surveillance & Remote Monitoring, Cyber Security
he importance of the data captured by surveillance cameras – and what can be done with it – has led to a new breed of cybercriminals, looking for insights to steal and sell.
Read more...
---
Protecting the outer perimeter with cloud services
November 2019 , Cyber Security
Business leaders now have a choice whether they want to continue using their trusted firewall or move to a next-generation firewall delivered by appliances or as cloud services.
Read more...
---
Information security outsourcing service
November 2019, Condyn , Cyber Security
SearchInform launches information security outsourcing service for companies that face the problem of corporate fraud and data leakage.
Read more...
---
Block threats before they target your business
November 2019 , Cyber Security
The antivirus solutions of a decade ago are woefully inadequate weapons in the fight against today's complex threats.
Read more...
---