printer friendly version
Magix boosts enterprise data protection
May 2010
Cyber Security
Magix Integration has announced it has obtained the rights to supply the Varonis range of data protection and preservation products. Varonis protects corporate data while making it easily available to authorised personnel. It is aimed at enterprises with several hundred users and more.
"The challenge of providing secure access to business data to only those people who need it is almost impossible to address without Varonis technology," explains Hedley Hurwitz, MD of Magix Integration. "Magix is now able to provide all the products in the Varonis range as well as implementation, configuration and maintenance to the South African market."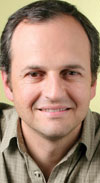 Hedley Hurwitz
Most companies have directories located on servers and storage devices that contain sensitive, unstructured information, comprising more than 60% of the overall data in the enterprise. "Yet, this data is unprotected because IT has little to no visibility about who creates, owns and accesses this information," adds Hurwitz.
The problem is exacerbated by the fact that this type of information is growing exponentially. Based on figures from IDC and Gartner, the average volume of unstructured data in today's enterprise can range from 50% to 80% of all the information it stores, and this is growing at between 30% and 50% annually.
The Varonis software family solves this problem and consists of the following applications:
* DatAdvantage is the foundation product that optimises data structures by providing full visibility into corporate users' data access permissions. It also performs a full audit of data usage, which will enable administrators to track down and investigate any actions performed on the data, red flagging excessive permissions. DatAdvantage runs on Windows, Unix, EMC/NetApp NAS and Microsoft SP platforms.
* Data Privilege allows corporations to keep the DatAdvantage-optimised structure in place by empowering the business's data owners to set access permissions themselves instead of relying on IT staff, who do not understand the importance of the particular information.
* The Varonis Data Classification Framework (DCF) overcomes the decade-long failure of most companies to effectively and efficiently classify data. DCF provides context to the content in the form of ongoing value, usability, efficiency and scale, integrated with information about data activity, permissions and users.
"Crucial to the success of a project that secures access to data is a structured, formal, and repeatable process," concludes Hurwitz. "The professional services approach Magix takes ensures a return on investment (ROI) within the shortest time. Magix makes a skilled and experienced team of resources available to install the Varonis solutions."
For more information contact Magix Integration, +27 (0)11 258 4442, hedleyh@magix.co.za
Further reading:
Prevention-first approach to cybersecurity
News Cyber Security
Check Point CEO, Gil Shwed, highlights the increasing importance of artificial intelligence in defending evolving networks and protecting against cyber threats at annual CPX 360 customer and partner event.
Read more...
---
How much protection does cyber insurance really give businesses?
Cyber Security Security Services & Risk Management
If organisations don't meet even the minimum requirements of security and data protection, insurance will do them little good. Instead, it needs to be just one part of the digital resiliency toolbox.
Read more...
---
Introducing adaptive active adversary
Cyber Security Products
New adaptive active adversary protection; Linux malware protection enhancements; account health check capabilities; an integrated zero trust network access (ZTNA) agent for Windows and macOS devices; and improved frontline defences against advanced cyberthreats and streamline endpoint security management.
Read more...
---
Eleven steps to an effective ransomware response checklist
Editor's Choice Cyber Security
Anyone is a viable target for ransomware attacks and should have a plan in place to deal with a worst-case scenario. Fortinet offers this ransomware attack response checklist to effectively deal with an active ransomware attack.
Read more...
---
Blurring the lines between data management and cybersecurity
Cyber Security IT infrastructure
In the past, data management and cybersecurity would fall under separate domains, but with more organisations making the shift to the cloud, data management and data protection have merged, essentially blurring the lines between the two.
Read more...
---
Recession? Do not skimp on cybersecurity
Cyber Security Security Services & Risk Management
While economists are studying their crystal balls, businesses have to prepare for the worst, and preparing for a recession means cutting costs and refocusing resources; however, they must ensure they do not end up creating an enormous risk.
Read more...
---
Organisations are increasing modern data protection for cloud workloads
Cyber Security
The Veeam Cloud Protection Trends Report for 2023 identifies what is driving IT leaders to change strategies, roles and methods related to both production and protection of cloud-hosted workloads.
Read more...
---
Cybersecurity in Africa: The challenges and solutions
Training & Education Cyber Security
Africa faces a significant challenge when it comes to the availability and distribution of cybersecurity talent and secure IT infrastructures. Facing this challenge will require supporting and nurturing the next generation of security graduates and professionals.
Read more...
---
Zero Trust to dominate 2023
Cyber Security Access Control & Identity Management
Traditional ways of safeguarding data are no longer sufficient in 2023. Zero Trust has emerged as a more proactive way for businesses to keep their systems, data, and networks protected against compromise.
Read more...
---
Cybersecurity in 2023
Technews Publishing Gallagher Cyber Security
What is on the cybersecurity menu in 2023? Hi-Tech Security Solutions offers two views from industry players on the risk environment and what to look out for in the cyber world in the coming year.
Read more...
---