printer friendly version
Blueprint your IPMS - Part 2
May 2010 Integrated Solutions, Cyber Security
The March 2010 edition of Hi-Tech Security Solutions featured Part 1 on Blueprinting your Integrated People Management Solutions (IPMS). Part 2 follows.
In the March article, it was highlighted that a crucial step in understanding the bigger picture is understanding the company's true requirements and ensuring that the solution implementation meets the company's business objectives.
By soliciting vendors prior to performing a blueprint, business requirements and resulting technology selection is driven by what the vendor's products strengths are and not by what the business really wants the technology's strengths to be.
So, how do you get it right first time and on budget? The diagram shows an example of a modern IPMS framework that should be considered during your blueprinting process.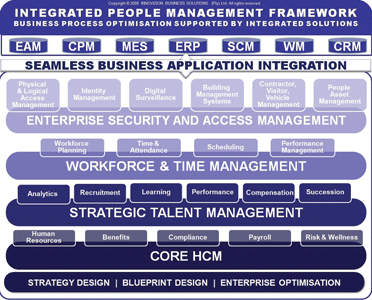 In most companies, many of the functions listed in this framework operate as silos. Small enterprises can cope with these islands of information. Medium to large enterprises however, have specific departments dealing with these functions.
For example, there is a security/risk department that needs security information about their employees. There is a manufacturing department that needs people asset management, time and attendance, contractor, visitor and vehicle management. There is a logistics and warehousing department that needs digital surveillance and performance management. There are retail stores that need workforce planning, scheduling and single-sign-on for the POS sale operations. The list goes on – not even to mention the human resources department.
These business functions need an integrated approach to enable process owners to manage costs and drive profitability effectively. Therefore, understanding, documenting and then managing your business processes across these functions becomes important. This is core to the blueprinting process. It enables process owners to understand up-stream and down-stream effects across departments and identify ways to benefit from the information generated by them.
Once the business processes are defined and business benefits are understood, business requirements are defined and prioritised.
Typical questions from management would be: 'How much will we save?' and 'How much will it cost?' Defining the benefits up front is important in order to motivate the required changes. Getting the requirements clear and complete also helps getting the costing side right resulting in more accurate budgets.
'Must-haves' vs. 'nice-to-haves' plays a big part in clarifying the requirements. For example, the HR manager might think to have an access control solution that seamlessly links to a criminal record check is of low priority. The security manager might see this as high priority based on certain legal requirements and/or industry specific standards. If these are not discussed and agreed up front, the company might miss critical requirements.
Blueprinting your IPMS also has benefits in the detail design and implementation phase of the project. It reduces the chances of:
* Technology not fitting the business requirements.
* Adapting business processes to fit with the technology, rather than vice-versa.
* The project team encountering resistance from the business users.
The last part of the blueprint focuses on the technology side, where the systems architecture is defined. This includes hardware, software and networking requirements. Based on the business processes and business requirements, a systems architecture model is developed. For an IPMS, typical aspects to consider include secure Single Sign-On, centralised vs. decentralised data management, biometric template distribution and total and seamless integration to other business applications.
For more information contact innoVIZION Business Solutions, +27 (0)11 463 0123, michaelo@innovizion.co.za, www.innovizion.co.za
Further reading:
Eleven steps to an effective ransomware response checklist
Editor's Choice Cyber Security
Anyone is a viable target for ransomware attacks and should have a plan in place to deal with a worst-case scenario. Fortinet offers this ransomware attack response checklist to effectively deal with an active ransomware attack.
Read more...
---
Cybersecurity in Africa: The challenges and solutions
Training & Education Cyber Security
Africa faces a significant challenge when it comes to the availability and distribution of cybersecurity talent and secure IT infrastructures. Facing this challenge will require supporting and nurturing the next generation of security graduates and professionals.
Read more...
---
Innovation and service, 37 years and counting
Technews Publishing Impro Technologies Access Control & Identity Management Integrated Solutions
Innovation, simplicity and trust underpin the nearly 40 years of success of local access control brand, Impro Technologies, which is still run as an independent entity despite being acquired by ASSA ABLOY in 2016.
Read more...
---
Hardening physical security against cyberattacks
Genetec Editor's Choice Cyber Security IT infrastructure
As the world becomes increasingly interconnected through the move to cloud computing and Internet of Things (IoT) devices, cybercrime has risen steadily, along with tools to combat it. Geopolitical tensions have the potential to rapidly unleash devastating cyberattacks worldwide.
Read more...
---
Fast, reliable and secure cloud services
Technews Publishing Editor's Choice Cyber Security IT infrastructure
Security and speed are critical components of today's cloud-based services infrastructure. Cloudflare offers a range of services supporting these goals beyond what most people think it does.
Read more...
---
Improving safety and security
Gallagher Education (Industry) Access Control & Identity Management Integrated Solutions
Education facilities have more than enough to deal with when it comes to allocating budget. Security often seems to be the last item on the agenda but is more important than ever.
Read more...
---
Software is South Africa's most promising business opportunity
Integrated Solutions IT infrastructure
When we talk about software as a business opportunity, we are not just talking about software or IT as a standalone product; deploying computer and network-related solutions to augment traditional processes represents an evolutionary shift in how the world works.
Read more...
---
Trellix launches Xtend Global Channel Partner Programme
News Cyber Security
Distinctive partner-first approach is designed to accelerate adoption of the Trellix XDR platform and increase cyber resilience for customers, while increasing profitability, engagement and growth for partners.
Read more...
---
Finding balance in a world of shifting supply chains
Logistics (Industry) Integrated Solutions Products
Retailers and consumer goods manufacturers need precise demand planning now more than ever. With help from the AI-powered SAS Intelligent Planning Cloud, companies can anticipate and address shopper needs and shipping disruptions more effectively.
Read more...
---
SA banking sector chooses enterprise-grade ID verification
Financial (Industry) Access Control & Identity Management Integrated Solutions
In terms of the secure digital onboarding of customers, South Africa's major banks have made massive inroads by using remote facial authentication.
Read more...
---