printer friendly version
Blueprint your IPMS - Part 2
May 2010 Integrated Solutions, Cyber Security
The March 2010 edition of Hi-Tech Security Solutions featured Part 1 on Blueprinting your Integrated People Management Solutions (IPMS). Part 2 follows.
In the March article, it was highlighted that a crucial step in understanding the bigger picture is understanding the company's true requirements and ensuring that the solution implementation meets the company's business objectives.
By soliciting vendors prior to performing a blueprint, business requirements and resulting technology selection is driven by what the vendor's products strengths are and not by what the business really wants the technology's strengths to be.
So, how do you get it right first time and on budget? The diagram shows an example of a modern IPMS framework that should be considered during your blueprinting process.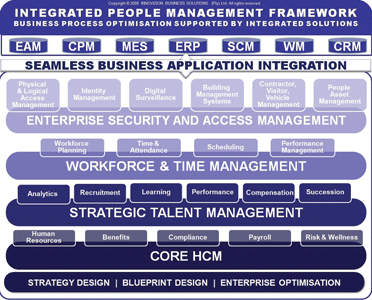 In most companies, many of the functions listed in this framework operate as silos. Small enterprises can cope with these islands of information. Medium to large enterprises however, have specific departments dealing with these functions.
For example, there is a security/risk department that needs security information about their employees. There is a manufacturing department that needs people asset management, time and attendance, contractor, visitor and vehicle management. There is a logistics and warehousing department that needs digital surveillance and performance management. There are retail stores that need workforce planning, scheduling and single-sign-on for the POS sale operations. The list goes on – not even to mention the human resources department.
These business functions need an integrated approach to enable process owners to manage costs and drive profitability effectively. Therefore, understanding, documenting and then managing your business processes across these functions becomes important. This is core to the blueprinting process. It enables process owners to understand up-stream and down-stream effects across departments and identify ways to benefit from the information generated by them.
Once the business processes are defined and business benefits are understood, business requirements are defined and prioritised.
Typical questions from management would be: 'How much will we save?' and 'How much will it cost?' Defining the benefits up front is important in order to motivate the required changes. Getting the requirements clear and complete also helps getting the costing side right resulting in more accurate budgets.
'Must-haves' vs. 'nice-to-haves' plays a big part in clarifying the requirements. For example, the HR manager might think to have an access control solution that seamlessly links to a criminal record check is of low priority. The security manager might see this as high priority based on certain legal requirements and/or industry specific standards. If these are not discussed and agreed up front, the company might miss critical requirements.
Blueprinting your IPMS also has benefits in the detail design and implementation phase of the project. It reduces the chances of:
* Technology not fitting the business requirements.
* Adapting business processes to fit with the technology, rather than vice-versa.
* The project team encountering resistance from the business users.
The last part of the blueprint focuses on the technology side, where the systems architecture is defined. This includes hardware, software and networking requirements. Based on the business processes and business requirements, a systems architecture model is developed. For an IPMS, typical aspects to consider include secure Single Sign-On, centralised vs. decentralised data management, biometric template distribution and total and seamless integration to other business applications.
For more information contact innoVIZION Business Solutions, +27 (0)11 463 0123, michaelo@innovizion.co.za, www.innovizion.co.za
Further reading:
Building a nervous system for smart cities
Issue 1 2020, Pinnacle Instruments SA , Integrated Solutions
Build a central nervous system for smart cities, by employing real-time situation reporting and analysis that unites the powers of cloud computing, AI, IoT and big data.
Read more...
---
The secret to 5G security? Turn the network into a sensor
Issue 1 2020 , Integrated Solutions
We are about to make the leap from being a civilisation that uses networks to one that runs on them in a fundamental and inextricable way.
Read more...
---
The move to services and RMR
Issue 1 2020, Merchant West, G4S South Africa, Technews Publishing , Integrated Solutions
Project work used to be the staple diet for system integrators, but that was before the services model changed the way businesses buy and use their security systems.
Read more...
---
Global security industry adopts servistisation models
Issue 1 2020 , Integrated Solutions
New as-a-service business models are gaining traction because they reduce capital expenditure and cost of ownership, finds Frost & Sullivan.
Read more...
---
Looking ahead with mobile access technologies
Access & Identity Management Handbook 2020, Technews Publishing, HID Global, dormakaba South Africa, Salto Systems Africa, Suprema, Gallagher , Access Control & Identity Management, Integrated Solutions
Given the broad use of smartphones around the world and the numerous technologies packed into these devices, it was only a matter of time before the access control industry developed technology that would ...
Read more...
---
Scalable access solution
Access & Identity Management Handbook 2020 , Access Control & Identity Management, Integrated Solutions
Bosch Building Technologies makes access management simple, scalable and always available with Access Management System 2.0.
Read more...
---
Securing perimeters of secure locations
November 2019, Axis Communications SA, Modular Communications, Hikvision South Africa, Nemtek Electric Fencing Products, Technews Publishing, Stafix , Government and Parastatal (Industry), Perimeter Security, Alarms & Intruder Detection, Integrated Solutions
Hi-Tech Security Solutions asked a number of companies offering perimeter security solutions for their insights into protecting the boundaries of national key points.
Read more...
---
What are the cybersecurity issues in video surveillance?
November 2019, Axis Communications SA , Editor's Choice, CCTV, Surveillance & Remote Monitoring, Cyber Security
he importance of the data captured by surveillance cameras – and what can be done with it – has led to a new breed of cybercriminals, looking for insights to steal and sell.
Read more...
---
The safe city and its need for interoperability
November 2019 , Integrated Solutions, CCTV, Surveillance & Remote Monitoring
Interoperability continues to present one of the greatest challenges, particularly with video management systems, video recording devices and cameras.
Read more...
---
Analytics-driven solutions for smart infrastructure
November 2019, Bosch Building Technologies , Integrated Solutions
Video analytics technology can bring intelligence to infrastructure by delivering solutions for traffic flow, improved safety, smart parking, and data collection.
Read more...
---