printer friendly version
Early warning add-on
May 2010
Fire & Safety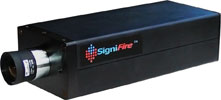 The current scenario for many industries is that a fire is somehow started, and when large enough the smoke or flames trigger sensors on the ceiling. The sensor, once triggered, will send an alert to the control/security/monitoring room that will dispatch a vehicle or an engineer to verify the status of the alarm signal.
axonX has announced an addition to any fire detection system with its advanced Signifire IP camera that has built-in video smoke and fire detection. This is vision-based artificial intelligence based on preprogrammed algorithms. The cameras are able to see and detect fire without the need of thermal imaging.
The system is based on four patent pending algorithms:
* Ambient smoke: Detects smoke that has stratified, gathering at the ceiling, causing blooming around light fixtures etc.
* Smoke plumes: Looks for characteristic shape and movement of a smoke plume.
* Fire: Detects flame flickers in line-of-sight of the camera.
* Reflected fire: Detects flames blocked by obstructions or outside the field of view by detecting the reflected fire light by ambient glow.
The system software the system supplies you with in order to manage large sites and areas easily by a click on any computer, even from the Internet, you will be able to view any fire hazards. The software works on a standard PC workstation connected to the network, the system is not centred around the cameras, but rather around the assets under protection.
With the fire detection camera having IP features, it allows remote recording which give the feature of being able to playback before the incident started and see what sequence of events lead up to the start of the fire.
Further reading:
Technoswitch partners with UK's Hyfire
Technoswitch Fire Detection & Suppression News Fire & Safety Products
UK-based wireless fire technology pioneer Hyfire, has confirmed partnership agreements that will see its products sold in South Africa, for the first time, through local fire and safety stalwart, Technoswitch.
Read more...
---
Bespoke fire-risk systems for agri and food processing
Fire & Safety
ASP Fire highlights its specialised expertise in the agri and food-processing industries, where compliance is vital to save lives, reduce the costs of fire damage, and protect equipment and buildings from major damage.
Read more...
---
Incorporate fire safety in the design phase
Fire & Safety
ASP Fire CEO Michael van Niekerk says companies can prevent their infrastructure project from going up in flames by incorporating fire safety in the design phase.
Read more...
---
Fire-fighting force at Vergelegen
Editor's Choice Fire & Safety Residential Estate (Industry)
Vergelegen wine estate in Somerset West, and its neighbours, are set to enjoy greater peace of mind this summer, thanks to the delivery of a brand new fire truck .
Read more...
---
Rhino103 extinguishing control panel
Technoswitch Fire Detection & Suppression Fire & Safety Products
Technoswitch has released the Rhino103 extinguishing control panel range, designed and manufactured in South Africa to comply with EN54 parts 2 and 4, and EN12094.
Read more...
---
Technoswitch partners with Ciqurix for video fire detection
Technoswitch Fire Detection & Suppression News Fire & Safety
Technoswitch is pleased to announce the signing of an exclusive distribution agreement with Ciqurix (UK), a leading supplier of video fire detection products.
Read more...
---
Fire protection for new Fuchs warehouse
Fire & Safety
The new warehouse at Fuchs Lubricants South Africa in Isando, Johannesburg, not only incorporates the latest technology but complies with stringent fire detection and prevention requirements.
Read more...
---
Fire-safety risks during load shedding
News Fire & Safety
The current load shedding implemented by electricity utility Eskom, as it faces unplanned breakdowns, poses a heightened fire risk for homeowners and their families.
Read more...
---
FlameSpec flame detectors from Technoswitch
Technoswitch Fire Detection & Suppression Fire & Safety
The FM-approved FlameSpec detectors address slow-growing fires and fast eruptions of fire while maintaining high performance and reliable detection in all weather and light conditions.
Read more...
---
Improved hydraulic performance and efficiency
Johnson Controls Global Products Fire & Safety
Tyco 5.8K LFII sprinkler from Johnson Controls Global Products brings improved hydraulic performance and efficiency to residential fire protection.
Read more...
---