printer friendly version
Early warning add-on
May 2010
Fire & Safety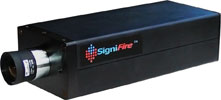 The current scenario for many industries is that a fire is somehow started, and when large enough the smoke or flames trigger sensors on the ceiling. The sensor, once triggered, will send an alert to the control/security/monitoring room that will dispatch a vehicle or an engineer to verify the status of the alarm signal.
axonX has announced an addition to any fire detection system with its advanced Signifire IP camera that has built-in video smoke and fire detection. This is vision-based artificial intelligence based on preprogrammed algorithms. The cameras are able to see and detect fire without the need of thermal imaging.
The system is based on four patent pending algorithms:
* Ambient smoke: Detects smoke that has stratified, gathering at the ceiling, causing blooming around light fixtures etc.
* Smoke plumes: Looks for characteristic shape and movement of a smoke plume.
* Fire: Detects flame flickers in line-of-sight of the camera.
* Reflected fire: Detects flames blocked by obstructions or outside the field of view by detecting the reflected fire light by ambient glow.
The system software the system supplies you with in order to manage large sites and areas easily by a click on any computer, even from the Internet, you will be able to view any fire hazards. The software works on a standard PC workstation connected to the network, the system is not centred around the cameras, but rather around the assets under protection.
With the fire detection camera having IP features, it allows remote recording which give the feature of being able to playback before the incident started and see what sequence of events lead up to the start of the fire.
Credit(s)
Further reading:
Fire Beam Xtra covers up to 160 metres
October 2019, Technoswitch , Products, Fire & Safety
The Fire Beam overcomes traditional beam detection challenges where building movement and accessibility made beam detection unreliable and laborious to commission and maintain.
Read more...
---
Emergency voice communication system
October 2019, Technoswitch , Products, Fire & Safety
The Technoswitch Emergency Voice Communication Systems concept offers fire telephone and disabled refuge systems, as well as integrating emergency assist alarm systems in a single solution.
Read more...
---
Fast detection of smoke and flames
October 2019, Bosch Building Technologies , Editor's Choice, CCTV, Surveillance & Remote Monitoring, Fire & Safety
Video-based fire detection AVIOTEC from Bosch has been optimised for tunnels to provide early and reliable detection of smoke and flames in these dark environments.
Read more...
---
Choosing the right fire detection system
August 2019, FDIA (Fire Detection Installers Association) , Fire & Safety
Charles Thiong'o from the FDIA highlights important factors to consider when choosing a fire detection system.
Read more...
---
Local security technology manufacturer
August 2019, Technoswitch , Fire & Safety
Technoswitch, a South-African manufacturer, importer and distributor of fire detection and suppression equipment turned 45 this year.
Read more...
---
Fire detection and suppression for server cabinets
August 2019, Technoswitch , Fire & Safety
The TEC601, designed and manufactured by Technoswitch, is an all-in-one fire and extinguishing rack-mountable control system designed to protect electronic equipment in 19-inch server room cabinets.
Read more...
---
ORYX conventional fire panel range
August 2019, Technoswitch , Fire & Safety
The ORYX range of conventional panels from Technoswitch offers 2, 4 and 8 zone options, including weatherproof versions (with or without DIN rail) specifically suited to industrial applications.
Read more...
---
Next generation BlazeCut T-series
August 2019, Technoswitch , Fire & Safety
Designed to protect small enclosed spaces with greater risk of fire, the BlazeCut T-series system is easy to install.
Read more...
---
Emergency lighting and fire detection combination
August 2019 , Fire & Safety, Products
Hochiki Europe has launched FIREscape+, a system which combines emergency lighting, fire detection and wayfinding technology.
Read more...
---
Introducing Gulf Security Technology
August 2019, UTC Fire & Security SSA , Fire & Safety
Gulf Security Technology manufactures more than 16 million detectors and modules and more than 120 thousand control panels per year, making it one of the largest fire detection manufacturers in the world.
Read more...
---