printer friendly version
PC-based IP recording
May 2010
Integrated Solutions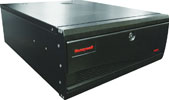 Honeywell extends PC-based, IP recording portfolio with new digital video recorder and network video recorder.
Honeywell has announced the addition of two new products to its PC-based recording portfolio – the Fusion IV digital video recorder (DVR) and the Fusion IV network video recorder (NVR). The DVR is a hybrid solution that will facilitate migration to IP solutions from analogue systems, and the NVR is designed to efficiently manage the installation of enterprise-wide IP security.
The Fusion IV DVR enables users to migrate from an analogue to an IP security system with ease. It even includes an estimator tool that allows a system designer to develop designs more quickly, and with greater accuracy. It has the ability to record, search and transmit up to 32 channels of analogue or IP video sources and users can customise video recording and transmission with user-selectable, multiple compression types that can be applied on a per camera basis, including improved megapixel camera support.
For mid to large scale multisite surveillance implementations, the Fusion IV NVR is a good choice for upgrading the recording capabilities of an existing system or installing an IP surveillance network. With simultaneous IP recording, searching and system management for up to 32 cameras and 16 audio channels, the NVR also offers an internal storage capacity of 12-terrabytes, allowing customers to retain a greater amount of recorded video for extended periods of time. In addition, the NVR boasts software and hardware designed to operate as a dedicated IP recording solution capable of accommodating emerging IP recording technologies.
"The latest additions to our Fusion recording range further demonstrate Honeywell's commitment to supporting installers with solutions for IP, analogue and hybrid systems," said Jeremy Kimber, EMEA Channel marketing leader, Honeywell Systems Group. "Increasingly, our customers are demanding solutions that help them to take advantage of new technology without the need to remove and replace their existing infrastructure. For that reason, we are committed to driving innovation that supports the industry in its transition from analogue to IP."
Seamless integration with Honeywell's existing product portfolio, including Pro-Watch and WIN-PAK access control solutions creates a flexible and scalable offering matched by dedicated technical support for the end-to-end system. The Fusion NVR is also compatible with the Honeywell Active Alert video analytics suite which can be implemented for applications where intelligent video analysis contributes to increased security and a reduction in costs by minimising false alarms. Used with Honeywell's EQUIP range of IP cameras and domes, the Fusion DVR delivers greater recording quality and an efficient network transmission process, as well as improved megapixel support for Honeywell's HCX cameras.
For more information contact Honeywell Systems Group, +44 (0)1928 754023, nick.honess@honeywell.com, www.honeywell.com
Further reading:
Innovation and service, 37 years and counting
Technews Publishing Impro Technologies Access Control & Identity Management Integrated Solutions
Innovation, simplicity and trust underpin the nearly 40 years of success of local access control brand, Impro Technologies, which is still run as an independent entity despite being acquired by ASSA ABLOY in 2016.
Read more...
---
Improving safety and security
Gallagher Education (Industry) Access Control & Identity Management Integrated Solutions
Education facilities have more than enough to deal with when it comes to allocating budget. Security often seems to be the last item on the agenda but is more important than ever.
Read more...
---
Software is South Africa's most promising business opportunity
Integrated Solutions IT infrastructure
When we talk about software as a business opportunity, we are not just talking about software or IT as a standalone product; deploying computer and network-related solutions to augment traditional processes represents an evolutionary shift in how the world works.
Read more...
---
Finding balance in a world of shifting supply chains
Logistics (Industry) Integrated Solutions Products
Retailers and consumer goods manufacturers need precise demand planning now more than ever. With help from the AI-powered SAS Intelligent Planning Cloud, companies can anticipate and address shopper needs and shipping disruptions more effectively.
Read more...
---
SA banking sector chooses enterprise-grade ID verification
Financial (Industry) Access Control & Identity Management Integrated Solutions
In terms of the secure digital onboarding of customers, South Africa's major banks have made massive inroads by using remote facial authentication.
Read more...
---
The state of the biometrics market
neaMetrics Technews Publishing Suprema Hikvision South Africa IDEMIA Access Control & Identity Management Integrated Solutions
Now that the pandemic is over (hopefully), will we see the same confidence in biometrics for access and identification or will the world be reverting to touch-based systems, including cards and fobs (or mobiles).
Read more...
---
Suprema development tools
Suprema Access Control & Identity Management Integrated Solutions
With integrating systems from different companies a critical part of an effective security solution, Suprema highlights its development tools aimed at making integration with its products simpler.
Read more...
---
The future of touchless biometrics
Technews Publishing Fulcrum Biometrics Access Control & Identity Management Integrated Solutions
Facial biometrics is the main talking point today, helped along by COVID, but is it the best touchless solution available? Rob Griggs from Fulcrum Biometrics Southern Africa recommends other touchless alternatives.
Read more...
---
The problem with biometrics
Technews Publishing Editor's Choice Access Control & Identity Management Integrated Solutions
We have come to rely heavily on biometrics for many aspects of access and identity management, especially in identity management where selfie authentication is accepted with confidence. Are we doing it right? Roger Grimes has his own take on the matter.
Read more...
---
SuperVision biometric access control
Fourier IT Innovation Integrated Solutions
SuperVision is a time & attendance (T&A) biometric access control system Fourier IT has been developing and enhancing for 18 years.
Read more...
---