printer friendly version
Insight, integration, then technology
May 2010
Integrated Solutions
Custom designs with complex integration are typical, calling for open systems with sophisticated capabilities.
A mining operation is so big, so complex, so high risk, so risk averse and most often so unique in terms of its processes, people and operations, that each justifies the investment in a custom designed security solution. While 'rugged', 'reliable' and 'proven' are the three key features that characterise the physical security hardware used at a mine – CCTV cameras, access readers, etc – the intelligence that binds the various enterprise and security systems into a comprehensive solution is anything but average. It is almost more important than the technology itself.
Says Neil Cameron of Johnson Controls: "Risk mitigation policies at a mine encapsulate enterprise as well as physical security systems and the permutations of what combinations of people, places and processes exceed acceptable risk profiles and set off alarm bells are complex. Who enters what area, at what time, carrying what equipment, in the company of which people are all factors that are taken into consideration."
On the physical layer there is access control, biometrics, CCTV cameras, intrusion detection, building management and emergency systems, and even X-Ray machines. As mines are usually remotely located and have limited skilled resources to service security equipment, these devices need to be reliable and hardy. This means they are usually not cutting-edge but rather of the robust, proven and reliable variety.
Integration not optional
These need to be integrated into the enterprise platform which includes human resources systems, health and safety, asset management, time and attendance systems, and all the sub-systems that feed into them.
In addition, monitoring, alarm response and emergency response processes and workflows need to be integrated into the system to deliver an effective, closed loop solution.
For example, every person and area on the mine has a risk profile that may be defined in terms of potential for losses (eg, an exit) or safety (eg, underground blasting areas) or mission-critical nature of operations and equipment. Thus the access system needs to be able to integrate with the HR system to ensure a worker that has, for instance, not completed a health and safety refresh course or had a medical exam within the mandated period or has not had his toolbox scanned does not gain access to the mine – or that certain numbers or combinations of people are not given access to secure or high risk areas.
For the mines, the value of a security system thus lies mainly in the software and how it is put together – how the value is leveraged from the available products. For instance, there are typically a large number of cameras and readers at a mine. This means there is a vast quantity of data being input into the backend systems and they have to respond quickly enough to avert risk.
Solutions from Johnson Controls
Johnson Controls has been supplying solutions to mining operations in South Africa, on the continent and internationally for a number of years. This includes the large cooling systems, building management systems, access control, CCTV monitoring and perimeter security. They tie it all together with JCI's P2000 Security Management System, which provides an effective foundation for mission-critical security needs.
A graphical user interface (GUI) enables system operators to access real-time, dynamic maps containing interactive icons from which security systems and functions can be managed with a simple click. Explains Cameron: "Features such as Threat Level Support allow operators to adjust security functions based on previously configured threat level parameters.
"In the event of an elevated security threat, modifications can be made to reader acceptance levels (from card only, to card plus PIN, to card plus PIN plus biometrics), and CCTV cameras and Guard Tours can be changed to reflect heightened security requirements.
"A key benefit of the Johnson Controls solutions is that they are built on open platforms and boast integration capabilities with the majority of industry specific best of breed solutions on the enterprise side – eg, SAP, various HR solutions like VIP and People Soft, and Health and Safety solutions – as well as on the hardware/plant equipment side (eg, XML, OPC and BACnet). Building and security systems thus link effortlessly with IT systems locally and remotely."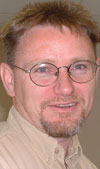 Neil Cameron
For more information contact Neil Cameron, Johnson Controls, +27 (0)11 921 7141, Neil.Cameron@jci.com, www.johnsoncontrols.com
Credit(s)
Further reading:
Building a nervous system for smart cities
Issue 1 2020, Pinnacle Instruments SA , Integrated Solutions
Build a central nervous system for smart cities, by employing real-time situation reporting and analysis that unites the powers of cloud computing, AI, IoT and big data.
Read more...
---
The secret to 5G security? Turn the network into a sensor
Issue 1 2020 , Integrated Solutions
We are about to make the leap from being a civilisation that uses networks to one that runs on them in a fundamental and inextricable way.
Read more...
---
The move to services and RMR
Issue 1 2020, Merchant West, G4S South Africa, Technews Publishing , Integrated Solutions
Project work used to be the staple diet for system integrators, but that was before the services model changed the way businesses buy and use their security systems.
Read more...
---
Global security industry adopts servistisation models
Issue 1 2020 , Integrated Solutions
New as-a-service business models are gaining traction because they reduce capital expenditure and cost of ownership, finds Frost & Sullivan.
Read more...
---
Looking ahead with mobile access technologies
Access & Identity Management Handbook 2020, Technews Publishing, HID Global, dormakaba South Africa, Salto Systems Africa, Suprema, Gallagher , Access Control & Identity Management, Integrated Solutions
Given the broad use of smartphones around the world and the numerous technologies packed into these devices, it was only a matter of time before the access control industry developed technology that would ...
Read more...
---
Scalable access solution
Access & Identity Management Handbook 2020 , Access Control & Identity Management, Integrated Solutions
Bosch Building Technologies makes access management simple, scalable and always available with Access Management System 2.0.
Read more...
---
Securing perimeters of secure locations
November 2019, Axis Communications SA, Modular Communications, Hikvision South Africa, Nemtek Electric Fencing Products, Technews Publishing, Stafix , Government and Parastatal (Industry), Perimeter Security, Alarms & Intruder Detection, Integrated Solutions
Hi-Tech Security Solutions asked a number of companies offering perimeter security solutions for their insights into protecting the boundaries of national key points.
Read more...
---
The safe city and its need for interoperability
November 2019 , Integrated Solutions, CCTV, Surveillance & Remote Monitoring
Interoperability continues to present one of the greatest challenges, particularly with video management systems, video recording devices and cameras.
Read more...
---
Analytics-driven solutions for smart infrastructure
November 2019, Bosch Building Technologies , Integrated Solutions
Video analytics technology can bring intelligence to infrastructure by delivering solutions for traffic flow, improved safety, smart parking, and data collection.
Read more...
---
A platform approach to innovation and value
CCTV Handbook 2019, Technews Publishing , Editor's Choice, CCTV, Surveillance & Remote Monitoring, Integrated Solutions, IT infrastructure
Moving to the platform model of doing business holds tremendous advantages for end users and smaller developers, but also for the whole technology supply chain.
Read more...
---