printer friendly version
Insight, integration, then technology
May 2010
Integrated Solutions
Custom designs with complex integration are typical, calling for open systems with sophisticated capabilities.
A mining operation is so big, so complex, so high risk, so risk averse and most often so unique in terms of its processes, people and operations, that each justifies the investment in a custom designed security solution. While 'rugged', 'reliable' and 'proven' are the three key features that characterise the physical security hardware used at a mine – CCTV cameras, access readers, etc – the intelligence that binds the various enterprise and security systems into a comprehensive solution is anything but average. It is almost more important than the technology itself.
Says Neil Cameron of Johnson Controls: "Risk mitigation policies at a mine encapsulate enterprise as well as physical security systems and the permutations of what combinations of people, places and processes exceed acceptable risk profiles and set off alarm bells are complex. Who enters what area, at what time, carrying what equipment, in the company of which people are all factors that are taken into consideration."
On the physical layer there is access control, biometrics, CCTV cameras, intrusion detection, building management and emergency systems, and even X-Ray machines. As mines are usually remotely located and have limited skilled resources to service security equipment, these devices need to be reliable and hardy. This means they are usually not cutting-edge but rather of the robust, proven and reliable variety.
Integration not optional
These need to be integrated into the enterprise platform which includes human resources systems, health and safety, asset management, time and attendance systems, and all the sub-systems that feed into them.
In addition, monitoring, alarm response and emergency response processes and workflows need to be integrated into the system to deliver an effective, closed loop solution.
For example, every person and area on the mine has a risk profile that may be defined in terms of potential for losses (eg, an exit) or safety (eg, underground blasting areas) or mission-critical nature of operations and equipment. Thus the access system needs to be able to integrate with the HR system to ensure a worker that has, for instance, not completed a health and safety refresh course or had a medical exam within the mandated period or has not had his toolbox scanned does not gain access to the mine – or that certain numbers or combinations of people are not given access to secure or high risk areas.
For the mines, the value of a security system thus lies mainly in the software and how it is put together – how the value is leveraged from the available products. For instance, there are typically a large number of cameras and readers at a mine. This means there is a vast quantity of data being input into the backend systems and they have to respond quickly enough to avert risk.
Solutions from Johnson Controls
Johnson Controls has been supplying solutions to mining operations in South Africa, on the continent and internationally for a number of years. This includes the large cooling systems, building management systems, access control, CCTV monitoring and perimeter security. They tie it all together with JCI's P2000 Security Management System, which provides an effective foundation for mission-critical security needs.
A graphical user interface (GUI) enables system operators to access real-time, dynamic maps containing interactive icons from which security systems and functions can be managed with a simple click. Explains Cameron: "Features such as Threat Level Support allow operators to adjust security functions based on previously configured threat level parameters.
"In the event of an elevated security threat, modifications can be made to reader acceptance levels (from card only, to card plus PIN, to card plus PIN plus biometrics), and CCTV cameras and Guard Tours can be changed to reflect heightened security requirements.
"A key benefit of the Johnson Controls solutions is that they are built on open platforms and boast integration capabilities with the majority of industry specific best of breed solutions on the enterprise side – eg, SAP, various HR solutions like VIP and People Soft, and Health and Safety solutions – as well as on the hardware/plant equipment side (eg, XML, OPC and BACnet). Building and security systems thus link effortlessly with IT systems locally and remotely."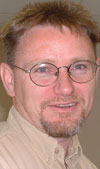 Neil Cameron
For more information contact Neil Cameron, Johnson Controls, +27 (0)11 921 7141, Neil.Cameron@jci.com, www.johnsoncontrols.com
Credit(s)
Further reading:
Innovation and service, 37 years and counting
Technews Publishing Impro Technologies Access Control & Identity Management Integrated Solutions
Innovation, simplicity and trust underpin the nearly 40 years of success of local access control brand, Impro Technologies, which is still run as an independent entity despite being acquired by ASSA ABLOY in 2016.
Read more...
---
Improving safety and security
Gallagher Education (Industry) Access Control & Identity Management Integrated Solutions
Education facilities have more than enough to deal with when it comes to allocating budget. Security often seems to be the last item on the agenda but is more important than ever.
Read more...
---
Software is South Africa's most promising business opportunity
Integrated Solutions IT infrastructure
When we talk about software as a business opportunity, we are not just talking about software or IT as a standalone product; deploying computer and network-related solutions to augment traditional processes represents an evolutionary shift in how the world works.
Read more...
---
Finding balance in a world of shifting supply chains
Logistics (Industry) Integrated Solutions Products
Retailers and consumer goods manufacturers need precise demand planning now more than ever. With help from the AI-powered SAS Intelligent Planning Cloud, companies can anticipate and address shopper needs and shipping disruptions more effectively.
Read more...
---
SA banking sector chooses enterprise-grade ID verification
Financial (Industry) Access Control & Identity Management Integrated Solutions
In terms of the secure digital onboarding of customers, South Africa's major banks have made massive inroads by using remote facial authentication.
Read more...
---
The state of the biometrics market
neaMetrics Technews Publishing Suprema Hikvision South Africa IDEMIA Access Control & Identity Management Integrated Solutions
Now that the pandemic is over (hopefully), will we see the same confidence in biometrics for access and identification or will the world be reverting to touch-based systems, including cards and fobs (or mobiles).
Read more...
---
Suprema development tools
Suprema Access Control & Identity Management Integrated Solutions
With integrating systems from different companies a critical part of an effective security solution, Suprema highlights its development tools aimed at making integration with its products simpler.
Read more...
---
The future of touchless biometrics
Technews Publishing Fulcrum Biometrics Access Control & Identity Management Integrated Solutions
Facial biometrics is the main talking point today, helped along by COVID, but is it the best touchless solution available? Rob Griggs from Fulcrum Biometrics Southern Africa recommends other touchless alternatives.
Read more...
---
The problem with biometrics
Technews Publishing Editor's Choice Access Control & Identity Management Integrated Solutions
We have come to rely heavily on biometrics for many aspects of access and identity management, especially in identity management where selfie authentication is accepted with confidence. Are we doing it right? Roger Grimes has his own take on the matter.
Read more...
---
SuperVision biometric access control
Fourier IT Innovation Integrated Solutions
SuperVision is a time & attendance (T&A) biometric access control system Fourier IT has been developing and enhancing for 18 years.
Read more...
---