printer friendly version
NVT gains Network Rail approval
May 2010
News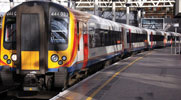 Network Video Technologies (NVT), has been awarded Network Rail type approval in the UK for the company's range of unshielded twisted pair (UTP), CCTV Hybrid Video transmission products, including PVD (power, video and data) technology.
Network Rail type approval affords NVT's range of UTP Hybrid Video transmission products with a PADS (parts and drawings system) number, allowing their inclusion into the critical infrastructure of any Network Rail site across the UK. Accreditation guarantees that NVT products meet the rigorous standards of railway infrasructure application, and that the manufacturer provides a high level of aftersales and technical support.
Network Rail owns approximately 2500 railway stations throughout the UK, including major railway interchanges such as London, Birmingham, Liverpool, Manchester, Leeds, Glasgow, and Edinburgh. The award of type approval to NVT products now offers installers and specifiers working on railway projects an unparalleled choice of certified, high-performance and cost-effective UTP CCTV video transmission solutions.
"NVT UTP video is much more installer friendly than fibre-optic or coax cable transmission alternatives, due to the flexible nature of Cat5 cable. It is simpler and quicker to install and can help minimise engineering time onsite, with the associated cost saving benefits," comments Steve Proctor, NVT's sales director. "All NVT video transmission products provide unparalleled interference rejection and ground-loop isolation; a critical feature in the high-interference rail environment where 750V DC live power lines can generate surges of up to 10 000 A in close proximity to the CCTV video transmission network."
For more information contact Network Video Technologies, +44 (0)20 8977 6614, steve.proctor@nvt.com, www.nvt.com
Further reading:
New hires at iPulse
Issue 7 2020, iPulse Systems , News
iPulse has welcomed two new employees into its ranks. Shai Weil has been appointed as operations director, while Corneli Botha is the new customer sales liaison.
Read more...
---
HID Global acquires Access-IS
Issue 7 2020, HID Global , News
HID Global acquires provider of miniaturised reader devices that combine key technologies for mission-critical markets.
Read more...
---
Securing digital transformation
Issue 7 2020 , News
Schneider Electric partners with Fortinet to strengthen ability to secure operations across the business lifecycle and unlock the advantages of a secure IIoT.
Read more...
---
Suprema integrates with Paxton's Net2 access control
Issue 7 2020, Suprema , News
Suprema has announced it has integrated its devices with Paxton's access control system, Net2.
Read more...
---
Free cybersecurity courses
Issue 7 2020 , News
Check Point Software partners with Harvard and MIT-founded edX to deliver free online courses to help close the cybersecurity skills gap.
Read more...
---
Fidelity partners with Auto & General Insurance
Issue 7 2020, Fidelity Security Group , News
Fidelity Services Group in partnership with Auto & General Insurance has launched Fidelity InSure, a comprehensive vehicle, home, and building insurance offering.
Read more...
---
More apps for open camera OS
Issue 7 2020 , News
The App Challenge will result in 21 new apps running on the Security & Safety Things' camera OS, based on the Android Open Source Project.
Read more...
---
Milestone Systems announces Thomas Jensen as new CEO
Issue 7 2020, Milestone Systems , News
Milestone Systems announced that its board of directors has appointed Thomas Jensen as chief executive officer. Jensen will assume the role on October 1, 2020.
Read more...
---
Suprema announces its first virtual event
Issue 7 2020, Suprema , News
Suprema will be hosting its first virtual event, Suprema Connect 2020, which is scheduled to take place over one month from September 15.
Read more...
---
From the editor's desk: Waiting for PoPI
Issue 7 2020, Technews Publishing , News
A while ago we heard of yet another cyber breach, this time from Experian.
Read more...
---