printer friendly version
Educational access
April 2010
Access Control & Identity Management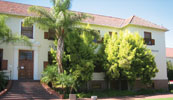 Impro software makes the access control grade at Stellenbosch University.
Stellenbosch University is recognised as one of the four top research universities in South Africa. It takes pride in the fact that it has one of the country's highest percentages of post-graduate students where almost 10% of them are international students.
Stellenbosch University lies tucked away in the picturesque Jonkershoek Valley in the heart of the Western Cape Winelands. Since its humble beginnings in 1866 when it first opened its doors with about 500 students and 39 lecturers, the University has grown into the internationally recognised institution of excellence it is today with more than 22 500 students, 800 lecturers and some 50 research and service bodies.
The challenge Impro faced at the University was how to seamlessly introduce the IXP400i system without revising the student enrolment process. Currently, there are multiple student enrolment stations in various departments and rewriting the enrolment process was not an option. Impro Technologies therefore introduced Hendrik Le Roux (the university's Project Co-coordinator) to data integration specialists, innoVIZION. The objectives were straightforward – design an interface that would automatically update the access control database when a student was entered into the university student database and at the same time allow for the automatic assignment of the relevant access control rights to the student. To complicate matters, the university has a laundry facility and residence management which also pushes data into the various systems.
The integration software was needed to take all of these systems into account. Its implementation was to have zero impact on the admin staff. They were not even to be aware of the new system installed. Even with a straightforward objective, the task itself was quite complex and required significant investigation and design. innoVIZION developed the solution and the basic functionality of the integration.
The solution
The ImproNet configuration software is used for system configuration only, and all student details are captured using the university's standard front end software. The student is issued a proximity Mifare tag and a lookup is done on the access control system to see which access rules have been defined. The card is then assigned an access group based on the rules set up in the innoVIZION software and the student is given the card. Once the details are in the access control database, the access control engine uploads the data to the ECII system controllers and the card is functional.
Currently the site has 31 ECII controllers installed across the entire Stellenbosch Campus, as well as at the Tygerberg Campus comprising a total of 190 access controlled doors.
Le Roux and the rest of his team have all attended Impro accredited training courses which were presented at Powelltronics' head office in Mowbray, Cape Town.
Future enhancements
The IXP400i system at the university, along with the innoVIZION software has left the door wide open for future enhancements to the entire security system. The IXP400i system supports full biometric integration with the Sagem biometric devices. It also supports integration with Ziton fire detection solutions, Caddx intrusion monitoring solutions, as well as certain CCTV solutions. innoVIZION's platform will allow for higher levels of access validation should the requirement arise.
Parameters
Number of sites: 5
Number of tagholders: 30 000
Number of doors: 190
Key elements
* ImproX IXP400i Hardware.
* ImproNet Software Suite.
* innoVIZION software integration.
For more information contact innoVIZION Business Solutions, +27 (0)11 463 0123, paul@innovizion.co.za, www.innovizion.co.za
Further reading:
Cloud-based or on-premises access control
Salto Systems Africa Access Control & Identity Management Products
Choosing between cloud-based and on-premises access control solutions can be a difficult decision, however, the best solution for your organisation, property, or building type will depend on a range of factors.
Read more...
---
Improved security health check tool
Gallagher Access Control & Identity Management Products
Gallagher Security has streamlined its free Security Health Check tool, making it easier than ever to protect against potential system risks and improve business efficiencies.
Read more...
---
Suprema showcases integrated security solutions
Suprema Access Control & Identity Management Products
Apart from being an access terminal that supports multiple credentials such as facial recognition, RFID, mobile and QR codes, the BioStation 3 also supports VoIP Intercom and real-time video monitoring features to make it a truly multi-functional reader.
Read more...
---
Local electronic locks
Access Control & Identity Management
YeboTech is an electronics manufacturing company, founded in 2005, which designs, markets and sells an electronic key and locking systems, aimed at replacing all conventional mechanical locks.
Read more...
---
Selecting the correct access control system
Enkulu Technologies Access Control & Identity Management
Frazer Matchett, Managing Director of Enkulu Technologies, suggests the right questions to ask when selecting an access control solution; not just the access system, but the integrated solution that fits your requirements.
Read more...
---
Integrated guarding services
XtraVision Integrated Solutions Access Control & Identity Management Industrial (Industry)
XtraVision offers a few tips on how to go about planning and setting up an integrated approach to sustainable and successful security services, from the initial risk assessment to the technology and people required.
Read more...
---
Paxton secures multi-tenant office in Cape Town
Paxton Integrated Solutions Access Control & Identity Management Products
Cecilia Square in Paarl, Cape Town is an office building from where several businesses operate. The multi-tenant site has recently undergone a full refurbishment, including a complete upgrade of its security system for access control.
Read more...
---
AI face recognition OEM module
Suprema News Access Control & Identity Management Products
Suprema AI, a company specialized in artificial intelligence–based integrated security solutions, recently launched its high-performance face recognition OEM module called 'Q-Face Pro' in response to the growing need for contactless security solutions.
Read more...
---
KWAL raises a glass to security upgrade
Turnstar Systems Access Control & Identity Management Products
The Kenya Wine Agencies Limited (KWAL) was in need of an integrated security upgrade. This is where Turnstar came into the picture to provide a solution that would keep KWAL secure and efficient.
Read more...
---
Dahua Insider Series for touchless access
Dahua Technology South Africa Access Control & Identity Management Products
The Insider Series Access Control Solution offers touchless access (via Bluetooth) using the DMSS mobile app; it has three distance modes and two trigger modes (normal and shake).
Read more...
---