printer friendly version
Security integration a winner
March 2010
Integrated Solutions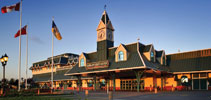 Manitoba migrates its security system to an integrated platform.
Manitoba Lotteries Corporation (MLC) is a key player within the province of Manitoba's gaming industry. MLC's net revenue — more than $296 million between 2007 and 2008 — goes toward supporting provincial programmes in areas such as health care, education, and economic development. What makes MLC's story different is the foresight the corporation showed in the decision to migrate its security system to an integrated platform. The resulting security system that protects MLC's two casinos, corporate offices and warehouse/office facilities is not only keeping visitors and employees safe, but is also helping MLC thrive.
The first part of the project involved upgrading the casinos' camera matrix system. In 2000, corporate security selected an analogue-based VCR management system, which automated and standardised MLC's recording processes. The system gave MLC the ability to more easily monitor and control VCRs to record key processes without losing valuable recording data. Upgrading the casinos' security systems onto one integrated platform enabled MLC to take a more holistic and standardised approach to security.
This approach also better accommodated expansion and prepared MLC for future growth. "Although unsophisticated by today's standards, the system was a big advantage for us at the time," said Karl Bergmann, senior manager, Security Systems. "It was our first step to standardising, and it put us in a good position when digital started to gain prominence."
The 2000 upgrade also extended the security system to MLC's warehouse/shop/office, its corporate offices made up of three buildings and three warehouse/office buildings in other towns.
"We needed a system that we could tailor to fit our size at the time and expand in the future," Bergmann said. "We have locations spread across a wide distance with varying security and surveillance requirements. Scalability, flexibility and ease of integration were primary factors in our system choice."
Integrated solution
Honeywell's enterprise network video recorder (NVR) video management system provided configurable digital video technology with the scalability and flexibility MLC sought. The digital system provided myriad benefits including enhanced recording quality. MLC could more easily manage cameras and alarms across its locations, as well as obtain instant access to video recordings and simultaneously view, record and play back video and synchronised audio streams
"The primary responsibility of MLC Corporate Security is to protect MLC assets, guests and employees, so we always seek the most comprehensive security measures available," said Dan Sanscartier, associate vice president, corporate security and surveillance. "Our approach to casino security ensures that our security division employs the most effective security measures and tools available."
MLC's holistic approach to security also incorporated components beyond standard video and access. The Enterprise NVR system integrates with Honeywell's IDM (integrated data manager), a system that synchronises surveillance video with slot and point-of-sale terminals to provide analysis of valuable data. In both casinos, for example, cameras monitor the restaurants and are tied to a POS interface, which pulls transactional data from slots and POS points throughout the locations.
Also helping to improve efficiency at MLC is Honeywell's VideoBloX matrix system. The system integrates with other technology components, including access control and intrusion alarms, so operators are constantly updated and aware of all casino activity. MLC has PTZ fixed cameras throughout its casinos, restaurants, warehouses and corporate offices, which all tie back to the central system to provide an enterprise-wide view of operations.
Benefits attained
Digital surveillance technology has freed up a significant amount of time previously spent reviewing tapes, affording operators more time to monitor areas and activity. MLC surveillance technicians are able to work more efficiently, which provides an even more secure environment for MLC patrons and employees.
"Our surveillance technicians can now perform much quicker reviews," Sanscartier said. "Reviewing videotapes took three times as long. Digital has certainly made us more efficient so we can immediately locate footage and pinpoint incidents."
MLC can generate realtime reports from the IDM system, including exception reports, which can quickly identify suspicious activity. The system has helped MLC curb theft. "Any time our staff gains efficiencies, whether it's through reporting, monitoring or locating a specific event, the payoff is exponential," Sanscartier said.
"The cameras and flexible digital integration give us extra 'eyes' in areas where we do not always have staff on site 24 hours a day," Bergmann said. "As a result, we are able to do our jobs better and conduct all the activities we are concerned with – guest, employee and asset protection."
For more information contact ADI Global Distribution, +27 (0)11 574 2500, adelaide.taylor@adiglobal.com, www.adiglobal.com/za
Credit(s)
Further reading:
Keep your distance with PeopleCounter and DistanceGuard
Issue 6 2020 , Integrated Solutions
Using 2D and 3D LiDAR sensors from SICK, people can easily uphold the recommended minimum distance in public and pre-defined spaces.
Read more...
---
Critical control management
Issue 5 2020 , Integrated Solutions
The critical control management process is an excellent practical approach to ensure effective controls over potentially catastrophic events.
Read more...
---
Adjusting to a new reality
Issue 5 2020, Technews Publishing , Integrated Solutions
COVID-19 to accelerate adoption of technology-enabled smart city resilience approaches: robotics, digital twins, and autonomous freight.
Read more...
---
Remote oversight imperative for smart buildings
Issue 5 2020 , Integrated Solutions
Duran Viera, CEO of Amecor, says one of South Africa's biggest drivers for smart building development is security.
Read more...
---
Shaping today's smart cities
Issue 5 2020, ZKTeco , Integrated Solutions
As our physical and digital worlds become intertwined, the absorption of new technologies in smart cities is inevitable.
Read more...
---
The evolution of security in residential estates
Residential Estate Security Handbook 2020 , Editor's Choice, Integrated Solutions, Security Services & Risk Management
Two large estates discuss their security processes and the ever-expanding scope of responsibilities they need to fulfil.
Read more...
---
Home-grown, cloud-based safety and security solutions
Residential Estate Security Handbook 2020 , IT infrastructure, Integrated Solutions
BeSecure has taken security and communications technologies and turned them into what is best described as care and safety solutions for the estate community in South Africa.
Read more...
---
Integrated security management system
Residential Estate Security Handbook 2020, Protoclea Advanced Image Engineering , Products, CCTV, Surveillance & Remote Monitoring, Integrated Solutions
Phorcas is a security information system developed by Protoclea designed to integrate multiple sub-systems into a powerful crime fighting solution.
Read more...
---
ADI signs distribution agreement with Avigilon
Issue 5 2020, ADI Global Distribution , CCTV, Surveillance & Remote Monitoring
New distribution agreement sees security buyers in EMEA gain access to Avigilon video, cloud and access control solutions from ADI.
Read more...
---
Critical control management is essential for quality surveillance
Issue 6 2020 , Integrated Solutions
The demand for effective surveillance remains a priority for security and line management involved with the day to day protection of assets.
Read more...
---