printer friendly version
2010 business risks
January 2010
Security Services & Risk Management
The 2010 Soccer World Cup is about more than sport, businesses must be prepared for any disruptions that could result from the event.
ContinuitySA has launched the Continuity2010 Web portal to assist businesses in preparing for the 2010 Soccer World Cup. This subscription-based Website highlights all the business risks organisations may face in the run up to and during the event, helping them prepare for any incidents or disruptions that could prevent the normal business operations.
"The impact the 2010 FIFA Soccer World Cup will have on business is a concern to many corporate managers around the country," says Louise Theunissen, general manager of consulting services at ContinuitySA. "The games and associated organisation behind it are so vast and complex; it is not possible to say what the operational and financial impact will be on local companies."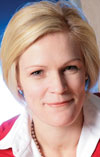 Louise Theunissen
Some of the potential areas of risk companies may face include:
1. Access control: The prime concern for organisations in close proximity to stadia, fan parks, public viewing areas and base camps will be access, or lack of it.
2. Transport mayhem: When considering the transport requirement of tens or hundreds of thousands of people, combined with the state of our transport systems, we can expect tremendous pressure on all routes.
3. Staff shortages and productivity: Will staff be able to get to work? Will they want to get to work? And if they are at work, what percentage of the time will they be spending focused on their jobs?
4. Outages: All 2010 stadia will have built-in back-up generators, in line with FIFA's requirements. Yet, keeping in mind that the World Cup takes place over winter, one cannot exclude the possibility of there being serious power and other utility outages.
5. Pandemics: The idea of a pandemic may be a little stale to those living in a modern city, but simply look at the world's current pandemic status in terms of Swine Flu. With the influx of people from around the world in 2010, a pandemic cannot be discounted.
The Continuity2010 portal is the only fully comprehensive data bank of information, reports and studies that will empower businesses in planning proactively to minimise risk before, during and after the 2010 World Cup. The portal has established and will continue to forge relationships with key contacts in organisations tasked with delivering 2010 to ensure that all information published is always valid. The site will also advise subscribers on the correct course of action to take in mitigating business risks as they occur.
"ContinuitySA will remain in constant contact with all those directly and indirectly involved in the 2010 World Cup to ensure we are continuously aware of any changes to the status quo and can communicate potential changes in business risks as they arise," adds Theunissen. "Moreover, we have also assembled a Continuity2010 Board which will consist of 10 executives involved in the event and 20 business leaders who will regularly evaluate business-relevant information as it becomes available to identify new risks and mitigation strategies. Due to the limited places available, the 20 subscriptions to the Board will be on a first come, first served basis.
"The unfortunate reality is we do not know what will occur during the event, hopefully it will be plain sailing and highly entertaining, but business leaders cannot rest the smooth running of their organisations on hope alone. Continuity2010 is the only comprehensive source on business risks associated with the 2010 FIFA Soccer World Cup."
For more information contact ContinuitySA, +27 (0)11 554 8000, Louise.Theunissen@ContinuitySA.co.za, www.continuitysa.co.za
Further reading:
Digital evidence handling in the cloud
Issue 5 2020 , Security Services & Risk Management
Investigate Xpress is a free, cloud-based digital evidence management solution designed to make police forces more efficient and productive.
Read more...
---
The evolution of security in residential estates
Residential Estate Security Handbook 2020 , Editor's Choice, Integrated Solutions, Security Services & Risk Management
Two large estates discuss their security processes and the ever-expanding scope of responsibilities they need to fulfil.
Read more...
---
Bang for your security buck(s)
Residential Estate Security Handbook 2020, Alwinco , Editor's Choice, Security Services & Risk Management
Hi-Tech Security Solutions asks how estates can maintain a good security posture in the time of the ever-shrinking budget.
Read more...
---
More efficient guarding through the effective use of technology
Residential Estate Security Handbook 2020, Technews Publishing, OnGuard, Stallion Security, Active Track , Security Services & Risk Management
Technology in its many forms can be used to optimise the efficiency and performance of on-site guarding.
Read more...
---
Range of grid-independent power systems
Residential Estate Security Handbook 2020, Specialised Battery Systems , Products, Security Services & Risk Management
SBS Solar has a range of solutions to provide power, save on costs and above all provide peace of mind.
Read more...
---
More than just compliance
Issue 5 2020, IACT-Africa , Security Services & Risk Management
SA is one year away from the Protection of Personal Information Act (POPIA) D-Day.
Read more...
---
Taking the guesswork out of tracking guards
Residential Estate Security Handbook 2020, Secutel Technologies , Security Services & Risk Management
The SecuTraq MP5 is an all-in-one body-worn camera to assist in keeping track of guards on site in real time.
Read more...
---
The benefit of thermal screening
Issue 5 2020, Technews Publishing, Sensor Security Systems , Security Services & Risk Management
How preventive screening with thermal cameras can help in the fight against COVID-19.
Read more...
---
Resilience is critical for post-COVID business success
Issue 5 2020, ContinuitySA , Security Services & Risk Management
Of the many lessons we have to learn from the current emergency, perhaps the most crucial one is to ensure that business strategy and operations are founded on resilience.
Read more...
---
Post-Coronavirus communications: kick start your small business
Issue 4 2020 , Security Services & Risk Management
In these uncertain times, how should small companies and startups in the business-to-business domain recommence their selling and communication processes?
Read more...
---