printer friendly version
Risk management in Mozambique
January 2010
Financial (Industry)
Metrofile now services 80% of financial institutions in Mozambique.
Metrofile's Mozambique operation has, in less than two years, become integral to the effective running of the region's financial sector with the recent award of a tender to provide records management services for Barclays Bank. As a result, Metrofile Mozambique now provides services to 80% of the large financial institutions operating in the country.
Metrofile's relationship with Barclays Bank started back in the 1980s, prior to their divestment of what is now First National Bank and has remained strong ever since. The relationship was also stepped up a gear last year with its acquisition of the ABSA group. The Mozambique award cements that relationship even further and will result in an initial take-on by Metrofile of around 22 000 boxes, almost doubling the number of boxes currently stored by the Maputo branch.
"Metrofile only extended its services into Mozambique some 18 months ago, and since then we have grown quickly. Mozambique has a rapidly growing economy that is striving to move away from clumsy manual storage and archiving to more modern and transparent methods of records management. We are proud to be part of this advancing trend," says Artur Martins, general manager at Metrofile.
Metrofile's Maputo branch went to tender for the business in October, to sort and store tens of thousands of boxes of documents for Barclays Bank in Mozambique. The project, which is estimated to take around three months to complete, involves collecting, sorting and confidentially destroying and recycling redundant records, before indexing and repacking those that need to be retained in the Metrofile storage facility.
The first phase of the project will ensure that Barclays meets growing market demands and its FICA and FASE obligations. Metrofile has already destroyed and recycled unnecessary documents that were past their retention period, and has brought the total number of boxes needing to be stored down from 30 000 to 22 000.
The second phase will ensure that records are properly categorised, indexed and stored in a way that makes them accessible and which substantially reduces the risks of records being misplaced, damaged or lost. The logistics involved in this phase were one of the reasons why Metrofile was successful in being awarded the tender. Many of the records are currently stored in regional branches, some of which are as much as 2000 kilometres away from Maputo. Metrofile will be sorting these records on site, destroying what can be destroyed, before transporting the rest to their final location in Maputo where a more formal audit will be undertaken.
"The logistical challenges of this project were mainly focused around moving the boxes to Metrofile's facility in Maputo. With roads being notoriously bad and huge distances to be travelled, this is no easy feat, but Metrofile has planned around this and will move the boxes carefully and consistently using reliable couriers," says Martins.
Apart from providing a full offsite storage solution, Metrofile has also set about to train around seven of Barclays staff members on the new archiving and storage system and to make certain they are comfortable with the transition from their current manual method of archiving to Metrofile's automated system. On a much smaller scale, the project also entails the scanning of some of the documents, but is primarily an offsite storage solution for Barclays Bank.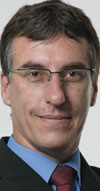 Peter McLaren-Kennedy
For more information contact Metrofile, +27 (0)11 677 3028, petermc@metrofile.co.za, www.metrofile.co.za
Further reading:
Securing ATMs 24/7
September 2019, Hikvision South Africa , CCTV, Surveillance & Remote Monitoring, Financial (Industry)
To be effective, most ATMs need to be in public areas and open all hours, and they hold cash, making them an attractive target.
Read more...
---
Improved security for Diamond Trust Bank in Tanzania
September 2019, Hikvision South Africa , CCTV, Surveillance & Remote Monitoring, Financial (Industry)
Diamond Trust Bank in Tanzania installed over 1000 Hikvision EasyIP 3.0 cameras in a project to replace its analogue infrastructure and centralise its surveillance security.
Read more...
---
The safest way to pay
June 2019 , Security Services & Risk Management, Financial (Industry)
Establishing a relationship of mutual trust between a bank and a customer is crucial. It creates a secure foundation, while giving customers the confidence to engage without security concerns.
Read more...
---
SIM swap fraud expands
June 2019 , News, Cyber Security, Financial (Industry)
A new wave of attacks targeting financial services and online services have become very common in South Africa and the wider region.
Read more...
---
The enemy within – insider ­security threats
May 2019, Wolfpack Information Risk , Editor's Choice, Cyber Security, Financial (Industry)
Insider threats in today's financial world are insidious and destructive and your defence against insiders should start long before the person assumes his/her position.
Read more...
---
Protecting people's money, and their data
May 2019, Cathexis Technologies, CA Southern Africa, IDEMIA , Editor's Choice, Integrated Solutions, Financial (Industry)
The temptations inherent to the banking sector, and financial institutions more generally, pit them in an eternal and increasingly high-tech battle to secure themselves against threats from within and without.
Read more...
---
Access authentication with a wave
May 2019, IDEMIA , Editor's Choice, Access Control & Identity Management, Integrated Solutions, Financial (Industry), Commercial (Industry)
Financial organisations are making the move to contactless fingerprint biometrics in order to meet the increasing burden of regulatory and compliance demands.
Read more...
---
Know your customer/criminal
May 2019, ZKTeco , Financial (Industry), Access Control & Identity Management
Biometric facial recognition is becoming the most powerful way to prevent bank robberies and fraud.
Read more...
---
Protecting ATMs
May 2019, Secutel Technologies , Perimeter Security, Alarms & Intruder Detection, Financial (Industry)
Secutel Technologies has developed an intrusion detection system called VV Compact for ATM, designed and manufactured in South Africa.
Read more...
---
Making cents out of the security mix
May 2018, Cathexis Technologies, Xone Integrated Security , Editor's Choice, CCTV, Surveillance & Remote Monitoring, Cyber Security, Integrated Solutions, Financial (Industry)
Hi-Tech Security Solutions chats to industry specialists about the security mix, cybercrime and the onslaught of artificial intelligence in the financial sector.
Read more...
---