printer friendly version
T&A on your cellphone
August 2009
IT infrastructure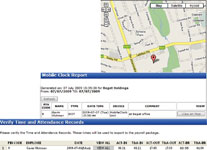 Cellular time and attendance adds a new dimension to access control.
It is not always financially viable to place a traditional clocking machine to control time and attendance (T&A) at each and every point where employees are stationed, particularly when staff numbers are less than 10. This is also applicable when there are no fixed sites involved and employees travel to different locations to undertake work.
Beget Solutions, a division of JSE-listed Beget Holdings, has developed a system, integrated into its MobileBIO Website, where employees can clock in and out using their cellphones. The employee sends the text 'CLOCK A' for IN or 'CLOCK B' for OUT via premium rated SMS to a designated short code for the system to register the activity. There is also an option to send a text comment, for example, 'At client xyz'. The cellphone number acts as the employee's unique ID. An SMS is sent back immediately confirming receipt of the SMS clock.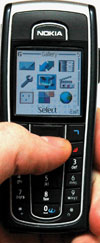 By means of LBS (location based services) the actual location of the employee is plotted and stored in the Beget system. Employers can log into the MobileBIO Website to access SMS reports and to track the whereabouts of their staff making the system ideal for applications such as self-posting guards where site supervision is difficult, travelling representatives, and for companies such as plumbers and electricians that have several vehicles and teams on different sites at different times.
The SMS clocking can be used integral to Beget's other fingerprint-based biometric systems to provide full management of all staff T&A by writing the in and out clocking functions – from both fixed and mobile clocking devices – into a central database. Where fingerprint capture is not possible, SMS clocking not only reduces the manual input of clocking information but allows for more effective control of employee movements.
The system works over both MTN and Vodacom networks.
For more information contact Delmé Hawkins, Beget Solutions, 086 112 3438, info@beget.co.za
Further reading:
Data storage has a power consumption problem
IT infrastructure
We store data with electricity, placing data onto magnetic mediums or altering electric charges inside flash memory, but all that reading and writing requires electricity, which is becoming more expensive as supply crumbles.
Read more...
---
Veeam introduces new competency programme for partners
IT infrastructure News
Veeam Competency Programme for Veeam Value-Added Resellers and Veeam Cloud & Service Provider partners offers enhanced solution-oriented training and go-to-market capability development that increase credibility and visibility in the local marketplace.
Read more...
---
End the scourge of solar panel theft
Guardian Eye IT infrastructure Security Services & Risk Management
Modern solar installations are designed so they can be put together very quickly, but this means they can also be dismantled very quickly, and so there has been a massive spike in the theft of solar panels from roofs.
Read more...
---
Smart buildings require smarter networks
Commercial (Industry) IT infrastructure
The smart building is not a new concept, but it's more than just four walls built sustainably, but a network that interconnects people, processes, data, and things. Lots and lots of things.
Read more...
---
How international cloud trends impact Africa
Technews Publishing IT infrastructure
Enterprises are realising that hyperscale cloud is better suited to development and not everyday business, while the bills have also grown significantly as their cloud needs have become more complicated and sprawled.
Read more...
---
VMware unveils new security capabilities
Cyber Security IT infrastructure Products
At the RSA Conference 2023, VMware unveiled enhanced features for its suite of security solutions to address the increasing sophistication and scale of cyberattacks and to deliver strong lateral security across multi-cloud environments.
Read more...
---
Beyond the blackout
IT infrastructure Security Services & Risk Management
Julian Liebenberg, Chief of Cloud Platform Solutions at BCX discusses why cloud solutions are the future for large enterprises when dealing with the economic and productivity consequences of load shedding.
Read more...
---
AIOps-driven cloud management
IT infrastructure Products
Next generation of HPE Aruba Networking Central paves the way for the era of AI-powered network management; 'Agile NaaS' strategy simplifies delivery of critical network services via HPE GreenLake.
Read more...
---
Complex, but critical partner in security
Technews Publishing Bidvest Protea Coin Editor's Choice Integrated Solutions IT infrastructure Mining (Industry)
Smart Security looks at how drones can be applied effectively in mine security operations. The ability to quickly gain a birds-eye view of a situation, whether security, safety or operational in nature, makes drones a significant value-add to mines.
Read more...
---
The data must flow
Technews Publishing IT infrastructure Mining (Industry)
Amidst the dirt and dust, the data packets must always be moving in order for mines to remain on top of their environments, their people, their processes and equipment, and most importantly, the safety of everyone on site.
Read more...
---