printer friendly version
The hook in fish-eyes
August 2009
CCTV, Surveillance & Remote Monitoring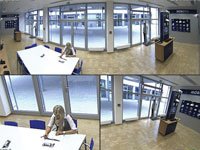 By adding a fish-eye lens to a megapixel IP camera, manufacturers are offering video solutions that generate a much wider field of view than standard cameras. The design objective of these systems is to provide greater area coverage per camera, thus lowering the number of cameras needed at any one site and saving the customer money. But one of the key issues with these systems is related to the video delivery between the camera and the recording server.
While the purpose of fish-eye cameras is to save the customer money, they do not deliver on the promised image quality and ironically, are not cost effective. Based on the centralised system topology, these fish-eye cameras require a separate computer plus recording software with image distortion correction capabilities.
Why is this the case? It is the way centralised IP cameras handle video. To match the image quality of a high-quality camera, a standard fish-eye megapixel camera would have to transfer 3 megapixel video made up of raw images to a server. However each raw image is approximately 10 megabytes. If the camera was to stream 3-megapixel raw images at 12 frames per second, it would require 1 gigabit (10 megabyte x 12 fps x 8 bits = 1 gigabit) of bandwidth – and that is just from one camera. Bandwidth requirements of this nature would effectively kill even the best corporate networks.
To get around this problem, centralised cameras have to include intelligence on the camera to first compress the images on the camera to a much lower resolution (normally MPEG-4/H.264) and then send them to the recording server to be processed and for the image analysis and distortion correction to be performed. Without this capability, the quality of fish-eye cameras is substandard.
So how is the MOBOTIX Hemispheric technology different? Based on the decentralised platform, the camera has all the recording server (DVR/NVR) functionality built-in, thus all the image correction, video processing, recording and storage management is handled by the camera.
This also means the raw megapixel image can be stored in the Mobotix camera – key to the success of the system. A benefit here is that there is no bandwidth usage while recording and users can action pan, tilt and zoom within the recorded images stored at the camera and inspect every section of the room, in very high detail within the raw image.
What is important to note is that full DVR search functionality (time, date and event) can be performed on the video stored locally in the camera (microSD), or at the camera (USB/Ethernet HDD, NAS), from a local or remote location.
To ensure the integrity of the hemispheric video quality, Mobotix uses the MxPEG codec – the only video codec in the world that has been specifically designed for video surveillance applications. MxPEG delivers consistent JPEG-like 3-megapixel resolution, at around five times less storage utilisation than M-JPEG.
The MOBOTIX Q24 ships with 4 GB of internal storage fitted, upgradeable to 32 GB, allowing for several days of on-board event based video recording. If more storage is required at the camera, users can opt for recording to USB flash (currently up to 64 GB), USB HDD (250 GB and higher). With the video recording software, storage and alarm management built-in the Q24 is install-ready, with ­nothing else to spend.
For more information contact Burg van der Westhuizen, Industrial Automation & Control, +27 (0)12 657 3600, burg@iacontrol.co.za
Credit(s)
Further reading:
AI technology to empower vertical markets
Dahua Technology South Africa Mining (Industry) CCTV, Surveillance & Remote Monitoring Products
Dahua WizMind is a full portfolio of solutions comprising project-oriented products that use deep learning algorithms to provide more business value to its global customers and deliver reliable and comprehensive AI solutions for vertical markets.
Read more...
---
Elvey partners with HALO
Elvey Security Technologies News CCTV, Surveillance & Remote Monitoring
Elvey Group has partnered with HALO Europe to provide Africa's first body-worn solution with zero upfront costs. This includes an IP68-certified body camera and a 4G-connected device.
Read more...
---
Regal announces new partnership
Regal Distributors SA CCTV, Surveillance & Remote Monitoring
Having a bird's eye view of your surveillance data, with the capability to drill down to the details obtained via connected security solutions, is a game changer for security operators, companies and even officers on the ground.
Read more...
---
Invisible connection and tangible protection via cloud
Dahua Technology South Africa Perimeter Security, Alarms & Intruder Detection CCTV, Surveillance & Remote Monitoring Products
Dahua Technology has launched its AirShield security solution that uses advanced, stable and reliable RF communication technology and cloud services, integrating alarm hubs, various detectors and accessories, with several software apps.
Read more...
---
Hikvision expands solar-powered solutions
CCTV, Surveillance & Remote Monitoring Products
Hikvision is offering a portfolio of solar solutions, the 4G solar-powered camera kit, a wireless bridge, and mobile solar security tower solutions to assist in keeping remote and isolated areas safe in a simple, practical, and cost-effective way.
Read more...
---
Affordable entry-level cameras from Dallmeier
Dallmeier Electronic Southern Africa CCTV, Surveillance & Remote Monitoring Products
Dallmeier has introduced the 'E' version of the DOMERA camera family, offering high image quality with 2 MP and 5 MP resolution, and providing detailed images even in low light conditions.
Read more...
---
The importance of the operator's frame of reference
Leaderware Editor's Choice CCTV, Surveillance & Remote Monitoring Security Services & Risk Management Mining (Industry)
The better the operator's frame of reference and situational awareness, and the more informed they are in dealing with CCTV surveillance in the mining industry, the more successful they are likely to be in surveillance.
Read more...
---
Enhancing surveillance on mines
Avigilon Technews Publishing Axis Communications SA Forbatt SA Hikvision South Africa Bosch Building Technologies Editor's Choice CCTV, Surveillance & Remote Monitoring Integrated Solutions Mining (Industry)
Smart Security approached a number of surveillance vendors to find out what the latest in surveillance technology is that can make a difference to security operations in mines, as well as general operations.
Read more...
---
Surveillance to improve worker safety
Axis Communications SA Mining (Industry) CCTV, Surveillance & Remote Monitoring Integrated Solutions
With substantial deposits of mineral resources, mining is critical for South Africa's economic growth and prosperity; however, mining can be dangerous, especially for the people working on the ground and in the shafts.
Read more...
---
Radar-video fusion camera
Axis Communications SA CCTV, Surveillance & Remote Monitoring Mining (Industry) Products
The AXIS Q1656-DLE Radar-Video Fusion Camera device brings video and radar analytics together in AXIS Object Analytics to deliver detection and visualisation.
Read more...
---