printer friendly version
Video analytics ignores recession
August 2009
CCTV, Surveillance & Remote Monitoring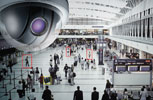 ABI Research predicts the video surveillance market will be worth more than $41 billion in 2014.
Despite constraints on most sectors as a result of the worldwide recession, the global video surveillance market posted a 10% growth rate in 2008 and 2009 and is on track to accelerate when the economy starts to recover, according to ABI Research. In fact, the prognosis for the growth of this new technology is so good that ABI Research predicts the total market will be worth more than $41 billion in 2014, a figure not to be sneezed at, says Jack Edery, CEO of Elvey Security Technologies.
Edery says the growing popularity and utilisation of video analytics (also called intelligent video or video content analysis) comes, at least in part, on the back of recession-based crime. Edery, who describes video analytics as the computerised identification of events and objects, says its strength lies in its ability to automatically identify items of interest without human assistance.
The arrival of video analytics, intended to improve on the surveillance capabilities of closed circuit television (CCTV), has not been without controversy, though. Over-promised and under-delivered in numerous instances, the technology in its infancy proved a big disappointment to many end-user pioneers. However, in its new, refined form, Edery says it is transforming the way security, safety and marketing images are reviewed.

Discernable move
There is a discernable move from analogue to IP (Internet Protocol) surveillance, says Elvey's technical director Zane Greeff. He explains why: "Initially, set-ups were complex and confusing, which resulted in operating errors, poor performance and unacceptably high levels of downtime. Coupled with the high cost of implementation – sometimes as much as R9000 per camera – and one can see why video analytics started off on the wrong foot."
However, after going back to the drawing board, the technology has reached a point where it is successfully combining advanced capabilities with affordability and easy installation and operation.
That there is a great need for video analytics is indisputable, he maintains. "Research shows that the efficiency level of the operator drops dramatically over time and that after little more than 20 minutes, the average operator takes in only about 5% of the information presented.
"A typical CCTV control room comprises banks of monitors that are only effective for as long as the operator is concentrating enough to be able to spot anything out of the ordinary. While the use of video motion detection (VMD) has become a standard in all CCTV installations, potentially providing operators with more information and accordingly more scope to deal with false alarms, it remains limited in its application and vulnerable to outside conditions and camera positioning."
Which is where video analytics comes in. Through the combined use of algorithms, intelligent software and IP-based video surveillance technology, video analytics is able to analyse video for specific data, behaviour and objects.
The future of analytics
Far from their original set-up complexity, Greeff says today's best video analytic systems are easy to install. They are also cost-effective and simply integrated into good legacy and CCTV systems, hence his prediction that the technology will become indispensable to the retail, industrial, manufacturing, processing and banking sectors in the near future. "Not only will video analytics curb or contain crime such as shrinkage, burglary and robbery, it also has a significant role to play in terms of reducing workplace bullying and violence."
Further, he predicts its increasing utilisation on high-risk sites, because of its ability to provide accurate, realtime event footage in a wide range of applications.
For more information contact Kenny Chui, Elvey Security Technologies, +27 (0)11 401 6700, kenny.chui@elvey.co.za, www.elvey.co.za
Credit(s)
Further reading:
Elvey partners with HALO
Elvey Security Technologies News CCTV, Surveillance & Remote Monitoring
Elvey Group has partnered with HALO Europe to provide Africa's first body-worn solution with zero upfront costs. This includes an IP68-certified body camera and a 4G-connected device.
Read more...
---
Regal announces new partnership
Regal Distributors SA CCTV, Surveillance & Remote Monitoring
Having a bird's eye view of your surveillance data, with the capability to drill down to the details obtained via connected security solutions, is a game changer for security operators, companies and even officers on the ground.
Read more...
---
Invisible connection and tangible protection via cloud
Dahua Technology South Africa Perimeter Security, Alarms & Intruder Detection CCTV, Surveillance & Remote Monitoring Products
Dahua Technology has launched its AirShield security solution that uses advanced, stable and reliable RF communication technology and cloud services, integrating alarm hubs, various detectors and accessories, with several software apps.
Read more...
---
Hikvision expands solar-powered solutions
CCTV, Surveillance & Remote Monitoring Products
Hikvision is offering a portfolio of solar solutions, the 4G solar-powered camera kit, a wireless bridge, and mobile solar security tower solutions to assist in keeping remote and isolated areas safe in a simple, practical, and cost-effective way.
Read more...
---
Affordable entry-level cameras from Dallmeier
Dallmeier Electronic Southern Africa CCTV, Surveillance & Remote Monitoring Products
Dallmeier has introduced the 'E' version of the DOMERA camera family, offering high image quality with 2 MP and 5 MP resolution, and providing detailed images even in low light conditions.
Read more...
---
The importance of the operator's frame of reference
Leaderware Editor's Choice CCTV, Surveillance & Remote Monitoring Security Services & Risk Management Mining (Industry)
The better the operator's frame of reference and situational awareness, and the more informed they are in dealing with CCTV surveillance in the mining industry, the more successful they are likely to be in surveillance.
Read more...
---
Enhancing surveillance on mines
Avigilon Technews Publishing Axis Communications SA Forbatt SA Hikvision South Africa Bosch Building Technologies Editor's Choice CCTV, Surveillance & Remote Monitoring Integrated Solutions Mining (Industry)
Smart Security approached a number of surveillance vendors to find out what the latest in surveillance technology is that can make a difference to security operations in mines, as well as general operations.
Read more...
---
Surveillance to improve worker safety
Axis Communications SA Mining (Industry) CCTV, Surveillance & Remote Monitoring Integrated Solutions
With substantial deposits of mineral resources, mining is critical for South Africa's economic growth and prosperity; however, mining can be dangerous, especially for the people working on the ground and in the shafts.
Read more...
---
Radar-video fusion camera
Axis Communications SA CCTV, Surveillance & Remote Monitoring Mining (Industry) Products
The AXIS Q1656-DLE Radar-Video Fusion Camera device brings video and radar analytics together in AXIS Object Analytics to deliver detection and visualisation.
Read more...
---
Centralised VMS for multiple sites
Mining (Industry) CCTV, Surveillance & Remote Monitoring
Dispersed mining operation relies on AxxonSoft for centralised video management as well as device health monitoring and the reliable distribution of analytics to various camera brands.
Read more...
---