printer friendly version
IFSEC products showcased by Elvey
August 2009
Perimeter Security, Alarms & Intruder Detection
A number of new products were demonstrated at Elvey's stand at IFSEC 2009, below are the main products on display.
DSC Alexor 2-way wireless security suite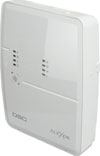 With fewer holes to drill and wires to pull, the Alexor offers a wireless security system that supports numerous new DSC peripherals including keypads, indoor/outdoor sirens and a 2-way wireless key. All are supported with GSM and IP alarm communicator backup.
DSC 9045 self-contained wireless security suite
With the smallest footprint of any self-contained wireless alarm system, the PowerSeries 9045 from DSC is the solution for installations requiring a more basic security system. Applications include apartments, townhouses and small to medium sized homes. The wireless device enrolment process allows items such as smoke detectors, motion detectors and door/window contacts to be easily integrated.
Optex Redwall RLS-3060 laser scan detector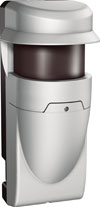 The Redwall RLS-3060 is an innovative laser scan detector specially designed for video surveillance. It can detect a moving object's size, speed and distance from the detector and process that information with a unique algorithm, which results in high-reliability detection of people with minimal false alarms. The detector can be mounted vertically or horizontally.
Samsung surveillance cameras

Samsung A1 DSP (digital signal processing) technology is engineered to capture objects in extremely challenging light conditions. The new generation chipset provides heightened camera performance 24 hours a day. Not only does A1 technology make camera images clearer and more natural in appearance, it also delivers high resolution, increased contrast ratio and significant image noise reduction under low illumination.
GSC ProxNet-Pro networked access control system

The new GSC ProxNet-Pro system is designed to tighten security within a large organisation while at the same time making control of that security easier for the security manager. The system supports up to 10 000 controllers, 25 000 readers and 20 000 card holders, making it ideal for businesses that have multiple offices or different sites that need to be controlled from a centralised security office. ProxnetPro is a Web-based product – all programming, viewing of data and reports are available on the network using a standard Web browser.
For more information contact Kenny Chui, Elvey Security Technologies, +27 (0)11 401 6700, [email protected], www.elvey.co.za
Credit(s)
Further reading:
CIAS chosen for complex perimeters
XtraVision Perimeter Security, Alarms & Intruder Detection
The challenge was to guarantee the ROI (return on investment) based on the technological amortization of at least 10 years of service, right from the design phase.
Read more...
---
Texecom launches the Midnight Black Collection
Technews Publishing Perimeter Security, Alarms & Intruder Detection Products
Working in harmony with darker environments, the Midnight Black Collection has been created for businesses and sites that require or prefer a security solution which offers discreet protection that compliments their surroundings.
Read more...
---
XtraVision Facilitates Integration
XtraVision Perimeter Security, Alarms & Intruder Detection
XtraVision, a global distributor of SAMM FOTAS DAS fibre intrusion detection technology and ARTECO Video Even Management Software, in the South African, African, and South American regions, has recently facilitated the integration between the two manufacturers.
Read more...
---
Olarm product highlights for 2022
Olarm Perimeter Security, Alarms & Intruder Detection Products
Olarm rapidly expanded its ecosystem in 2022 with several new products, the launch of its training academy, and a presence in Gauteng.
Read more...
---
Smart home security
Olarm Smart Home Automation Perimeter Security, Alarms & Intruder Detection Products
The applied use of smart technology within the Olarm ecosystem, through smart features coupled with existing systems, extends the benefits of technology into different spheres.
Read more...
---
Be cautious when receiving deliveries at home
News Perimeter Security, Alarms & Intruder Detection Security Services & Risk Management
Community reports of residents being held up at their gate when collecting fast food deliveries at home are once again surfacing.
Read more...
---
Banks move to lithium battery technology for intruder systems
Uniross Batteries Perimeter Security, Alarms & Intruder Detection
With advances in battery technology, lithium batteries now include a built-in Battery Management System (BMS) to monitor the battery and shut it down should there be a risk of a failure or overheating.
Read more...
---
Future-proofed intrusion detection for retail
Elvey Security Technologies Retail (Industry) Perimeter Security, Alarms & Intruder Detection Products
One of the ongoing challenges that has faced retailers during their adoption of security technology is the issues caused by non-standardisation of technology.
Read more...
---
Johnson Controls releases IQ4
Perimeter Security, Alarms & Intruder Detection Integrated Solutions
New lower cost panel leverages Qolsys IQ Platform targeting residential, SMB, builder, MDU/multi-family and wellness market segments.
Read more...
---
The false alarm that's costing money
Guardian Eye Perimeter Security, Alarms & Intruder Detection
Property safety is often a litany of false alarms and fake threats that take up time, cost money and test patience, but it doesn't have to be that way thanks to modern technology
Read more...
---