printer friendly version
Saflec introduces ThruVision
August 2009
Products & Solutions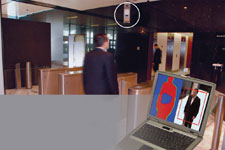 No radiation, no X-rays, no embarrassment. Find hidden objects on people without hindering them in any way.
Saflec used the IFSEC Securex exhibition to announce it has been appointed as the South African agent for UK-based ThruVision. It will now be able to sell and service ThruVision's imaging systems throughout South Africa.
The ThruVision imaging systems make it possible to detect items previously impossible to find when hidden on a person without manual or X-ray scans.
ThruVision's imaging solutions are entirely passive, with no irradiation of subjects that might give rise to health concerns. Images of concealed objects on people are formed using the terahertz waves naturally produced by all people. Privacy is maintained as sensitive anatomical details of people being imaged are not revealed.
At the terahertz frequency, the scanner can read energy signals from the human body and the objects they carry. These energy signals are always present in all matter and can be viewed by this system on a standard monitor, making it impossible to hide any article, even under multiple layers of clothing.
Moreover, instead of focusing on finding metal objects on people, companies can now find everything else as well and this can be done as people pass by. It is only necessary to stop someone if they are found to be carrying something they should not.
The ThruVision products can identify CDs, perfumes, cigarettes, plastics, liquids, gold and platinum, bank notes, money belts, drugs, explosives, pharmaceuticals and cellular phones. All these items could have been hidden from view in the past and only identified by manual or machine specific scans, but are now easily detectable.
Copper theft, for example, which has reached pandemic proportions in South Africa recently, is now a thing of the past as ThruVision will detect this product carried anywhere on a person. Previously it was almost impossible to check all persons leaving the work place for contraband because of the other articles they legitimately carried. In the case of miners, for example, they come out the mine with hard hats, battery packs, safety harness, breathing apparatus etc, which makes it a nightmare for a metal detector to do its job. With ThruVision anything they should not be carrying becomes clearly visible as they walk past.
This system will also play a major role in the security of the country as it can detect items dangerous to the safety of the public, such as vests used to transport explosives for terrorism, or drugs smuggled into the country in the same manner. Suitable applications for this function are typically airports, harbours, border posts and any other avenues into the country.
For more information contact Gordon Curr, Saflec Systems, +27 (0)11 477 4760, gordon.curr@saflec.com, www.safsys.co.za
Credit(s)
Further reading:
Hik-Connect for Teams released
Hikvision South Africa Products & Solutions Surveillance
Hikvision has released an update for its security management platform; Hik-Connect for Teams not only meets the specific needs of individual users, but also caters to various medium-sized businesses (SMBs) and multi-site management scenarios.
Read more...
---
Revolutionise your security with integrated solutions
Secutel Technologies Products & Solutions Surveillance
By merging the capabilities of SecuVue and Secutraq, Secutel has forged a robust system empowering users to fine-tune analytics and harness facial recognition, pose detection, and XFS, among other features.
Read more...
---
Effective access control
Flow Systems Access Control & Identity Management Products & Solutions
Flow Systems has introduced its new Extra Heavy Duty Industrial Rising Vehicle Barrier, which provides a high level of protection. It is a traditional-looking control barrier with the benefits of high-level physical protection.
Read more...
---
SafeQuip introduces lithium fire extinguishers
Fire & Safety Products & Solutions
With the use of Lithium batteries increasing in many types of portable devices and battery storage solutions, SafeQuip, in partnership with AVD Lithex, is introducing a fire extinguisher aimed at suppressing and extinguishing, and also preventing re-ignition of lithium fires.
Read more...
---
New generation of cyber-focused controllers
Gallagher News & Events Access Control & Identity Management Products & Solutions
The C7000 gives users an opportunity to leverage their hardware and firmware to build a platform designed to catapult their organisation into the future, with cybersecurity baked in from inception.
Read more...
---
Nextivity CEL-FI ROAM R41 boosts your cell signal
IoT & Automation Products & Solutions
Designed for cars, trucks, and boats, it is the industry's most powerful cellular coverage solution for on-the-go applications. It features the 4th generation IntelliBoost chip to deliver channelised coverage for mobile network operator (MNO) signals.
Read more...
---
New power protection for SA
Products & Solutions Power Management
A new generation of uninterrupted power supply (UPS) and power protection systems is now available for technology applications grappling with South Africa's escalating power cuts in both residential and commercial environments.
Read more...
---
Olarm advances smart security with Texecom integration
Olarm News & Events Perimeter Security, Alarms & Intruder Detection Products & Solutions
Following Olarm's achievement as the OSPA 2023 winner of 'Outstanding Security Integrator', it has taken another significant step in its innovation journey with the announcement of its integration with Texecom Premier Elite.
Read more...
---
Ajax Systems expands product portfolio
Products & Solutions
Ajax has announced the launch of a range of new products and solutions, expanding its scope of operations to include video, Yale integration, Grade 3 devices and fire enhancements.
Read more...
---
Enhanced security at Xanadu Nature Estate
Turnstar Systems Access Control & Identity Management Products & Solutions
Turnstar Systems recently installed two bicycle turnstiles at the 240-hectare Xanadu Nature Estate, set in the Magaliesberg, the perfect location for secure communal living catering to the lifestyle of residents.
Read more...
---