printer friendly version
Saflec introduces ThruVision
August 2009
Products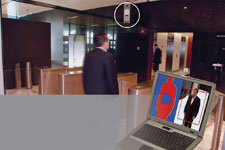 No radiation, no X-rays, no embarrassment. Find hidden objects on people without hindering them in any way.
Saflec used the IFSEC Securex exhibition to announce it has been appointed as the South African agent for UK-based ThruVision. It will now be able to sell and service ThruVision's imaging systems throughout South Africa.
The ThruVision imaging systems make it possible to detect items previously impossible to find when hidden on a person without manual or X-ray scans.
ThruVision's imaging solutions are entirely passive, with no irradiation of subjects that might give rise to health concerns. Images of concealed objects on people are formed using the terahertz waves naturally produced by all people. Privacy is maintained as sensitive anatomical details of people being imaged are not revealed.
At the terahertz frequency, the scanner can read energy signals from the human body and the objects they carry. These energy signals are always present in all matter and can be viewed by this system on a standard monitor, making it impossible to hide any article, even under multiple layers of clothing.
Moreover, instead of focusing on finding metal objects on people, companies can now find everything else as well and this can be done as people pass by. It is only necessary to stop someone if they are found to be carrying something they should not.
The ThruVision products can identify CDs, perfumes, cigarettes, plastics, liquids, gold and platinum, bank notes, money belts, drugs, explosives, pharmaceuticals and cellular phones. All these items could have been hidden from view in the past and only identified by manual or machine specific scans, but are now easily detectable.
Copper theft, for example, which has reached pandemic proportions in South Africa recently, is now a thing of the past as ThruVision will detect this product carried anywhere on a person. Previously it was almost impossible to check all persons leaving the work place for contraband because of the other articles they legitimately carried. In the case of miners, for example, they come out the mine with hard hats, battery packs, safety harness, breathing apparatus etc, which makes it a nightmare for a metal detector to do its job. With ThruVision anything they should not be carrying becomes clearly visible as they walk past.
This system will also play a major role in the security of the country as it can detect items dangerous to the safety of the public, such as vests used to transport explosives for terrorism, or drugs smuggled into the country in the same manner. Suitable applications for this function are typically airports, harbours, border posts and any other avenues into the country.
For more information contact Gordon Curr, Saflec Systems, +27 (0)11 477 4760, gordon.curr@saflec.com, www.safsys.co.za
Credit(s)
Further reading:
Introducing adaptive active adversary
Cyber Security Products
New adaptive active adversary protection; Linux malware protection enhancements; account health check capabilities; an integrated zero trust network access (ZTNA) agent for Windows and macOS devices; and improved frontline defences against advanced cyberthreats and streamline endpoint security management.
Read more...
---
Qognify VMS adds support for Pelco IP camera series
CCTV, Surveillance & Remote Monitoring Products
The latest IP camera series from Pelco can now be used with Qognify's advanced video solution for corporate and enterprise projects, increasing the overall number of camera models and third-party devices supported in Qognify VMS to more than 6 500.
Read more...
---
Off-grid power solution for residential estate
Editor's Choice Security Services & Risk Management Residential Estate (Industry) Products
Coral Beach Estate, an upmarket residential estate based in East London, has been struggling with load shedding and power outages due to South Africa's energy crisis, as well as the vandalism of its power infrastructure.
Read more...
---
Choosing an inferior lithium battery can be detrimental and unsafe
Uniross Batteries Security Services & Risk Management Products
South Africans looking to mitigate the impact of load shedding by installing a solar system for their home must do so through an accredited installer or electrician to avoid insurance claims being rejected.
Read more...
---
VIVOTEK launches VAST Security Station
CCTV, Surveillance & Remote Monitoring Products
VIVOTEK officially launched its AI security system, VAST Security Station (VSS), in March, available to users in three flexible tiers: VSS Lite, VSS Standard, and VSS Professional.
Read more...
---
Converged infrastructure: Beyond the hype
IT infrastructure Products
Technical teams no longer have to sit and try to work through a magnum opus of manuals for every layer of computing, networking, and storage, largely thanks to the growing popularity and increasing success of converged infrastructure.
Read more...
---
Veeam launches Backup for Microsoft 365 v7
Products
Veeam Software has released Veeam Backup for Microsoft 365 v7, offering a backup and recovery solution for Microsoft 365, including Microsoft Exchange Online, SharePoint Online, OneDrive for Business ...
Read more...
---
Heightening physical security at military base
Turnstar Systems Access Control & Identity Management Government and Parastatal (Industry) Products
Turnstar Systems recently installed two 3-metre Velocity Raptor traffic spikes at the South African National Defence Force (SANDF) Randfontein military base on Gauteng's West Rand.
Read more...
---
Boosting digital-intelligent transformation and AI applications
Dahua Technology South Africa CCTV, Surveillance & Remote Monitoring Products
2022 has been a year full of development and innovation for Dahua. The company has launched various upgrades to its existing product portfolio as well as an artillery of new products and solutions that address specific needs/problems in society.
Read more...
---
Arcules and IMMIX announce integration
News CCTV, Surveillance & Remote Monitoring Products
Arcules has announced that its integration with Immix Central Station and Guard Force is available. The integration provides Central Station and Guard Force users a way to manage, verify, and respond to security events, while using Arcules-managed video feeds.
Read more...
---