printer friendly version
Poker surveillance
May 2009
CCTV, Surveillance & Remote Monitoring

Axis network cameras have been installed by Axis partner White UK at Dusk Till Dawn in Nottingham, which is ranked as one of Europe's largest poker rooms.
The installation at Dusk Till Dawn saw White UK installing a total of 26 Axis network cameras as part of a complete AV system including 25 large plasma screens, eight individual audio zones and accompanying AV distribution equipment along with a structured Cat5e shielded cabling network.
AXIS 216FD fixed dome network cameras were installed by White UK for surveillance across the gaming bar and VIP areas to deliver total internal coverage. A single AXIS 212PTZ was deployed to protect the secure cash room due to its wide overview and instant PTZ functionality. AXIS 232D day/night dome and AXIS 223M day/night megapixel network cameras cover the main entrance and club car park.
Dusk Till Dawn is the UK's first legal poker-only club and can accommodate up to 405 poker players across 45 gaming tables. The club was founded by businessmen Rob Yong and Nick Whiten, who bought a large, disused restaurant site in Lenton on the southwest outskirts of Nottingham. The site was completely re-fitted to include high quality gaming facilities, a bar area to accommodate 250 guests and an exclusive VIP area for a further 150 guests. After securing a gaming licence from the Gaming Commission, the club opened in November 2007.
The club's founders wanted to create a high-quality environment for players and guests to enjoy, and they also needed to ensure everyone felt safe and secure whilst at the club. Rob Yong approached Axis partner White UK to take on the complete audio/visual (AV) and security surveillance installation. Rob had previously contracted White UK for a surveillance installation at his home, where the installer introduced him to Axis network cameras.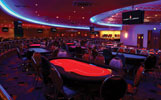 Derek Gregson, IT director, Dusk Till Dawn, said, "Dusk Till Dawn's infrastructure was designed from day one with all systems integrated into the core network. Axis IP cameras are an integral building block in realising that integration ideal, as they provide the required level of surveillance of other systems, with the enhancement of giving us the ability to utilise the data provided anywhere within our corporate network. From a management aspect this is the key benefit of the system – and it delivers. Axis and White UK have worked alongside the internal teams, both technical and management, to deliver a cohesive, resilient and trusted system."
White UK was founded nine years ago and employs eight staff based at its offices in Heanor, Derbyshire. Its main line of business is installing network cabling, but Matthew Camp, managing director at White UK, added surveillance camera solutions to the portfolio three years ago. White UK was introduced to Axis network cameras by its distributor partner ADI-Gardiner, who suggested that the company send its employees on an Axis Communications' Academy training course. Since then, a growing proportion of White UK's camera business has come from installing IP-Surveillance systems.
Matthew Camp, MD, White UK, said: "Working with Axis and ADI-Gardner has given our business a substantial revenue stream which complements our network cabling and AV installation work. We use Axis cameras because we know that they deliver in terms of image quality, flexibility and reliability and we would not hesitate to use Axis in the future."
Surveillance at the club has to meet the approval of the industry's licensing body, the Gaming Commission, which insisted on total surveillance coverage inside the club. The club's approach to security is focused around the same issues that affect any entertainment venue: door control, theft prevention and managing any incidents that occur inside or around the club.
Managers at the club have praised the excellent image quality from the Axis network cameras. Considerable cost savings were made with regards to camera installation with the majority of the cameras using Power over Ethernet (PoE) supplied from HP ProCurve switches. This eliminated the need for individual power sockets for each camera. Milestone XP Enterprise video management software is used, with all images saved to the club's server for 30 days at a frame rate of 8 fps.
Phil Doyle, managing director, Axis Communications (UK), commented: "Dusk Till Dawn is a premier gaming venue where poker enthusiasts can really enjoy their game. The employees at the venue provide an environment which is welcoming, safe and secure. Security incidents are very rare, but should an incident occur there is the reassurance that the total coverage provided by the Axis network cameras will deliver images."
For more information contact Roy Alves, country manager, Axis Communications, +27 (0)11 548 6780, roy.alves@axis.com
Credit(s)
Further reading:
Premium forensic video analytics
Milestone Systems CCTV, Surveillance & Remote Monitoring
With the new XProtect Rapid REVIEW, Milestone and BriefCam bring premium forensic video analytics to XProtect customers around the world.
Read more...
---
Cybersecurity as the foundation for smart cities
Axis Communications SA Cyber Security
It's time to move to a proactive stance in protecting assets, before cities implement billions of hackable, un-patched and non-upgradable devices to the world's digital grid.
Read more...
---
New intelligent video wall station
CCTV, Surveillance & Remote Monitoring
IDIS Intelligent Video Wall Station allows affordable and effective centralised monitoring by extending dynamic video wall benefits to smaller and mid-size users.
Read more...
---
Offshore cloud video surveillance system
Eagle Eye Networks CCTV, Surveillance & Remote Monitoring News Transport (Industry)
Eagle Eye Networks and TechBinder collaborate on offshore cloud video surveillance system for maritime sector, bringing real-time remote viewing and notifications to enhance vessel performance data and reporting
Read more...
---
Suprema integrates biometric access control with Genetec
Suprema News CCTV, Surveillance & Remote Monitoring Access Control & Identity Management
Suprema has announced the successful integration of its biometric access control products with Genetec Security Center, a unified security platform that connects security systems, sensors and data in a single intuitive interface.
Read more...
---
Cybersecurity as the foundation
Axis Communications SA Government and Parastatal (Industry)
It's time to move to a proactive stance in protecting assets, before cities implement billions of hackable, un-patched and non-upgradable devices to the world's digital grid.
Read more...
---
Premium forensic analytics
Milestone Systems News CCTV, Surveillance & Remote Monitoring Government and Parastatal (Industry)
With the introduction of XProtect Rapid REVIEW, powered by BriefCam, Milestone's customers will be able to accelerate investigations and find what they are looking for with speed and accuracy.
Read more...
---
City surveillance in South Africa
IDEMIA Government and Parastatal (Industry) CCTV, Surveillance & Remote Monitoring Integrated Solutions
Smart cities and their smarter, more responsible eye in the sky; a look at the video surveillance landscape in South Africa.
Read more...
---
Surveillance in distribution centre
Dahua Technology South Africa CCTV, Surveillance & Remote Monitoring
A large warehouse and distribution centre is benefiting from a 64-camera video surveillance system from Dahua Technology.
Read more...
---
Managing vehicle entry with ANPR
Hikvision South Africa CCTV, Surveillance & Remote Monitoring
The use of automatic number plate recognition (ANPR) for vehicle entry is not new, but it's being used in more innovative ways to streamline processes and help business planning.
Read more...
---