printer friendly version
A finger on fun
May 2009
Access Control & Identity Management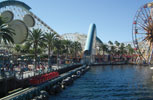 Biometrics can speed the frustrating process of gaining access to theme parks.
Theme parks promise fun for all, but securing them can be a challenge. There are many areas within this entertainment environment that face security threats on a daily basis, whether through ticket fraud, resale of season tickets or simply long lines deterring customers from entering the park.
To minimise these risks, the theme park industry has been looking at automated identity verification to provide the answer.
International biometric solutions provider Lumidigm, supported locally by Brand New Technologies, has developed a biometric identity verification system that increases the bottom line of theme parks and enhance guests' privacy.
"Lumidigm's biometric verification system uses unique biometric information from a fingertip to verify a ticket holder," says Dave Crawshay-Hall, CTO Brand New Technologies. "The system compares the information on the ticket with the guest's own unique biometric information. This process takes 1,2 seconds from start to finish — and is fully unattended and anonymous."
This robust solution has already been successfully deployed at a major theme park organisation in the United States. At this implementation the sensors are outdoors and exposed to all weather conditions including sun, wind, and rain; the population using the sensors is very diverse; the sensors are unattended, and the guests are untrained. Despite these adverse conditions the results have been spectacular. The benefits realised include:
* Prevention of sharing and resale of multiday, multipark, season or annual passes.
* Increase reliability due to reliable and consistent automated identity verification. The time required to check IDs is radically reduced as guests no longer need to provide confidential information such as ID numbers and addresses to manually verify against a photo ID.
* More return customers as the automated identity verification increases throughput: shorter lines mean more satisfied customers and more time for in-park spending.
Even individual concerns regarding invasion of privacy are addressed as complete fingerprint data is not necessary for thorough identity verification, and no fingerprint images are ever recorded. Lumidigm turnstile sensors collect just enough data from the fingertip to verify an individual. That information is then encoded as a number. A fingerprint image cannot be recreated from this encoded information, and the encoding is park-specific.
"This level of biometric scan is like asking for the last three digits of your phone number. With three digits of your phone number, no one will know your full number. Guests can therefore rest assured that they are not being fingerprinted," concludes Crawshay-Hall.
Further reading:
Turnstar ramps up countermeasures
Turnstar Systems Editor's Choice Access Control & Identity Management News Products
Turnstar has developed and patented an early warning and deterrent system which will alert security, and anyone nearby, of any attempt to place ramps over the raised spikes.
Read more...
---
Suprema integrates biometric access control with Genetec
Suprema News CCTV, Surveillance & Remote Monitoring Access Control & Identity Management
Suprema has announced the successful integration of its biometric access control products with Genetec Security Center, a unified security platform that connects security systems, sensors and data in a single intuitive interface.
Read more...
---
IDEMIA South Africa achieves level 1 B-BBEE status
IDEMIA News Access Control & Identity Management
As part of the action plan to improve its status to Level 1, IDEMIA now works with over 40 black-owned local suppliers, representing over 30% of IDEMIA's local suppliers.
Read more...
---
Suprema no. 1 in the global biometric market excluding China
Suprema News Access Control & Identity Management
According to the latest report by Omdia, a global market research firm, Suprema ranks first in global market share, excluding China, in the field of biometric readers.
Read more...
---
Dahua and Yeastar PBX-intercom integration
Dahua Technology South Africa News Access Control & Identity Management
Dahua Technology and Yeastar announced their new ECO partnership on PBX-intercom integration to provide a comprehensive and unified communication solution for small- and medium-sized enterprises.
Read more...
---
Traka launches experience centres
News Access Control & Identity Management
Traka launches inaugural Experience Centres in Australia and South Africa; aims to drive continuous collaboration and innovation.
Read more...
---
New platform for keyless access
Access Control & Identity Management
The new ABLOY CUMULUS platform for keyless access combines locking hardware with secure access and management applications in a single ecosystem with a risk-free, integrated cloud service.
Read more...
---
The importance of staying up to date
Access Control & Identity Management Government and Parastatal (Industry)
Africa's cyber threat landscape is constantly evolving, with government's facing a range of digital threats from espionage, critical infrastructure sabotage, organised crime and combat innovation.
Read more...
---
Dynamic Drop Arm Barrier
Turnstar Systems Access Control & Identity Management
Suited to medium-volume access and medium-level security applications such as office reception areas, health clubs, universities and libraries, the Dynamic Drop Arm Barrier also allows special needs access.
Read more...
---
Automatic tyre spike industrial vehicle barrier
Turnstar Systems Access Control & Identity Management
The Turnstar Velocity Raptor automatic tyre spike industrial barrier, with SwiftDrive technology, is aimed at high-volume and high-security access applications such as parkades, shopping centres, residential estates and airports.
Read more...
---