printer friendly version
A finger on fun
May 2009
Access Control & Identity Management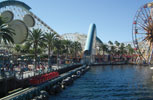 Biometrics can speed the frustrating process of gaining access to theme parks.
Theme parks promise fun for all, but securing them can be a challenge. There are many areas within this entertainment environment that face security threats on a daily basis, whether through ticket fraud, resale of season tickets or simply long lines deterring customers from entering the park.
To minimise these risks, the theme park industry has been looking at automated identity verification to provide the answer.
International biometric solutions provider Lumidigm, supported locally by Brand New Technologies, has developed a biometric identity verification system that increases the bottom line of theme parks and enhance guests' privacy.
"Lumidigm's biometric verification system uses unique biometric information from a fingertip to verify a ticket holder," says Dave Crawshay-Hall, CTO Brand New Technologies. "The system compares the information on the ticket with the guest's own unique biometric information. This process takes 1,2 seconds from start to finish — and is fully unattended and anonymous."
This robust solution has already been successfully deployed at a major theme park organisation in the United States. At this implementation the sensors are outdoors and exposed to all weather conditions including sun, wind, and rain; the population using the sensors is very diverse; the sensors are unattended, and the guests are untrained. Despite these adverse conditions the results have been spectacular. The benefits realised include:
* Prevention of sharing and resale of multiday, multipark, season or annual passes.
* Increase reliability due to reliable and consistent automated identity verification. The time required to check IDs is radically reduced as guests no longer need to provide confidential information such as ID numbers and addresses to manually verify against a photo ID.
* More return customers as the automated identity verification increases throughput: shorter lines mean more satisfied customers and more time for in-park spending.
Even individual concerns regarding invasion of privacy are addressed as complete fingerprint data is not necessary for thorough identity verification, and no fingerprint images are ever recorded. Lumidigm turnstile sensors collect just enough data from the fingertip to verify an individual. That information is then encoded as a number. A fingerprint image cannot be recreated from this encoded information, and the encoding is park-specific.
"This level of biometric scan is like asking for the last three digits of your phone number. With three digits of your phone number, no one will know your full number. Guests can therefore rest assured that they are not being fingerprinted," concludes Crawshay-Hall.
Further reading:
Gallagher launches Tech Talk
Gallagher News Access Control & Identity Management Perimeter Security, Alarms & Intruder Detection
Gallagher has announced the launch of its new Security in Focus podcast series called Tech Talk, hosted by chief technology officer Steve Bell.
Read more...
---
IDEMIA and Ideco demonstrate their value stacks
Technews Publishing Ideco Biometrics IDEMIA Conferences & Events Access Control & Identity Management News
Ideco and IDEMIA recently hosted a travelling show where attendees were given an update on the companies, as well as the full value stack they offer.
Read more...
---
Paxton10 simplifies building security
Paxton Access Control & Identity Management
Paxton provides a single platform for access control and video management in Paxton10, its newest innovation that allows users to manage their facilities from one simple security system.
Read more...
---
Have biometrics changed the way mines operate?
ZKTeco Mining (Industry) Access Control & Identity Management
The mining industry continues to improve conditions for mine workers, striving for zero harm, however, innovations which improve worker safety and increase operational efficiency are still needed.
Read more...
---
Adapting to the new normal
Access Control & Identity Management
SATEC (SA Technologies) had to develop a new strategy to enhance its current product features to align and adapt to market trends within the technology sector.
Read more...
---
AI will drive the future of access control
Suprema Access Control & Identity Management
Artificial intelligence is driving changes previously in the realm of the imagination. AI-based voice recognition and image recognition enable machines to understand and recognise things better than humans are able to.
Read more...
---
Powder coating provides durable finish
Turnstar Systems Access Control & Identity Management Industrial (Industry)
Turnstar's powder coating line provides corrosion resistance, high-quality surface finishing and a long-term environment-friendly impact for all access control components the company manufactures.
Read more...
---
Local makes lekker parking bay management technology
Access Control & Identity Management
South African born-and-bred technology platform Parket builds a seamless bridge between supply and the ever-increasing, but fluid – and often temporary – demand for parking bays.
Read more...
---
Local innovation continues
BoomGate Systems Access Control & Identity Management
While having local manufacturing facilities presents its own set challenges in South Africa, Boomgate Systems makes full use of its in-house local manufacturing and R&D.
Read more...
---
CathexisVision integrated with Suprema's BioStar2
Technews Publishing News Access Control & Identity Management Integrated Solutions
This integration uses BioStar2 access control events to trigger automated actions on the CathexisVision system, including alerts, recording a camera and commands such as locking and unlocking doors, and clearing an alarm.
Read more...
---