printer friendly version
Giving ID theft the finger
May 2009
News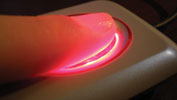 A South African company hopes to create a new market for itself by integrating biometrics into the everyday shopping experience.
1 Finger is a new incentive being launched in May 2009 by 247 Technologies. It is a solution designed to eradicate identity theft in South Africa.
Many people have had the problem of being left with debt because someone stole their identity and opened accounts on their names. When this happens, it becomes the victim's problem to clear their name on credit bureau systems and, in many cases, the victim is even forced to settle the debt created by the criminal. In some cases the victim cannot prove he or she did not create the debt.
The 1 Finger system using a person's identity number and/or passport number, as well as 10 fingerprints, will keep a record of all transactions where 1 Finger was used to verify the identity of the user. Not only would criminals not be able to open accounts using a stolen identity, in the unlikely event that they do, 247 Technologies will be able to prove from the vendor's historical records that it was not the victim.
Vendor security
Sellers can also stop people fraudulently opening accounts in their businesses, paying with stolen credit cards and other activities that cost billions of rands annually. Fraud related to identity theft cost South African businesses R276-million in the first three months of 2008, according to Alexander Forbes Insurance, as reported in the Mail & Guardian on 22 April 2008.
If this is not enough of an incentive to insist on all clients using the 1 Finger system when dealing with a company, businesses can also integrate the system directly into their systems through the free software development kit for system integrators. The kit will be available in June 2009.
Wherever 1 Finger is used, a client would be able to verify the authenticity of their personal information provided by reading his/her fingerprint on a biometric reader. This will also create an audit trail of their business dealings. For a fee, users will receive an SMS each time the system is used.
Fingerprint identification is not only used by the police to solve criminal cases. It is also used by government to make pension pay outs, pay grants and by over 400 of 247 Technologies clients to control access to their business and pay salaries against time and attendance data collected via fingerprints.
For more information contact Peter Krauspe, 247 Technologies, 0861 101 738, www.247technologies.co.za
Further reading:
Obituary: Steven James Meyer
January 1957 - January 2022
Technews Publishing News
It is with deep sadness and shock that we announce the sudden death of SA Instrumentation & Control Editor, Steven Meyer. Steven joined Technews in October 2007 in the position of Deputy Editor. His ...
Read more...
---
From the editor's desk: In the cyber trenches
Technews Publishing News
Hi-Tech Security Solutions is proud to launch its first Smart Cybersecurity Handbook, a publication aimed at making sense of the complex world of cyber risks.
Read more...
---
Industrial control systems threat medley
News
According to Kaspersky ICS CERT report, almost one in three industrial computers globally was subject to malicious activity in the first half of 2021.
Read more...
---
Social media censorship annual report
News
Africa is the most censorship-intensive region in the world when it comes to social media, with 10 countries shutting down social media this year.
Read more...
---
Turnstar ramps up countermeasures
Turnstar Systems Editor's Choice Access Control & Identity Management News Products
Turnstar has developed and patented an early warning and deterrent system which will alert security, and anyone nearby, of any attempt to place ramps over the raised spikes.
Read more...
---
Offshore cloud video surveillance system
Eagle Eye Networks CCTV, Surveillance & Remote Monitoring News Transport (Industry)
Eagle Eye Networks and TechBinder collaborate on offshore cloud video surveillance system for maritime sector, bringing real-time remote viewing and notifications to enhance vessel performance data and reporting
Read more...
---
Suprema integrates biometric access control with Genetec
Suprema News CCTV, Surveillance & Remote Monitoring Access Control & Identity Management
Suprema has announced the successful integration of its biometric access control products with Genetec Security Center, a unified security platform that connects security systems, sensors and data in a single intuitive interface.
Read more...
---
IDEMIA South Africa achieves level 1 B-BBEE status
IDEMIA News Access Control & Identity Management
As part of the action plan to improve its status to Level 1, IDEMIA now works with over 40 black-owned local suppliers, representing over 30% of IDEMIA's local suppliers.
Read more...
---
Suprema no. 1 in the global biometric market excluding China
Suprema News Access Control & Identity Management
According to the latest report by Omdia, a global market research firm, Suprema ranks first in global market share, excluding China, in the field of biometric readers.
Read more...
---
Dahua and Yeastar PBX-intercom integration
Dahua Technology South Africa News Access Control & Identity Management
Dahua Technology and Yeastar announced their new ECO partnership on PBX-intercom integration to provide a comprehensive and unified communication solution for small- and medium-sized enterprises.
Read more...
---