printer friendly version
Easy analytics
March 2009
CCTV, Surveillance & Remote Monitoring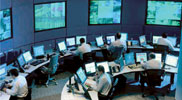 Video analytics is better at long-term monitoring than human operators.
Security systems have always provided facilities managers with an opportunity to expand the scope of their duties. They have come to rely on the sensors and the camera systems associated with security set ups to alert them to key operational situations.
The problem has been, however, that these surveillance systems are only as good as the technology behind them. And it soon becomes evident that traditional sensors are prone to false alarms, and basic CCTV systems require constant monitoring, which usually results in events being missed completely because of the difficulty in concentrating on a video monitor, or finding out about a problem long after the fact.
Fortunately, today's facility managers have access to systems that employ video analytics that can do this grunt work for them. This use of intelligent video, which began as a tool for military and other government surveillance activities, pinpoints potential situations based on computer vision that sees objects in three dimensions and understands their patterns of behaviour. Unlike its traditional video counterpart, analytics significantly minimises false alarms while providing early warning and video verification of events.
Because security is such a key issue for today's facilities managers, having an up-to-date tool with which to work is essential. And while security has been and continues to be the main thrust for the use of video analytics, there are day-to-day applications that can impact the facility manager's non-security-related tasks as well.
By employing the automated intelligence of analytics, companies are able to monitor all aspects of their facilities — from activity on the manufacturing floor to people in the lobby of a high rise to the vehicles moving in and out of the parking lot. And because the systems can be set up to monitor and alert based on the specific needs of the user, the person monitoring the video is not forced to watch every frame or react to dozens of false alarms.
Another key advantage of today's analytics is that they are user friendly. There is a clear shift towards simple installation and out-of-the-box operation. Where initially analytics were software-based or involved cumbersome hybrid architectures, some of today's leading systems are fully hardware-based. Rather than investing in standalone PCs to run video analytics software, today's facility managers can plug analytics edge devices into analog or IP networks and transform existing cameras into proactive, intelligent detectors. Another option is to go with analytics straight at the IP camera.
Intelligent video appliances, or edge devices, offer facilities the opportunity to transform their existing surveillance system into a proactive one, with greater ease of installation and broader utilisation.
Facilities managers will find they are able to do the installation and set up themselves with a minimal amount of required skillset or training. This focus on ease of use is making analytics more accessible to all tiers of end users. It should no longer be viewed as just a system for high-end applicants who can employ experienced installers, but rather as a solution that can benefit the mass market by enhancing security and operations in general. Most facilities managers already know the basic tools of the trade and have the ability to use an analytics system much like a sensor that can work for their specific needs.
Although there is an initial investment in this technology, end users are finding that there is a quick and definitive payback. Employing analytics means fewer guards are required to patrol a facility around the clock, which results in savings on personnel and increased coverage. The remaining personnel can then be refocused on those areas that are hardest to oversee, making for more efficient and productive staff utilisation.
Ultimately, the ability to detect potential theft and vandalism in time to prevent loss and damage provides for clear bottom-line savings. It is no secret that facilities managers are protective of their buildings and the people and contents within and are seeking the best solutions for taking a proactive approach to keeping their domain safe. By monitoring areas such as the perimeter of a building, parking lots, storage areas and loading docks and receiving immediate alerts to events that are outside the norm, facilities can expect savings due to reduced shrinkage, property damage or subpar productivity.
Security and IT directors can also make the case for analytics to top management because it has applications outside of the traditional security realm. It becomes a value proposition for an enterprise when both security and facilities management can tap into the same system for different uses. Even within a retail setting, analytics offers the possibility of tracking traffic into and out the store, time spent in front of displays and the like for those who undertake the marketing and sales duties.
Nearly every type of facility is able to benefit from the use of video analytics. Warehouses, construction sites, educational campuses, power and chemical plants, pipelines, transportation facilities, large-scale farms, government and public infrastructure and even some high-end residential users have all employed intelligent video systems to create a safer, more productive space.
For more information contact Brendon Cowley, C3 Shared Services, +27 (0)11 312 2041, marketing@c3ss.com
Credit(s)
Further reading:
Premium forensic video analytics
Milestone Systems CCTV, Surveillance & Remote Monitoring
With the new XProtect Rapid REVIEW, Milestone and BriefCam bring premium forensic video analytics to XProtect customers around the world.
Read more...
---
New intelligent video wall station
CCTV, Surveillance & Remote Monitoring
IDIS Intelligent Video Wall Station allows affordable and effective centralised monitoring by extending dynamic video wall benefits to smaller and mid-size users.
Read more...
---
Offshore cloud video surveillance system
Eagle Eye Networks CCTV, Surveillance & Remote Monitoring News Transport (Industry)
Eagle Eye Networks and TechBinder collaborate on offshore cloud video surveillance system for maritime sector, bringing real-time remote viewing and notifications to enhance vessel performance data and reporting
Read more...
---
Suprema integrates biometric access control with Genetec
Suprema News CCTV, Surveillance & Remote Monitoring Access Control & Identity Management
Suprema has announced the successful integration of its biometric access control products with Genetec Security Center, a unified security platform that connects security systems, sensors and data in a single intuitive interface.
Read more...
---
Premium forensic analytics
Milestone Systems News CCTV, Surveillance & Remote Monitoring Government and Parastatal (Industry)
With the introduction of XProtect Rapid REVIEW, powered by BriefCam, Milestone's customers will be able to accelerate investigations and find what they are looking for with speed and accuracy.
Read more...
---
City surveillance in South Africa
IDEMIA Government and Parastatal (Industry) CCTV, Surveillance & Remote Monitoring Integrated Solutions
Smart cities and their smarter, more responsible eye in the sky; a look at the video surveillance landscape in South Africa.
Read more...
---
Surveillance in distribution centre
Dahua Technology South Africa CCTV, Surveillance & Remote Monitoring
A large warehouse and distribution centre is benefiting from a 64-camera video surveillance system from Dahua Technology.
Read more...
---
Managing vehicle entry with ANPR
Hikvision South Africa CCTV, Surveillance & Remote Monitoring
The use of automatic number plate recognition (ANPR) for vehicle entry is not new, but it's being used in more innovative ways to streamline processes and help business planning.
Read more...
---
Seeing without being seen
Government and Parastatal (Industry) CCTV, Surveillance & Remote Monitoring
Video surveillance should be as discreet as possible to protect the aesthetics around the legendary promenade in Cannes.
Read more...
---
Improving real-time monitoring
CCTV, Surveillance & Remote Monitoring
IDIS Solution Suite v3.5 features and service modules make enterprise-class VMS even more affordable with no ongoing software licences or connection costs.
Read more...
---