printer friendly version
Harnessing the power within
March 2009
Integrated Solutions
There is no doubt that the longevity and prosperity of the mining industry in South Africa impacts every echelon of our country's society. A mine's ability to stay afloat is crucial, which is why issues such as security – that impact operations and ultimately profitability – must be dealt with efficiently.
The key is to use a system that enables a mine to reap the rewards of information, enabling it to improve the efficiency of its operations as well as optimise its resources within the mine.
Consolidating and integrating the information from CCTV cameras, access control, building management systems and intrusion systems will enable informed decisions on how to handle specific situations. One alarming platform, for example, will ensure that breaches are handled in a standardised fashion and there is a common drive throughout the mine's security system.
Indeed, it is all about sharing information that benefits mining operations in general. A centralised system will also enable the mine to gauge how staff respond to incidents as well as ensure that priority is given to people, then equipment.
Save resources
Another important benefit of an effective security system, which features integrated access control, CCTV, intrusion systems and building management systems (BMS), is the optimisation of physical mining resources. This ability also has a positive knock-on effect, as often, areas such as mining shafts are only inhabitable when the ventilation and airconditioning is working. If it is shut down, it will also mitigate unwanted security breaches.
Manpower is unfortunately notoriously unreliable. With an effective technology driven security system a company is essentially relying on a technology that is less corruptible and repeatable than people. Technology allows for a consistent approach to security and as a result improves the management of the overall system. Again, it enables the mine to standardise its approach to security breaches.
Ultimately, mines are looking at systems that provide them with more efficiency for their buck. With a consolidated and integrated security system, these needs are addressed in an efficient and effective manner.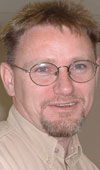 Neil Cameron
For more information contact Neil Cameron, general manager, systems and service, Johnson Controls, +27 (0)11 921 7100, neil.cameron@jci.com
Credit(s)
Further reading:
How to stop security threats early
J2 Software Cyber Security Integrated Solutions
Integrating a security ecosystem allows one to better protect the company, while also better understanding and improving the company's risk posture.
Read more...
---
City surveillance in South Africa
IDEMIA Government and Parastatal (Industry) CCTV, Surveillance & Remote Monitoring Integrated Solutions
Smart cities and their smarter, more responsible eye in the sky; a look at the video surveillance landscape in South Africa.
Read more...
---
Object monitoring technology
Dahua Technology South Africa Government and Parastatal (Industry) CCTV, Surveillance & Remote Monitoring Integrated Solutions Products
Powered by deep learning algorithms, the WizMind 5 Series can accurately detect six types of objects: luggage bag, backpack, box, shopping bag, bicycle and motorbike.
Read more...
---
Ransomware, hindsight is 20/20
Integrated Solutions
Martin Potgieter, co-founder and technical director at Nclose highlights three things many companies wished they had actioned before a ransomware attack.
Read more...
---
Speed up service delivery
News Integrated Solutions Government and Parastatal (Industry)
My Smart City platform speeds up service delivery in Cape Town, driven by private and public sector collaboration.
Read more...
---
Augmented reality becomes actual reality
Editor's Choice Integrated Solutions IT infrastructure
According to the IDC (Industrial Development Corporation of South Africa), the global AR/VR (virtual reality) market will see a 77% compound annual growth rate from 2019 to 2023.
Read more...
---
IP-based emergency solution for stadium
Bosch Building Technologies Asset Management, EAS, RFID Integrated Solutions
Bosch provides fully IP-based emergency solution at Wycombe Wanderers' Adams Park to keep fans safe at English Football League stadium.
Read more...
---
IoT adoption drives sustainability
Integrated Solutions Security Services & Risk Management
Beyond the immediate benefits, like having data about business operations available in real-time, businesses are increasingly exploring and adopting Internet of Things (IoT) solutions to drive their sustainability goals.
Read more...
---
Cloud backup application
Integrated Solutions IT infrastructure
With C2 Backup For Individuals and C2 Backup For Businesses, everything on Windows PCs and servers can be securely and efficiently backed up from a single console.
Read more...
---
Smart technology to get sports fans safely back in stadiums
Axis Communications SA CCTV, Surveillance & Remote Monitoring Integrated Solutions Entertainment and Hospitality (Industry)
While everyone's eager to get back in their seats, stadiums will have to make some significant changes in order to ensure the health and safety of live sports audiences.
Read more...
---