printer friendly version
Tough times can be enlightening
January 2009
News
South Africa has followed the world into a period of lean times as the global economy splutters and recession looms for the world's largest economies. Tough times do not necessarily mean going out of business, however, for companies prepared to take the necessary steps to trim waste and streamline their operations.
By working smarter, implementing lean manufacturing processes and ensuring business operations are as efficient as possible, companies can ride out the bad times and be in the perfect position to take advantage of the market once the economy improves. There are certain critical aspects to remember when preparing for better times and surviving the lean times.
Do not cut marketing. Between 3 and 5% of turnover, whatever that amount is, should still be spent on marketing. If you stop, you become invisible and will struggle to take advantage of the eventual market upturn.
Keep your R&D going. Keeping your company and its products in line with the latest technical advances is critical if the company is to be able to provide solutions to meet the new needs of customers when the economy improves.
Work smarter. Well-developed processes will assist companies in standardising the services they offer. This will ensure customers receive the same level of service no matter how tough the economic environment gets, which in turn will ensure they remain loyal to the company. Furthermore, service processes will be easy to expand at the upturn; ensuring standards are maintained as more business comes in.
Improve production. Doing proper capacity planning will ensure that there is no wasted capacity and a critical path analysis on processes will reduce bottlenecks and eliminate waste in the production process.
Restructure inventory. When there is no capacity for waste or for carrying large stock supplies, different inventory options such as just-in-time planning must be considered and implemented.
Measure performance. A performance management system is a critical component of any efficient organisation as it ensures that every process and action undertaken by employees corresponds to specific items on the company's balanced scorecard. Each employee is therefore measured according to the scorecard, making sure everyone is focused on achieving the goals of the company. This also means each employee needs an accurate and dynamic job description.
Measure numerically. If the measurements above are numeric, the scorecard and job descriptions can then form part of a reward and recognition system that rewards good performance. When scorecards and job descriptions are missing or vague, rewards are sometimes randomly awarded to busy people who may not actually be advancing the company's agenda.
In a poor economy, operations, human resources and marketing must all be streamlined and efficient as well as 100% aligned with each other and with the company's strategy. It is always a tough call, but any component of the organisation that is not producing and delivering according to the company's strategy must be cut.
Holistically, IT plays a critical role in the optimisation and streamlining process. However, there is often too much wastage in the technology sphere as too many people pay top dollar trying to get IT on the cheap and building companies to suit the IT solution. An investment in the appropriate upfront consulting will justify itself repeatedly if done correctly.
In fact, without the appropriate technology investment, companies will be unable to measure, control and improve their processes and this will make it harder, if not impossible to make it through the lean periods, ready to succeed when economic circumstances improve.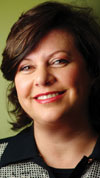 For more information contact Frances Wright, Trinitas Consulting, +27 (0)11 566 2000, [email protected]
Further reading:
Spend on cloud to accelerate across Africa in 2023
News
More than two-thirds of companies using cloud computing across major African markets plan to increase their spending on cloud services in 2023.
Read more...
---
ChatGPT's impacts will be social, not technical
News
ChatGPT is truly a remarkable achievement, an artificial intelligence (AI) that you can have a conversation with and ask to do everything from writing essays to coding computer programs.
Read more...
---
Artificial intelligence in Africa: levelling the narrative
News
While AI can benefit multiple industries, in Africa the key sectors that stand to gain are financial services (specifically fintech) and agriculture.
Read more...
---
Improving data security for a hybrid society
News
Researchers from Tokyo University of Science develop a method that can perform computations with encrypted data faster and at a lower cost than conventional methods, while also improving security.
Read more...
---
Cybersecurity in 2023: The latest trends and developments
News
In 2023, experts predict that several trends will shape the cybersecurity landscape, including the growing use of artificial intelligence (AI), the increasing focus on the Internet of Things (IoT), and the rise of quantum computing.
Read more...
---
SAN market set for growth
Technews Publishing News IT infrastructure
Storage-area network (SAN) market to hit US$ 26,86 billion in revenue by the end of 2029 due to factors like widespread adoption of Hybrid SAN-NAS solutions.
Read more...
---
Enterprise threats in 2023
News Cyber Security
Large businesses and government structures should prepare for cybercriminals using media to blackmail organisations, reporting alleged data leaks, and purchasing initial access to previously compromised companies on the darknet.
Read more...
---
Trends in the proptech industry for 2023
News
By mixing real estate with technology to optimise industries, create new ones, and generate efficiencies or capabilities that improve revenue generation, something as fundamental as the concept of parking has been turned on its head.
Read more...
---
31 percent of all IoT SIMs managed with third-party IoT CMPs
News Integrated Solutions
Berg Insight recently released new findings about the market for IoT connectivity management platforms (CMPs), a standard component in the value proposition from mobile operators and IoT MVNOs around the world.
Read more...
---
Off-highway vehicle telematics systems
News
The installed base of off-highway vehicle telematics systems to reach 12.2 million units worldwide by 2026, says Berg Insight.
Read more...
---