printer friendly version
Video analytics delivers industrial value
January 2009
CCTV, Surveillance & Remote Monitoring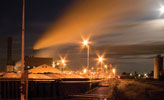 Intelligent video is no longer a security solution reserved for large enterprise installations or specialised security applications.
There is little dispute that intelligent video has found a place at the round-table of well funded high-security installations, however, a perception permeates the security industry that intelligent video is for the heavyweights of security, such as ports, airports, train stations, and nuclear power sites.
Early intelligent video developers are partly to blame for this out-of-reach perception because they spent more time on functionality rather than worrying about delivering a usable and simple to install solution for the masses.
Today there are commercially available intelligent video systems that are high performing and proven, yet designed for simplicity of installation and operation. Despite this, corporate security directors for industrial sites have plodded along traditional routes using time worn security programs only to be blind-sided by new trends in crime and added responsibilities of security conformance issues.
On the industrial security front, administrators found their facilities exposed with too many holes because security components deployed for industrial security were not designed for such wide area detection nor for the added dimension of anti-terrorism. A good example of this is the problem of scrap metal thieves that cart away everything from railcars and steel rolls to guard rails and street signs.
Industrial security now needs to secure against threats not previously believed to be security issues, including theft of toxic chemicals, biomedical waste, and flammable materials. Industrial areas inhospitable to patrolling but are accessible to determined intruders, such as confined spaces, high-voltage areas and hazmat facilities, now need protection. With limited budgets, and a tendency to stay away from complicated solutions, industrial security was without a viable solution for protecting wide-open areas.
Benefits of intelligent video
The benefits of intelligent video are clear. It watches over areas that are too dangerous for security guards to patrol. It provides the ability to monitor wide areas and detect not just short-range movements, such as an infrared motion detector, but true intruder behavior scenarios. It can differentiate people from small animals outperforming other sensors that typically cannot tell the difference between the two.
Intelligent video appliances – DSP-based devices with self-sustained video analytics that is a snap to configure and install – are the necessary element for delivering the plug-and-play approach. They also provide an optimal solution for remote and standalone deployment. Remote construction sites, electrical substations, agricultural sensors and pipelines, for example, can all be protected without the need of a dedicated network processing computer or on-site security guards.
Rather than erecting truckloads of fencing, fence sensors, ground sensors, and wiring, and battling city hall and residents about aesthetics, intelligent video offers a viable and easy to install solution as an invisible fence. With automatic intelligent video monitoring, security officers are tipped-off rather than having to discover events for themselves during scheduled patrols. Because everything is being watched with nonstop vigilance and detection is accelerated, it relieves the burden of roving patrols and allows for efficient use of personnel and a system that is easy to operate.
For multisite locations, the network capabilities of intelligent video appliances allows a centralised dispatcher to handled thousands of cameras from a remote location rather than stationing persons at each location. This includes two-way communication, commanding dry contacts and controlling cameras. Also, Pan-Tilt-Zoom (PTZ) cameras with intelligent video can provide hands free tracking that releases guards from manually operating joystick controls.
A security boost
With intelligent video interfacing and event engines, lights can be turned on, barriers raised, doors locked, and warnings announced automatically on an alarm event.
The list of benefits of intelligent video continues, with pre-alarm recording showing the moments before an incident for identifying who left suspicious objects or parked vehicles and ancillary detection such as for smoke, fire, visible gas leaks and leaking containers, as well as recorded video for criminal prosecution or for recouping damages. Industrial security officers will find it profitable to take a hard look at intelligent video and its benefits. It is no longer a security solution reserved for large enterprise installations or specialised security applications, but a solution for any size security installation, industrial or otherwise that wants to effectively widen security coverage, enhance vigilance, automate surveillance, and trim costs.
For more information contact Brendon Cowley, C3 Shared Services, +27 (0)11 312 2041, [email protected], www.c3ss.com
Credit(s)
Further reading:
Antarctic surveillance
Dahua Technology South Africa CCTV, Surveillance & Remote Monitoring
Dahua Technology donated 15 security cameras to different scientific bases in the Argentine region of Antarctica; the cameras were especially developed to handle the harsh climate and extreme weather conditions in the area.
Read more...
---
Deep learning engine set to supercharge end-to-end solutions
CCTV, Surveillance & Remote Monitoring
IDIS, manufacturer of South Korean-made video technology, will be displaying an exciting line-up of end-to-end video solutions that include the latest advances in AI-powered video analytics for businesses of any size, at this year's Intersec.
Read more...
---
Realistic image quality even in dark environments
Dahua Technology South Africa CCTV, Surveillance & Remote Monitoring
The 4K video surveillance market size is expected to grow at 9 percent CAGR (compound annual growth rate), which is primarily driven by the increasing demand for public safety and security services.
Read more...
---
Cloud-based forensic video searching
CCTV, Surveillance & Remote Monitoring
Arcules introduces Forensic Video Search to empower rapid event identification within its video cloud service, providing a critical tool to help businesses identify specific objects or events in seconds.
Read more...
---
Minimising fire risks in automotive logistics
Hikvision South Africa CCTV, Surveillance & Remote Monitoring Products Logistics (Industry)
Automotive logistics company uses thermal imaging solution from Hikvision to ensure its stores of lithium batteries for electric vehicles never overheat and cause a fire.
Read more...
---
Axis launches P3265-LVE dome camera
Axis Communications SA Products CCTV, Surveillance & Remote Monitoring
Based on ARTPEC-8 — the latest Axis system-on-chip (SoC) — Axis' latest dome high-performance camera includes a deep learning processing unit (DLPU), and cybersecurity features.
Read more...
---
Smart car parking solution eases traffic flow
Dahua Technology South Africa CCTV, Surveillance & Remote Monitoring Integrated Solutions Products
Ethiopia's first smart parking lot, designed to improve traffic flow and management efficiency, has been built and installed using Dahua Technology's smart parking solutions.
Read more...
---
VMS 7.2 supports the investigation process and adds cloud capabilities
CCTV, Surveillance & Remote Monitoring Integrated Solutions Products
Qognify has launched the second release of its VMS, including extended support for body-worn video, additional functionalities to support investigations, and a new web client architecture. VMS 7.2 addresses the increasing use of body-worn video (BWV) across many sectors.
Read more...
---
The future of AIoT
Hikvision South Africa News CCTV, Surveillance & Remote Monitoring
Hikvision hosted its 2022 Shaping Intelligence Summit in Bali, Indonesia, on 29-30 November, where the company, its customers, and technology and solution partners, looked into the future of AIoT and explored paths to shared success.
Read more...
---
A comprehensive video solution for retail
LD Africa Retail (Industry) CCTV, Surveillance & Remote Monitoring Products
Retail Intellect is a comprehensive, flexible solution for retailers that matches technologies to ensure point-of-sale safety and security with video analytics.
Read more...
---