printer friendly version
The future is finally here
January 2009
CCTV, Surveillance & Remote Monitoring
When network video, also known as Internet Protocol (IP) video, was first introduced to the market, a lot was said about it as the technology that will bridge the gap that is left by traditional CCTV in meeting the security needs of today's society. To check whether this has indeed been the case we will have to go back in time, remember what was promised – remote accessibility, wireless surveillance, lower total cost of ownership, better image quality – and see what has been achieved until now.
Remote accessibility
IP video has certainly delivered on this promise. Through IP video solutions, it is now possible to remotely access a camera over the Internet and view the footage it is capturing from anywhere in the world where there is Internet connectivity.
Wireless surveillance
This is a reality today thanks to IP video technology. Wireless IP cameras are now available that convert images into data packets that can be easily transmitted over the Internet. The cameras are connected to wireless bridges or subscriber units, which send the data back to the wireless Base Station Unit located at an organisation's command and control centre. This has made it possible to thoroughly cover vast surveillance areas without having to run kilometres and kilometres of Ethernet cable.
Safer networks
Prior to the advent of IP video surveillance, gaining access to a traditional CCTV surveillance network was as easy as plugging in a compatible viewing device. However, with the introduction of IP surveillance, IT security solutions such as authentication, and encryption were brought into the video surveillance market. Now users have to identify themselves before being granted access to the video surveillance network. This can be achieved either through a user name and password or fingerprint identification in the more sophisticated systems.
Better storage
IP video surveillance practically brought an end to the use of analogue video cassettes as a medium for saving footage captures on surveillance cameras. The introduction of the H.264 compression standard to IP video surveillance has taken the storage benefits of IP systems to the next level by enabling the transmission and storage of high quality images at significantly reduced bandwidth, fulfilling the industry's demand for storage efficiency.
Image quality
Image quality is arguably one of the most important features of any camera. IP cameras have by far surpassed analogue cameras with regards to the quality of the images produced by both camera types. Analogue cameras are limited by the 0.4 megapixel resolution of NTSC/PAL standards, while IP cameras, even entry level models, can easily surpass this.
Intelligent solutions
Video surveillance solutions have reached a level of intelligence that would, not so long ago, have been thought to be improbable. Active Tampering Alarm, a feature in IP cameras that enables security staff to detect disrupted camera operations by automatically alerting the operator when a camera is re-directed, blocked or manipulated, is an example of how video surveillance solutions have evolved to deliver on the promise of more intelligent solutions.
Lower total cost of ownership
A recent study concluded that an IP-based system of 40 cameras offers a lower total cost of ownership (TCO) than an analogue-based surveillance system. The study also showed that if a complete IP infrastructure is in place, the IP-based video surveillance system will always cost less.
While so much has already been achieved in the world of IP surveillance, the technology continues to evolve and 2009 will see the introduction of more exciting solutions in the South African market.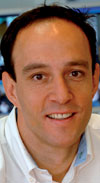 Roy Alves, country manager, Axis Communications
For more information contact Roy Alves, Axis Communications, +27 (0)11 548 6780, [email protected]
Credit(s)
Further reading:
Avoiding human error at ports
LD Africa Transport (Industry) CCTV, Surveillance & Remote Monitoring Products Logistics (Industry)
LD Africa introduced a local port to the AxxonSoft Port Security System ,a solution that helps overcome the element of human error and eliminate paperwork.
Read more...
---
Compact, lightweight bullet cameras with support for analytics
Axis Communications SA Products CCTV, Surveillance & Remote Monitoring
Axis Communications announced two new outdoor-ready bullet-style cameras featuring deep-learning processing units for analytics based on deep learning on the edge.
Read more...
---
Numerous challenges for transport and logistics
Transport (Industry) CCTV, Surveillance & Remote Monitoring Security Services & Risk Management Logistics (Industry)
Operators are making significant investments in automation and digitalisation in order to address security concerns, improve loss prevention as well as efficiency, and reduce unit order costs.
Read more...
---
A key to urban transport challenges
Axis Communications SA Transport (Industry) CCTV, Surveillance & Remote Monitoring Integrated Solutions Logistics (Industry)
There are many enabling technologies that can impact transportation in South Africa, but a good place to start is by considering the applications for smart physical technology with the ability to collect and respond to data.
Read more...
---
Hikvision aims for solutions
Technews Publishing Hikvision South Africa Editor's Choice CCTV, Surveillance & Remote Monitoring News Integrated Solutions Conferences & Events
Hikvision recently held a roadshow titled Industry X, where the company highlighted its latest products and solutions, supported by partners and distributors.
Read more...
---
Reliable, low-maintenance video appliances
Technews Publishing Editor's Choice CCTV, Surveillance & Remote Monitoring News IT infrastructure Products
Symetrix, part of the Agera Group, has added the AES range of video recording servers, storage appliances and workstations to its portfolio.
Read more...
---
A new full-colour era
Dahua Technology South Africa CCTV, Surveillance & Remote Monitoring
Traditionally, there have been two options for using surveillance cameras in the dark: flooding the scene with visible light, or alternatively using infrared (IR) illumination.
Read more...
---
AIoT delivers dynamic digital platforms
Hikvision South Africa CCTV, Surveillance & Remote Monitoring
Many stadiums or venues are seeking new, smart solutions that can help venue operators to stay on top of real-time situations dynamically on digitally driven platforms, and to achieve more efficient and sustainable venue management.
Read more...
---
Upgraded security and AI monitoring at upmarket estate
Watcher Surveillance Solutions Editor's Choice CCTV, Surveillance & Remote Monitoring Integrated Solutions Residential Estate (Industry)
Estate upgrades and enhances its security through a partnership between surveillance specialist Watcher and the incumbent guarding company.
Read more...
---
Security solutions that go the distance
Avigilon Logistics (Industry) CCTV, Surveillance & Remote Monitoring Asset Management, EAS, RFID Transport (Industry)
Avigilon self-learning video analytics help detect potentially critical events and issue an alert within the ACC dashboard, allowing officers to then verify event alarms.
Read more...
---