printer friendly version
Step by step toward an IAM solution
January 2009
Cyber Security
Today, businesses and government agencies not only process data internally, they need to exchange data with external partners as well. To do so they must open their IT systems to customers and partners. This, of course, increases the risk that data could fall into the wrong hands.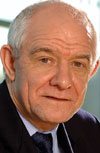 Mike Small, principal consultant security management, CA
A well-functioning identity and access management (IAM) system is at the heart of every IT security solution. It identifies users working with the IT systems, controls their access rights for processing data and utilising resources, and it prevents that access. Further an IAM system documents exactly what access rights a user has and who approved them as well as tracking what a user does when and with what result. Thus the company can always trace what happened even in the worst-case scenario.
Implementing a complete IAM solution can be a lengthy and complex project. Therefore it is advisable to take an incremental approach because this will reduce project risk and realise the fastest return on investment. It makes sense to begin with processes that will offer the greatest benefit or with those that pose the highest security risk.
As a guide, a typical step by step implementation of a comprehensive IAM solution would start with basic password management and finally arrive at a sophisticated, federated identity and access management solution.
Step 1: Managing User Credentials. Problems with passwords account for a large proportion of help-desk issues and support costs. A password management system enables the centralised management of user accounts.
Step 2: Basic Identity Management. This automates the new hire process for granting access to systems and resources is driven from the HR function and includes approval processes defined by the chief information/security officer. It also ensures that when employees leave the organisation their access rights are removed.
Step 3: Role-Based Management. Here there are clear definitions of what access rights users performing different roles are entitled to. The identity and access management system automatically synchronises changes in entitlements as users' responsibilities and roles change.
Step 4: Federated Identity Management. Here identity management extends beyond internal IT systems to cover employee access to both IT and non-IT resources and for partner access via federated trust.
Finally, remember, developing an IAM strategy needs to be centred around the business first and the technology second. The implementation of an IAM solution set should be viewed as a step-by-step project. Adopting an approach based on best practices aligned with business needs will prove to be the most effective.
Further reading:
Governing cybersecurity from the top as a strategic business enabler
Cyber Security
C-Suite executives still do not take cybersecurity seriously enough, while boards are not nearly as engaged in cybersecurity as they are in other areas of oversight.
Read more...
---
It is time to take a quantum leap in IoT cybersecurity
Drive Control Corporation Cyber Security
IoT has become integrated everywhere, including enterprises. While it offers many benefits, such as increased productivity and the rollout of mission critical applications, it can also lead to (enterprise) cyber-attack vulnerabilities.
Read more...
---
What to do in the face of growing ransomware attacks
Technews Publishing Cyber Security Security Services & Risk Management
Ransomware attacks are proliferating, with attackers becoming more sophisticated and aggressive, and often hitting the same victims more than once, in more than one way.
Read more...
---
Can we reduce cyberattacks in 2023?
Cyber Security
Zero-trust cybersecurity strategy with simplicity and risk reduction at the heart is mandatory to reduce exponential cyberattacks in 2023, says GlobalData.
Read more...
---
Key success factors that boost security resilience
Cyber Security
Adoption of zero trust, secure access service edge and extended detection and response technologies, all resulted in significant increases in resilient outcomes, as are executive support and cultivating a security culture.
Read more...
---
Enterprise threats in 2023
News Cyber Security
Large businesses and government structures should prepare for cybercriminals using media to blackmail organisations, reporting alleged data leaks, and purchasing initial access to previously compromised companies on the darknet.
Read more...
---
CA Southern Africa unmasks container security
Technews Publishing IT infrastructure Cyber Security
Adoption of software containers has risen dramatically as more organisations realise the benefits of this virtualised technology.
Read more...
---
Shifts in threat landscape to industrial control systems
Cyber Security
Kaspersky's ICS CERT researchers' predictions include increased attack surface due to digitisation, activities of volunteer and cybercriminal insiders, ransomware attacks on critical infrastructure as well as the technical, economic and geopolitical effects, and the rise of potential vulnerabilities being exploited by attackers.
Read more...
---
Advanced persistent cybercrime
Cyber Security
FortiGuard Labs predicts the convergence of advanced persistent threat methods with cybercrime. Advanced persistent cybercrime enables new wave of destructive attacks at scale, fuelled by Cybercrime-as-a-Service.
Read more...
---
Digital razor wire: sharpening endpoint protection
Cyber Security
Crypto-mining, hacking, vulnerabilities, and threats – protecting the organisation's endpoints has never been more important than it is today, says Reggie Nkabinde, consultant: modern platform-security at Altron Karabina.
Read more...
---