printer friendly version
SAIS October luncheon
January 2009
News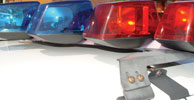 Another successful South African Institute of Security luncheon was held at J.P. Morgan in Johannesburg on Friday, 17 October.
The guest speaker was Advocate Juan Kotze who gave a thought-provoking talk on victims of crime. He raised the issues of the effective police action in the case of serious crime and the need for efficient collection of evidence.
Kotze emphasised that even though the SAPS may be overworked, under-resourced, under-skilled and under-staffed, it is still the only body empowered to collect evidence to present to the prosecuting authorities. Instead of complaining about the service received, which will not accomplish anything, we should all make the effort to get involved in a way that will support and make it easier for the SAPS to do its job. From a business perspective, sponsoring the creation of modern facilities and equipping stations with the tools required could be an option.
The chairman of the Institute, Terry Scallan presented the Institute Crystal Award to a past chairman, Ron Crawford-Nutt (1984 to 1988), a life membership certificate to Roy Gardener and a Crystal Award. Other certificates awarded were Associate Member to Graham Slade and Graduate Member to Mike Verster.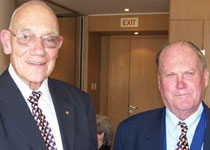 Terry Scallan and Ron Crawford-Nutt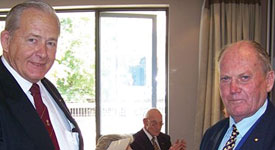 Terry Scallan and Roy Gardener
Also present at the luncheon was SASA National vice-president, Selma Black and Security SGB chairman and honorary member, Dawood Alexander.
The Institute year-end function and traditional Christmas lunch will be held at J.P. Morgan on Friday, 28 November. The guest speaker will be Omar Jasho from Kenya and the topic will be Aviation Security.
For more information contact Cowan Rosemary, +27 (0)74 122 4309, sais@tiscali.co.za
Further reading:
Prevention-first approach to cybersecurity
News Cyber Security
Check Point CEO, Gil Shwed, highlights the increasing importance of artificial intelligence in defending evolving networks and protecting against cyber threats at annual CPX 360 customer and partner event.
Read more...
---
Three new portable power stations to ease load shedding
News Security Services & Risk Management Products
EcoFlow has launched three portable power stations that provide sufficient power for consumers wherever they are; the DELTA 2 and RIVER 2 Series are feature-filled power solutions to the volatile electricity supply.
Read more...
---
UJ and Schneider Electric launch 4IR Experience Room
News
Schneider Electric and the University of Johannesburg (UJ) Faculty of Engineering and Built Environment (FEBE) have officially unveiled the 4IR Experience Room, a first for UJ and situated at the university's Auckland Park Campus.
Read more...
---
SafeCity Guarding rolls out across 14 suburbs in Johannesburg
News Security Services & Risk Management
In a major drive to provide communities across Johannesburg with additional safety, Vumacam, in partnership with Fidelity ADT and other security providers across the region, rolled out the innovative SafeCity Guarding initiative in 14 suburbs.
Read more...
---
Providing an interactive branding platform
Securex South Africa News Conferences & Events
Now in its 30th year of providing security technology and services providers with a platform for increasing their brand exposure, Securex South Africa will be held at the Gallagher Convention Centre in Midrand, from the 6th to 8th June 2023.
Read more...
---
ALX sponsored learning programmes for 2023
Training & Education News
With a mission to harness Africa's abundant human capital by developing two million ethical and entrepreneurial young leaders from the continent by 2030, ALX has launched four fully sponsored (at no cost) tech programmes for 2023.
Read more...
---
LockBit ransomware gang most apt to leak stolen victim data
News
Trellix has released The Threat Report: February 2023 from its Advanced Research Centre, combining telemetry collected from the world's largest network of endpoint protection installs and its complete XDR product line with data gathered from open- and closed-source intelligence reports.
Read more...
---
Schneider Electric is looking for your bold idea
News
Schneider Electric has launched this year's Schneider Go Green, an annual competition that invites university students from across the globe to share their ideas for innovations that can help make the world cleaner, more inclusive, and more sustainable.
Read more...
---
Keeping students, staff and communities safe
Vumacam News CCTV, Surveillance & Remote Monitoring Security Services & Risk Management
South African schools are facing increasing security challenges, making effective surveillance systems more important than ever. To address this issue, Vumacam is offering advanced security solutions with security partners, aimed at keeping students, staff, and the community safe.
Read more...
---
Arcules and IMMIX announce integration
News CCTV, Surveillance & Remote Monitoring Products
Arcules has announced that its integration with Immix Central Station and Guard Force is available. The integration provides Central Station and Guard Force users a way to manage, verify, and respond to security events, while using Arcules-managed video feeds.
Read more...
---