printer friendly version
HID and EMS launch Crescendo
January 2009
News
A recent function in Johannesburg saw HID Global, international provider of access and ID management solutions for the delivery of secure identity, together with Evolving Management Solutions (EMS), a local supplier of security hardware and software, launching the Crescendo range of smartcard products. Along with the product launch came the news that HID now has a local presence in Johannesburg and Cape Town, headed by John Lakin.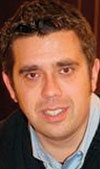 John Lakin
Crescendo is a series of secure, off-the-shelf smartcards designed to provide standards-compliant support for multiple access applications. The cards have not been standardised on one particular access technology, but are designed as multitechnology smartcards. The result is a credit card-sized smartcard that enables logical and physical access control, while also being able to serve as an employee's ID badge.
An embedded contact smart chip is used for logical access control. In addition, to make the card as versatile to existing access control systems as possible, a range of technologies can be accommodated, including:
1. Proximity (HID, Indala, and others).
2. iCLASS.
3. MIFARE.
4. DESFire.
5. Multi-technology combinations.
6. Magnetic stripe.
To ensure the cards are available in the shortest time possible, three off-the-shelf cards are available, including:
1. iCLASS and HID proximity (physical access control) with contact smart chip (logical access control).
2. CLASS and HID proximity (physical access control) with magnetic stripe (other applications) and contact smart chip (logical access control).
3. MIFARE (physical access control) with contact smart chip (logical access control).
Lakin adds that HID further differentiates itself in the access control market by providing the facilities for users to purchase small amounts as needed. There is no minimum order customers have to purchase.
As for integration concerns, Crescendo smartcards require no additional per-seat middleware license purchase, which can make a significant impact on security budgets. Crescendo systems also support the Microsoft IdentityLifecycle Manager 2007 (ILM 2007), a move which simplifies the deployment, management, and auditing of smart cards used for logical access control applications in companies standardised on the Microsoft platform. The cards are also compatible with Vista.
According to HID, Crescendo offers the lowest total cost of ownership (TCO) for a combined logical and physical access control solution due to the fact that card management costs are reduced while convenience and security are increased. Crescendo also reduces the admin work required from security officers as it is supplied pre-initialised with the required on-card software and includes all required drivers and middleware.
More information can be found on www.hidglobal.com or www.emssa.net.
Credit(s)
Further reading:
Johnny Aucamp joins iPulse exco
News
Johnny Aucamp has joined iPulse Systems as its chief sales officer (CSO), adding a massive boost to the executive team.
Read more...
---
From the editor's desk: Security and resilience
Technews Publishing News
It's often said that South Africans are a resilient bunch, and history has proven this correct. When it comes to security, both cyber and physical, resilience is key to an effective defensive plan. ...
Read more...
---
Hikvision aims for solutions
Technews Publishing Hikvision South Africa Editor's Choice CCTV, Surveillance & Remote Monitoring News Integrated Solutions Conferences & Events
Hikvision recently held a roadshow titled Industry X, where the company highlighted its latest products and solutions, supported by partners and distributors.
Read more...
---
Olarm launches PRO 4G communicator
Olarm News Perimeter Security, Alarms & Intruder Detection Products
Olarm has announced an additional 4G/LTE version of its Olarm PRO smart communicator. It is aimed at areas suffering from poor connectivity by providing support for 4G, 2G and Wi-Fi networks.
Read more...
---
ADI Expo returns to South Africa
Technews Publishing ADI Global Distribution News
September saw the return of the ADI Expo to South Africa. The Johannesburg event was held at the Focus Rooms and the Durban event, two days later, at the Southern Sun Elangeni & Maharani.
Read more...
---
Technoswitch Awards dinner for 2022
Technews Publishing News Fire & Safety
Technoswitch hosted its fifth awards dinner at Montecasino in September, where customers and suppliers celebrated a year of success.
Read more...
---
Suprema joins FiRa Consortium
Suprema News Access Control & Identity Management
Suprema recently became a member of the FiRa Consortium, a consultative body that establishes standards for ultra-wideband (UWB) technology, the next generation of wireless communication.
Read more...
---
Reliable, low-maintenance video appliances
Technews Publishing Editor's Choice CCTV, Surveillance & Remote Monitoring News IT infrastructure Products
Symetrix, part of the Agera Group, has added the AES range of video recording servers, storage appliances and workstations to its portfolio.
Read more...
---
ZYTEQ Fire Engineering Summit 2022
ZYTEQ Fire Fire & Safety News
Cape Town-based ZYTEQ Fire hosted its inaugural Engineering Summit at the Commodore Hotel in Cape Town and the Leonardo Hotel in Sandton, Johannesburg.
Read more...
---
Nomad launches early adopter programme
Editor's Choice News Integrated Solutions Smart Home Automation
Participants in Nomad's Early Adopter Programme will receive 10% of their volume order to facilitate testing before the commercial launch later this year.
Read more...
---