printer friendly version
Snooping IT staff
November 2008
Security Services & Risk Management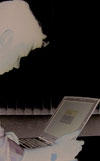 A third of IT staff secretly peek at confidential data.
Whilst you sit there innocently working away, little do you realise that a third of your IT colleagues have been snooping around the network, looking at highly confidential information, such as salary details, M&A plans, people's personal e-mails, board meeting minutes and other personal information. That is the findings of a survey released by Cyber-Ark Software, specialists in digital vaulting solutions, who carried out the research at the recent Infosecurity Expo 2008, amongst 300 senior IT professionals (mainly from companies employing over 1000+ employees), as part of their annual survey into 'Trust, security and passwords'.
One third of the survey sampled admitted to using their privileged rights to access information that is confidential or sensitive by using the administrative passwords as a means of peeking at information that they are not privy to.
When asked if they had accessed information that was not relevant to their role 47% admitted they had.
Udi Mokady, CEO of Cyber-Ark says, "When it comes down to it, IT has essentially enabled snooping to happen. It is easy, all you need is access to the right passwords or privileged accounts and you are privy to everything that is going on within your company. Gone are the days when you had to photocopy sheets of information with your customer database on it, or pick the lock to the salaries drawer. In some organisations there is little understanding or lack of controls in place to manage workers access to systems. For most people, administrative passwords are a seemingly innocuous tool used by the IT department to update or amend systems. To those 'in the know' they are the keys to the kingdom and if unprotected or fall into the wrong hands wield a great deal of power. This could include highly sensitive information such as merger plans, the CEO's e-mails, company accounts, marketing plans, legal records, R&D plans etc."
Privileged passwords rarely get changed
Even more worrying is the fact that privileged passwords get changed infrequently and often a lot less than user passwords. 30% get changed every quarter and a staggering 9% never get changed, giving access indefinitely to all those who know the passwords, even when they have left the organisation.
Who is managing the privileged passwords?
Half of IT administrators do not have to get authorisation to access privileged accounts which shows a general lack of control of these power identities and indeed understanding over the power that these privileges command.
Majority are sloppy at handling and exchanging sensitive data
Seven out of 10 companies rely on out-dated and insecure methods to exchange sensitive data when it comes to passing it between themselves and their business partners with 35% choosing to e-mail sensitive data, 35% sending it via a courier, 22% using FTP and 4% still relying on the postal system. This should not be any big surprise when you learn that 12% of these senior IT personnel who were interviewed also choose to send cash in the post.
Mokady continues, "As we have seen many use their privileged passwords without having to seek authorisation, and if the price is right what is stopping them from choosing to trade information to the highest bidder. Companies need to wake up to the fact that if they do not introduce layers of security and tighten up who has access to vital information, by managing and controlling privileged passwords, snooping, sabotage and hacking will continue."
For more information contact Darshna Kamani, Cyber-Ark, 020 71832 832.
Further reading:
Key timelines to ensure compliance
Security Services & Risk Management
Regulations to the Occupational Health and Safety Act that apply to major hazard installations require that certain actions be taken to manage health and safety risks – some with timelines for compliance that must be monitored.
Read more...
---
Best practice tips for strengthening data privacy system
Security Services & Risk Management Cyber Security
International cybercriminals are increasingly targeting South African organizations, making data privacy more difficult to maintain. A standardization expert offers insight to help combat this threat.
Read more...
---
Is AI the game-changer for streamlining anti-money laundering compliance?
Financial (Industry) Security Services & Risk Management
In the aftermath of South Africa's recent grey listing, companies are now confronted with the imperative to address eight identified strategic deficiencies, while simultaneously reducing their financial crime risk through anti-money laundering compliance processes.
Read more...
---
Five ways to reduce your cyber insurance premiums
Security Services & Risk Management News
With the global costs of cybercrime expected to soar to $13 trillion within the next five years, cyber insurance is booming as organisations try to mitigate the risk of financial losses.
Read more...
---
Client satisfaction boosted by 85% at Thungela Mine
Thorburn Security Solutions News Security Services & Risk Management Mining (Industry)
Thorburn Security, a division of Tsebo Solutions Group, has announced its recent collaboration with Kwa-Zulu Natal security company, Ithuba Protection Services, as part of its Enterprise Supplier Development (ESD) initiatives across Africa.
Read more...
---
Migrating to the cloud? Beware the many hurdles
IT infrastructure Security Services & Risk Management
While there are undoubtedly many benefits, there are also numerous hurdles to cloud adoption. Some of the biggest challenges revolve around managing cloud spend, understanding the cost components of cloud infrastructure, and how those costs can scale.
Read more...
---
Key strategies for businesses in the face of cyber threats
Cyber Security Security Services & Risk Management
Businesses face severe financial and reputational consequences due to data breaches and daily website hacks, and not all organisations are adequately prepared to combat these escalating threats.
Read more...
---
Planning for the worst is key to success
Technews Publishing Security Services & Risk Management
Planning for the worst is key to success when disaster strikes. Amidst frequent load shedding and often unpredictable stages of power outages, many businesses are concerned about the possibility of a total blackout.
Read more...
---
Protecting South African systems through XDR cybersecurity
Cyber Security Security Services & Risk Management
Carlo Bolzonello, Country Lead for Trellix South Africa, discusses how the country can protect its valuable digital assets through the artificial intelligence-enabled Extended Detection and Response (XDR) cybersecurity approach.
Read more...
---
[Sponsored] Protecting Against Ransomware Attacks: Lessons from Recent POPIA Fine
Cyber Security Security Services & Risk Management
According to Sophos' most recent ransomware report, an alarming 78% of the South African organisations that Sophos surveyed experienced ransomware attacks in the past year.
Read more...
---